A Different Kind of Pyramid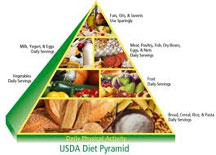 We're all acquainted with the USDA's guide to eating, the Food Pyramid, that our nation's major health organizations sanction and promote. It's definitely a good place to start when wanting to clean up our diet and improve our health. But I've come up with a different kind of pyramid that references not only food to eat and food to avoid, but includes an overall attitude and lifestyle approach to diet.
I call it the 5-S Plan. Since I have incorporated this pyramid into my life over a year ago, I've shed pounds, my energy has gone through the roof, and my blood sugar has reached a stabilized norm. But one unexpected benefit that took me by surprise was how little depression I've had to deal with this past year. I've always suspected that emotions and mental health were closely tied to diet, but now I'm completely sure of it.
This no-depression-thing is a big deal. In random and anecdotal surveying, I've found that almost all the people I've talked to with blood sugar issues, also deal with depression. I think then, that it's time to pass on the 5-S Plan. Considering how good I feel, I couldn't share a more important gift. I want you, too, to experience what I consider to be a new lease on life.
It's important to note, however, that this isn't a quick fix to our health issues—it took time to get to our less-than-well state, thus it'll take time to pull out of it. But I think I can promise you similar results if you consistently give it the year I gave it. So this said, here's a different kind of pyramid - Alice's 5-S Plan for eating and health:
Sugar-free
Small (portions)
Slow (pace of eating)
Selective (fresh veggies, fruit, grains)
Savoring (in gratitude, tasting each delicious bite)
Maybe we tend to make things too complicated. Honestly, I had no idea that when I came up with this simple plan, I'd reap so many good and truly crucial rewards. If you decide to give this lifestyle a try, keep us posted—report in at the end of your year and share your results. I'm pullin' for ya!