Chefs' Picks: The Graham Cracker Low-Down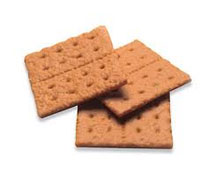 Food author, Hannah Crowley, knows a lot about graham cracker history. She says that the original graham crackers, developed by Sylvester Graham some 200 years ago, were more like hardtack than like the sweet wafers we know today.
Marketed as "Dr. Graham's Honey Biskets," the dense crackers were made largely from coarse whole-wheat flour. Graham might be faintly horrified by what's become of them: Yes, supermarket grahams still incorporate graham (or whole-wheat) flour, but white flour is now the primary ingredient with sugar of some sort not far behind. They also contain oil, salt, and leaveners.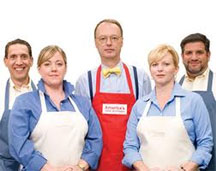 The folks at America's Test Kitchen also know a lot about graham crackers, but their knowledge is around TASTE. The recently tested the three top-selling national brands—Keebler Grahams Crackers Original, Honey Maid Honey Grahams, and Nabisco Grahams Original. They sampled them plain, in a chocolate éclair cake recipe, and in the crust of their Key Lime Pie.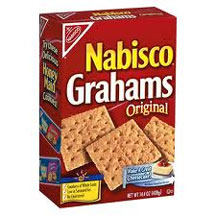 Over all, the brands fared well enough to earn the Test Kitchen's recommendation. For straight snacking, they preferred the Nabisco product, saying that the crackers have the highest percentage of graham flour, which they felt contributed to their flavor, although this same factor caused them to turn to mush in the éclair cake.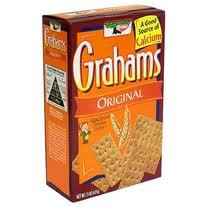 The Test Kitchen also concluded that Keebler's grahams, which held up in both pie crust and cake, are the best choice for baking.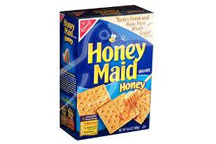 Finally, their thoughts on the Honey Maid cracker were glowing: "While the other brands excelled in one area and fell short in another, Honey Maid's grahams earned consistent praise, whether sampled plain or in baked goods. Tasters found them 'very pleasant, butterscotch-y, and very soft, fine, and fresh-textured.'"
All this is good to know, because there are so many different things we can do with graham crackers. First and foremost, our family LOVED just dunking them in cold glasses of milk. And Honey Maids were our favorite grahams as well, by the way. We'd sit around the table before bedtime, dunking and slurping, chatting and laughing. Good times, good times.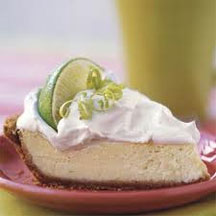 And like everyone else, we'd use them to make no-bake pie crusts. Like the Test Kitchen folks, we dabbled in Key Lime Pie, cheesecakes, and other cream- and custard-filled pies. At Christmas time we even used them to construct gingerbread houses (the crackers substituting for the gingerbread walls and roof, of course).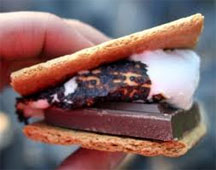 And of course, what's a s'more without a graham? And maybe even better than the tried and true s'more, was the concoction a neighborhood mom came up with for her children's school lunches: peanut butter and jelly sandwiches on graham crackers instead of slices of bread. Needless to say, she was the neighborhood hero.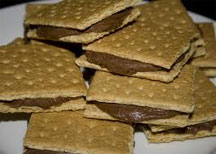 Finally, one of my very favorite things to do with the amazing graham cracker was to create sandwich cookies. Using any leftover icing (chocolate was always a winner), I'd slather on a thick layer between two crackers and voila—dessert in a hurry. And let me tell ya, these are amazing when dunked in that ice-cold milk!