Everything Strawberries!

We see them everywhere now; the luscious, red, berry that treats our taste buds to the juicy flavor that only strawberries have. Yes they are delicious. Yes you can add them to almost anything. With over 600 varieties that differ in flavor, size and texture, strawberries are being eaten by someone in the world, year-round.
Did you know that they are one of the healthiest fruits around? Strawberries are high in antioxidants. Some health researchers have indicated that a regular intake of even 10 strawberries, has been associated with a decreased risk of type 2 diabetes, while others have said that they add a great anti-cancer defense.
STORING and FREEZING
Strawberries are very perishable so should be purchased only a few days before you plan to use them. Studies have shown that they can last 2 days without a major loss of vitamin C. Pick those that are ruby red in color with their green caps attached. Look for berries that aren't packed too tightly in their containers which can sometimes cause them to spoil. When storing in your refrigerator, food scientists suggest putting them in your cold storage bins as these bins will help boost the humidity needed. Or, they may be sealed in a container to prevent humidity loss.
To freeze strawberries, first gently wash them and pat them dry. You can either remove the cap and stem or leave them intact, depending upon what you will do with them once they are thawed. Arrange them in a single layer on a flat pan or cookie sheet and place them in the freezer. Once frozen, transfer the berries to a heavy plastic bag and return them to the freezer where they will keep for up to one year. Adding a bit of lemon juice to the berries will help to preserve their color. While strawberries can be frozen whole, cut or crushed, they will retain a higher level of their vitamin C content if left whole.
---
Stuffed Strawberries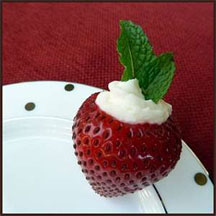 18 large fresh strawberries
1 cup cold fat free milk
1 (1 ounce) package sugar-free instant vanilla pudding mix
2 cups reduced-fat whipped topping
1/4 teaspoon almond extract
1. Remove stems from strawberries; cut a deep X in the top of each berry. Spread berries apart. In a bowl, whisk milk and pudding mix for 2 minutes. Fold in whipping topping and almond extract. Pipe or spoon about 5 teaspoons into each berry. Chill until serving.
---
Strawberry Vegetable Salad
By Karen Ciancio
About 10 Servings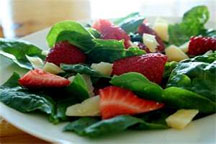 8 ounces assorted lettuces, torn into bite size pieces
8 ounces fresh spinach, torn into bite size pieces
1 medium avocado, peeled and sliced or chopped
1/2 pint strawberries, halved or sliced if they are larger
1/2 cantaloupe, scooped into balls
1/2 pint cherry tomatoes, halved
1 cucumber, peeled and sliced
4 ounces fresh mushrooms, sliced
Combine the lettuces, spinach, avocado, strawberries, cantaloupe, cherry tomatoes, cucumbers and mushrooms in a large salad bowl. Add the poppy seed dressing just before serving and toss lightly.
Dressing:
1/2 cup vegetable oil
1/4 cup tarragon vinegar
1/4 cup sugar
2 teaspoons poppy seeds
1/2 teaspoon salt
1/2 teaspoon dry mustard
1/2 teaspoon grated onion
1/4 to 1/2 teaspoon onion salt
Place all of the ingredients in a jar and shake vigorously to mix. Pour over salad when ready to serve.
---
Strawberry Soup
Serves 3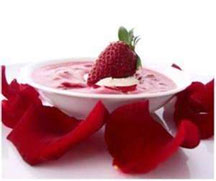 1 1/2 pounds (1200g) fresh or frozen strawberries
1/4 cup (75 g) vanilla yogurt
1 pint (500 g) cream
1/2 teaspoon vanilla
Blend strawberries in blender until smooth. Slowly add vanilla yogurt and keep blending.
Pour strawberry mixture into large bowl. Add cream and vanilla and stir until blended.
Chill in fridge for at least 1 hour.
Before serving garnish with a fresh strawberry or a mint leave. Serve in soup bowls.
---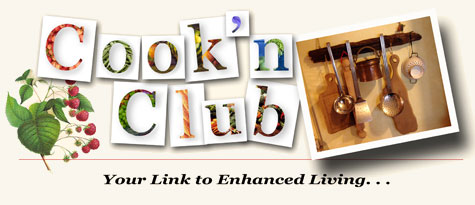 Contribute to the Cook'n Club!
DVO would love to publish your article, prose, photography and art as well as your cooking, kitchen and nutrition tips, tricks and secrets. Visit the Newsletter Submission / Win Win for All section in our Forum for more information and details.