Eating Well - All Season Long!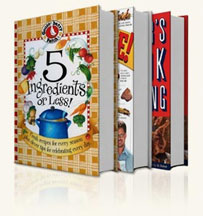 I don't buy a lot of cookbooks. DVO does a great job of keeping me abreast of good recipes through their many wonderful Cook'n CD's. (Thanks, Dan!) That said, I do keep my eye out for books that I feel are unique, and more importantly, credible. I therefore want to share with you the latest Eating Well, cookbook, entitled appropriately enough, Eating Well in Season.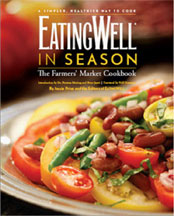 Authored by Jessie Price and the editors of Eating Well, this book is 256 pages of healthy recipes that use foods that are in season. Quoting from their announcement, "EatingWell in Season: The Farmers' Market Cookbook can be your guide to rebuilding your connection to food and the earth. After flipping through the pages and making the recipes, you will want to seek out the local markets wherever you are, visit the farms and perhaps even plant your own seeds."
This hard-cover cookbook is full color throughout and has a nutritional analysis for each recipe, along with preparation tips, tips on freezing and preserving seasonal produce, guides to fruits, vegetables and herbs, and (drum-roll please), most recipes take 45 minutes or less to prepare!
There is the added bonus of learning about the farms that bring us the foods we so enjoy. Again from the publisher, "you will meet some of the innovative farmers who are passionate about their specialty crops, find out when you should buy organic and learn how to cook all the fruits and vegetables you bring home."
You may order the book by going to the web-site, eatingwell.com.