5 Ways to Take a HEALTHY Ride
On the Football-Watchin' Snack Train!
Reader, Colleen Kimler (who describes herself and her family as Texan to the core—meaning die-hard football lovers), sent a cute note about how football season is close at hand and how her family and friends love to get together to watch the games and snack. (And Colleen also sent along a killer salsa recipe she and her 10-year-old granddaughter have developed for this game-watching purpose. I have her permission to share it—see below. Thank you, Colleen!)
Her note got me thinking about the typical dilemma we can find ourselves in, snack-wise. Snack tables at game gatherings are usually festooned with not-so-healthy, to downright heart-attack-fostering munchies and insulin-spiking drinks. Which is why we can really appreciate Colleen's salsa recipe—it's loaded with fiber, antioxidants, vitamins, minerals, trace elements, and phyto-nutrients!
So with Colleen's lead, let's see how we can turn things around with a little creativity and planning ahead. First some munchies ideas: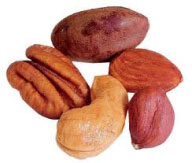 RAW nuts! The Mayo Clinic staff says eating walnuts, almonds, and other nuts helps the heart by lowering our cholesterol. Besides being loaded with fiber, they're also rich in Omega 3 fatty acids, vitamin E, plant sterols (cholesterol-lowering substances), and L-arginine (a substance that improves the health of artery walls by making them more flexible and less prone to blood clots that can block blood flow).
But here's the deal with nuts: They can be hard to digest for some people because they also contain lectins, phytates, and enzyme inhibitors—notorious "anti-nutrients" that put some people's stomachs through the ringer. Even if you don't show obvious symptoms, the nutritional uptake by eating raw nuts is definitely compromised due to these natural premature-sprouting protectors.
What to do? Soak and rinse raw nuts and then roast them at no higher than 120 degrees (I use my dehydrator, but some folks can use their ovens). I soak almonds, pecans, and walnuts overnight, but I soak cashews for no longer than 4 hours—any longer and they get slimy. I like to add Himalayan salt to my soaking water; this gives a delicious taste to the toasted nut. It takes about 22-24 hrs to slow-roast nuts. And the reason for the low temperature? All the enzymes are protected, thus your nuts end up as a live food and super easy to digest because of the enzyme factor!
One thought: These nuts become a pretty expensive snack—maybe you want to save these for your at-home video watching, rather than bring them to a free-for-all game-watching snack table. Just sayin'.

LEGAL Soda Pop! I make dehydrated fruit powder and when I want a "legal" soda pop, I add a teaspoon or two to my bottle of mineral water. A little shake to mix the powder through, and voila—I have a flavored and vitamin-packed drink that really delivers and rivals Pepsi or any other beverage out there.
It takes a dehydrator to make fruit powder. I puree ripe fruit (skins and all—except bananas) in my Vita-Mix then pour the puree onto sheets of plastic. I dehydrate for about 22 hours at 120 degrees (again, to protect those precious enzymes). When the puree is brittle, I break it into pieces and pulverize it in my Vita-Mix. The powder is stored in pint jars with tight lids. This stuff keeps in a cool and dark location for over six months. In fact, even as we speak, I'm sipping on vitamin-A-loaded apricot water!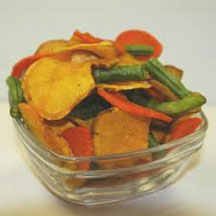 FRUIT and VEGGIE CHIPS! This is a brilliant take on the above-mentioned fruit powder. I also lightly steam fresh veggies (spinach, kale, chard, collards, peas, green beans, zucchini, etc.), puree them (skins and all please) in my Vita-Mix and dehydrate this at 120 degrees for about 22 hours (it all depends on how much you pour onto the plastic sheets—thick layers take longer to dehydrate). I add my favorite seasonings (garlic powder, dill, Himalayan salt, pepper, etc.) to the puree before dehydrating. Then after the puree is dried to a brittle state, I break it into chip-size pieces ( I do this with my dried fruit puree as well), and now I have a delicious and mega-healthy alternative to those tempting but nasty potato and corn chips.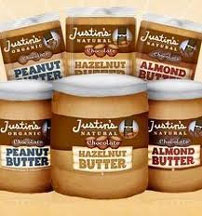 NUT BUTTER and Celery Sticks! Peanuts tend to come with a toxin attached—aflatoxin (a carcinogen know to cause liver cancer in rats, and presumably in humans). So terrific alternatives are all the other nut butters out there. I like almond butter especially, and grind it fresh at my whole foods store. But for those that don't have a natural food store close by, nut butters are now available in most traditional grocery stores. If you don't see it in yours, ask the store manager to order some—likely he will.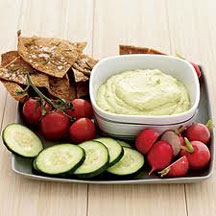 AVOCADO DIP and Veggie Sticks! Forget the guacamole, do this instead: Puree five or six avocadoes with some garlic powder (to taste), and along with a little lime juice to prevent discoloring, add finely chopped onion, and finely chopped red, yellow, and orange bell peppers (again, to taste). This is an amazing dip for zucchini, celery, cucumber, and carrot sticks. And as the picture shows, cherry tomatoes and radishes are yummy as well. As an experiment, I added a can of drained black beans. This was also very good, so I'll do it again.
Now for Colleen's healthy and tasty salsa recipe. She says it sounds like a lot of work, but not so—she and her granddaughter whip up a batch in about 10 minutes!
---
C&J's Salsa
Makes 1/2 Gallon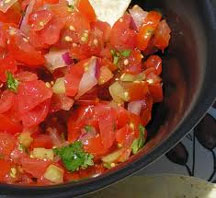 1 (28 oz) can crushed tomatoes or use canned whole w/juice and puree them
1 (10 oz) can "mild" Rotel tomatoes w/green chilies (like it hot, use regular) w/juice
1 (10 oz) can Rotel Mexican style w/lime and cilantro w/juice
1 (8 oz) can of tomato sauce
1/3 of a 6 oz can of tomato paste (freeze the rest for later)
3/4 of a medium sized onion (yellow or sweet)
2 cloves of garlic
1 or 2 jalepenos that have been seeded (use 1 and if not hot enough, add 2nd)
1/2 tsp. sugar
3/4 tsp. salt (can add more later if needed)
1/2 tsp. ground cumin
1 cup of cilantro (about 1/3-1/2 of a bunch. Do not pack into cup)
2 Tbsp lime juice, fresh squeezed or bottled
1 cup of tomato juice (optional: Use only if it is too thick for you)
Dump it all into a LARGE blender and pulse about 10-12 times. Taste and adjust salt, peppers, cumin and if too chunky, pulse a couple of more times. If blender is too small, mix all together in a large non-reactive bowl and blend smaller amounts until all is done then add back to bowl and mix well. Store in air-tight, non-reactive containers. I save large pickle jars for it. It keeps for almost a week in the fridge and tastes better after it has set.  The tomato juice is handy to make it thinner if you wish.