Chefs' Picks: The 7 Best Vegetable Peelers

I really enjoy reading foodie blogs, and I've discovered there are a lot of professional chefs that write them. I've been planning to get a new vegetable peeler, so I started my research with my favorite cheffy blogs. And you know what? These unrelated, disparate individuals tended to have similar opinions on the subject. So read on for their mutual thoughts, in a nutshell.
One chef, the UnCladChef (www.UncladChef.com) had some of the best chit chat: "Ok, I have used a lot of different types of vegetable peelers, and really most of them were hard to work with. If they do happen to work even just OK, then they break easily. The one time I owned an awesome peeler, someone took it from me. However, the pure feeling of bliss I felt when I had it, knowing that I could peel anything with it and it would not break or jam or be dull, that was a great experience.
After some research, I discovered that I was unable to find that 'one' peeler for sale anymore (I forgot the manufacturer), but I did find some seemingly high quality high performance peelers on the market. So feast your eyes, but watch your fingers."
And then he lists his favorites, and his list pretty matches opinions from other chefs. Here's their picks—the 7 best vegetable peelers out there:

1. Messermeister Serrated-Edge Swivel Peeler – Love these guys, and this one is even serrated! (Between $14 and $15.)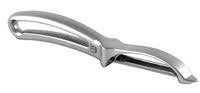 2. CIA Masters Collection Peeler – This peeler could be #1, looks like a man's peeler, I bet you could forget this one in the oven for a few days and it would just get better. (About $16.)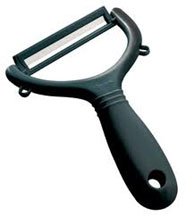 3. Kyocera Ceramic Mega Peeler – This baby is huge, perfect for fruit, and hey, it's made of ceramic! (Also around $16.)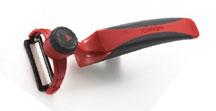 4. Kyocera's Perfect Peeler – Looks like Kyocera can build some good stuff. This peeler looks a little foo foo, but I bet the swivel head feature could be useful and I bet it is sharp as your fish knife. (Around $18.)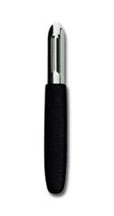 5. JA Henckels Twin Blade – If you like this style, which I think is best for thin shaving, such as carrots, I would go with Henckles. And many of the chefs agree with moi. ($45 on Amazon.com, but $23 on CSN Stores.)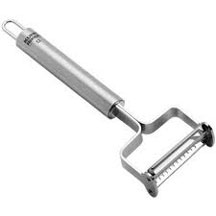 6. Kuhn Rikon Deluxe Y-Shaped Peeler – This peeler looks dangerous, watch your fingers and the potatoes will be dropping like flies. (Around $30.)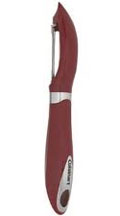 7. Cuisinart Vegetable Peeler – Ok, the blades can't be the greatest. But if you are staring at 100 pounds of potatoes, you want something that fits in your hand nicely. This peeler does just that. (About $8.)