Creative Uses for Fruit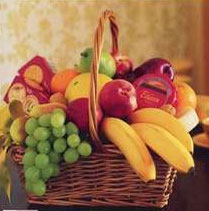 We all know that we should be eating fruit at least 3 times a day. We often think of eating an apple, peach, banana, just as they are - plain. However, did you ever think that we could get our daily fruit allowance in other very creative ways? Apricots, peaches and strawberry recipes presented in unique ways that even children will enjoy!
---
Apricot Flan
Serves 6 – 8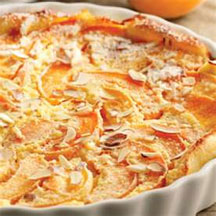 7 oz. plain flour
5 oz. butter, at room temperature
1 tablespoon icing sugar
Filling
2 whole eggs, plus 1 egg yolk
1 can Evaporated Milk
2 oz. icing sugar
1/2 teaspoon grated nutmeg
1 oz white breadcrumbs
8 - 10 fresh, ripe apricots, halved and stoned
5 tablespoons apricot jam, warmed and sieved, to glaze
1. Preheat the oven to 200°C (400°F)
2. Place the flour, butter and 1 tablespoon of icing sugar in a food processor and process until crumbs form; alternatively rub the ingredients together by hand.
3. Press into the base and sides of 8 x 11 inch loose-bottomed flan tin. Chill for 20-30 minutes. Bake for 10-15 minutes. Leave to cool.
4. Reduce the oven temperature 350 degrees
5. Whisk together the eggs, Carnation Milk, icing sugar and nutmeg
6. Scatter the breadcrumbs over the base of the flan case and arrange the apricots on top. Pour over the milk mixture. Bake the tart for 50 minutes or until the apricots have softened. Brush with the jam and serve warm.
---
Barbecued Shrimp with Peaches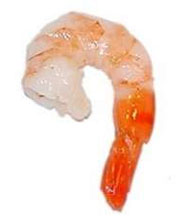 12  (12 inches each) metal or bamboo skewers
1 tablespoon(s) packed dark brown sugar
1 teaspoon(s) ancho chile powder
1 teaspoon(s) sweet paprika
1/2 teaspoon(s) ground cumin
1/4 teaspoon(s) cayenne (ground red) pepper
Salt
Pepper
1 pound(s) (16- to 20-count) shelled deveined shrimp
3 medium peaches, cut into 1-inch chunks
1 bunch(es) green onions, dark green parts trimmed, cut into 2-inch pieces
Lime wedges, for serving
1. If using bamboo skewers, soak skewers in cold water at least 30 minutes to prevent burning. Prepare outdoor grill for direct grilling on high.
2. In large bowl, combine brown sugar, chile powder, paprika, cumin, cayenne, 1/4 teaspoon salt, and 1/4 teaspoon freshly ground black pepper. Add shrimp, peaches, and onion; toss until evenly coated.
3. Thread shrimp, peaches, and onion alternately onto skewers.
4. Grill 3 to 4 minutes or until browned and shrimp just become opaque throughout, turning once. Serve with lime wedges.
---
Strawberry Bruschetta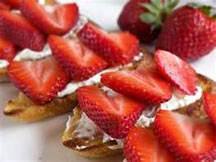 2 tablespoon(s) packed brown sugar
2 tablespoon(s) balsamic vinegar
1/4 teaspoon(s) vanilla extract
1 pound(s) strawberries, hulled and cut into 1/3-inch slices
8 slice(s) (each 3/4 inch thick and 5 inches wide) rustic country bread
1 container(s) ricotta cheese
1 bunch(es) (about 32 leaves) basil, torn if large
1. In large bowl, stir brown sugar, vinegar, and vanilla until sugar dissolves. Stir in sliced strawberries. Let stand 1 hour.
2. Toast bread until golden brown. Cool completely.
3. Spread 2 tablespoons ricotta on each bread slice. Alternate strawberries and basil leaves in a single layer, overlapping slices. Drizzle strawberry juices over top and serve.