3 Cold Soups for a Hot Day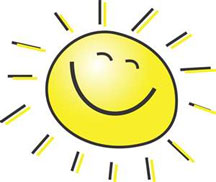 Many years ago, my husband and I had an exchange student from Spain live with us for the summer. It was a wonderful experience that I highly recommend to our DVO readers! Not only do you learn many interesting things from each other, but you end up with wonderful friends as well.
One evening as a surprise, all of the students treated their host families to an authentic Spanish dinner. This was the night I first tasted gazpacho and have been using Stefan's recipe ever since. I have also looked around for some other cold soup recipes for those warm days when something light is just what is called for.
This Cucumber soup from Dr. Weil, is something new that I am eager to try. He states that cucumbers are hydrating due to their high water content. A bonus is that there are only 13 calories per cup! Cucumbers contain vitamin C and caffeic acid, both of which "reduce swelling and soothe skin irritations by preventing water retention". This is why you will see so many women with sliced cucumbers pressed against puffy eyes!
---
Cold Cucumber Soup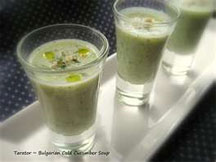 3 leeks, washed and sliced in rounds
2 cups vegetable stock
2 cups milk
6 cucumbers, peeled, sliced, and seeded
3 tablespoons minced fresh dill
1 tablespoon freshly squeezed lemon juice
2 tablespoons chopped green onion or chive
1 teaspoon salt
1 teaspoon freshly ground black pepper
Garnish
plain low-fat yogurt, or low-fat sour cream
2 tablespoons capers
1. Cook the leeks in the stock in a large soup pot for 10 minutes. Add the milk and cucumbers.
2. Pour small batches at a time into a blender and purée until smooth. Add the dill, lemon juice, green onions or chives, salt, and pepper. Stir once or twice.
3. Chill covered in the refrigerator for 3 hours.
4. Pour 1-cup servings into each of 6 bowls, garnish with a dollop of plain yogurt or sour cream, and sprinkle a few capers on top.
---
Cold Gazpacho Soup
Serves 6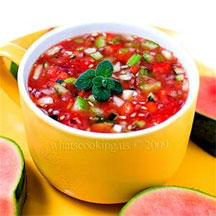 1 1/2 lb (700 g) firm red ripe tomatoes
 4 inch (10 cm) piece of cucumber, peeled and chopped
 2 or 3 spring onions, peeled and chopped
 2 cloves garlic, crushed
 1/2 large red or green pepper, deseeded and chopped
 1 heaped teaspoon fresh chopped basil, marjoram or thyme (depending on what's available)
 4 tablespoons olive oil
 1 1/2 tablespoons wine vinegar
 salt and freshly milled black pepper
Garnish:
 1/2 large red or green pepper, seeds removed and very finely chopped
 4 inch (10 cm) piece of cucumber, peeled and finely chopped
 2 spring onions, finely chopped
1 avocado chopped
 1 heaped tablespoon fresh chopped parsley
 salt and freshly milled black pepper
Cooking:
Put the tomatoes in a bowl and pour boiling water over them. After a few minutes, the skins will peel right off. Cut the tomatoes in half, remove and throw away the seeds and chop the tomatoes.
Put the tomatoes, cucumber, spring onions, crushed garlic and chopped pepper in a blender, adding the salt and pepper, the herbs, oil and wine vinegar.
Blend everything at top speed until the soup is velvety smooth.
Taste for spice balance then pour the soup into a bowl. If it is too thick for you, stir in a little cold water to thin it a little. Cover the bowl and put it in your refrigerator so that it will become quite cold.
To make the garnish, simply place all of the ingredients in a bowl with a little salt and pepper. Let your guests add what they want to the top of their soup. Add the croutons.
---
Crab Topped Roasted Pepper Soup
Serves 2 so double recipe in order to have left-over's! (You can replace the crab with baby shrimp if you prefer)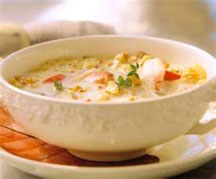 1 roasted yellow bell pepper
1 (14-ounce) can chicken broth
3/4 cup orange juice
1/4 cup dry sherry
2 tablespoons red wine vinegar
1 tablespoon minced garlic
salt and pepper
4 oz. jumbo lump crab meat or 4 oz. baby shrimp
To roast pepper:
-Roast over a live fire, such as a gas burner or a charcoal or gas grill. Lacking those, you can use a broiler.
-Turn the heat to High (or turn on the broiler). If using a broiler, cut the pepper in half and remove the stem, veins, and seeds. Place the pepper on a broiler pan. Coat the pepper lightly with oil. Broil for 5 to 7 minutes, or, using metal tongs, place the flesh of the pepper directly in the flame of the burner or as close to the heat source as possible.
-Rotate the pepper as the flesh closest to the heat blackens and blisters. Remove the pepper when it has blackened completely.
-Place it in a bowl and cover to allow it to steam. After 15 to 20 minutes, scrape off and discard the blackened skin. Remove and discard the seed pod, stem and inner ribs before using.
In a blender, combine all ingredients except salt, pepper, and crab. Pulse until smooth.
-Transfer soup to a medium saucepan and bring to a simmer, stirring occasionally. Allow to cool until warm. Put in refrigerator to chill. To serve, season, to taste, with salt and pepper. Sprinkle crab over top and serve.