All Time Favorite Casseroles
Hold the phone! I recently found yet another treasure trove of Aunt Annie's cherished cookbooks - tucked away in a non-descript cardboard box.
One find, All-Time Favorite Casseroles, looks well used and as I thumbed through it, I could see why. All the recipes in this book are built around favorite brand name products from companies and organizations such as HILLSHIRE FARM, BUTTERBALL, LAWRY'S, BOB EVANS, RAGU, Wisconsin Milk Board, USA Rice Federation, Washington Apple Commission, and so on. (Of course, we foodies understand any brand of the product called for can be substituted; it's the recipe creation that counts here.) And from there the recipes call for the average things most folks have in their cupboards and pantries.
The criteria the company that produced the book used to put it together was what the title implies. They asked selected entities to "Tell us what America's all-time favorite casseroles are, from your experience as a food manufacturing or food promoting industry." The book's contents are the wonderful results of all this input.
Take a look at these recipes - chosen because Aunt Annie took time to put either a big star or smiley face beside them. I'm guessing they worked for her and so I bet they'll work for us!
---
Summer Sausage and Egg Wedges
Serves 6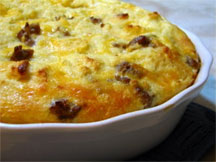 4 eggs, beaten
1/3 C milk
1/4 C flour
1/2 tsp aluminum-free baking powder (I use Rumford's)
1/8 tsp garlic powder (Spice Hunter is my favorite brand)
2 1/2 C (10 oz) shredded Cheddar or mozzarella cheese, divided
1 1/2 C diced HILLSHIRE FARM Summer Sausage
1 C cream-style cottage cheese with chives
Preheat oven to 375 degrees. Combine eggs, milk, flour, baking powder and garlic powder in medium bowl; beat until combined. Stir in 2 C cheese, sausage and cottage cheese. Pour into greased 9-inch pie plate. Bake, uncovered, 25 to 30 minutes or until golden and knife inserted into center comes out clean. To serve, cut into 6 wedges. Sprinkle wedges with remaining 1/2 C cheese.
---
Spinach Sensation
Serves 6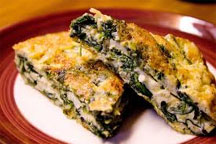 1/2 lb bacon slices
1 C (8 oz) sour cream
3 eggs, separated
2 Tbsp flour
1/8 tsp black pepper
1 pkg (10 oz) frozen chopped BIRDSEYE spinach, thawed and squeezed dry (NOTE: I substituted 2 C finely chopped fresh baby spinach and the results were superb)
1/2 C shredded sharp Cheddar cheese, separated
1/2 C dry bread crumbs
1 Tbsp butter, melted
Preheat oven to 350 degrees. Spray 2-quart round baking dish with nonstick cooking spray. Place bacon in single layer in large skillet; cook over medium heat until crisp. Remove from skillet; drain on paper towels. Crumble and set aside.
Combine sour cream, egg yolks, flour and pepper in large bowl; set aside. Beat egg whites in medium bowl until stiff peaks form. Stir 1/4 of egg whites into sour cream mixture; fold in remaining egg whites. Arrange half of spinach in prepared dish. Top with half of sour cream mixture. Sprinkle 1/4 C cheese over sour cream mixture. Sprinkle bacon over cheese. Repeat layers, ending with remaining 1/4 C cheese.
Combine bread crumbs and butter in small bowl; sprinkle evenly over cheese. Bake, uncovered, 30-35 minutes or until egg mixture is set. Let stand 5 minutes before serving. This is amazing!
---
Apple & Raisin Oven Pancake
Serves 6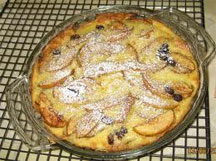 1 large WASHINGTON STATE baking apple, cored and thinly sliced
1/3 C golden raisins
2 Tbsp packed brown sugar
1/2 tsp cinnamon
4 eggs
2/3 C milk
2/3 C flour
2 Tbsp butter, melted
Powdered sugar (optional)
Preheat oven to 350 degrees. Spray 9-inch pie plate with nonstick cooking spray. Combine apple, raisins, brown sugar and cinnamon in medium bowl. Transfer to prepared pie plate. Bake, uncovered, 10-15 minutes or until apple begins to soften. Remove from oven. Increase oven temperature to 450 degrees.
Meanwhile, whisk eggs, milk, flour and butter in medium bowl until blended. Pour batter over apple mixture. Bake 15 minutes or until pancake is golden brown. Invert onto warmed serving platter and sprinkle with powdered sugar, if desired. I served this with dollops of sweetened whipped cream (can't get enough of that stuff!).
---
Chicken & Biscuits
Serves 4-6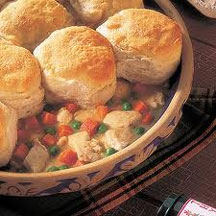 1/4 C butter
4 boneless skinless PERDUE chicken breast halves (about 1 1/4 lbs), cut into 1/2 –inch pieces
1/2 C chopped onion
1/2 tsp dried thyme leaves
1/2 tsp paprika
1/4 tsp black pepper
1 can (about 14 oz) SWANSON chicken broth, divided
1/3 C flour
1 pkg (10 oz) frozen BIRDSEYE peas and carrots
1 can (12 oz) PILLSBURY refrigerated biscuits
Preheat oven to 375 degrees. Melt butter in large skillet over medium heat. Add chicken, onion, thyme, paprika, and pepper. Cook 5 minutes or until chicken is browned. Combine 1/4 C chicken broth with flour; stir until smooth. Set aside. Add remaining chicken broth to skillet; bring to boil. Gradually add flour mixture, stirring constantly to prevent lumping.
Simmer 5 minutes. Add peas and carrots; continue cooking 2 minutes.
Transfer to 1 1/2-quart casserole; top with biscuits. Bake 25 to 30 minutes or until biscuits are golden brown.