Nothing But Waffles!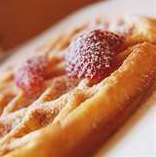 According to my grandsons, I make the best French toast of anyone in the world. That said, they also believe that my waffles fell out of the sky and onto their plates: in other words, they think I make the best waffles, as well. Fortunately, their culinary tastes are fairly simple, hence their believing that I am the grandma equivalent to a Michelin cook!
Not wanting to hog ALL of the glamour, I thought I would share with you some of the recipes that are my family's favorites—along with a little Waffle History, of course!
In the 14th century, wafers were all the rage—essentially, what we know today as waffles, but not called than until the 18th century. While we have our own American version, we are probably all familiar with Scandinavian Waffles. These are thinner than our waffles, or the fat Belgium waffles served for breakfast, and are usually heart shaped. Scandinavians like to put brown cheese on top, and actually celebrate Waffle Day on March 25th. Belgium waffles can be made plain, or with vanilla or cinnamon spices, and are sold by street venders throughout this country.
Of course the little square divots are the secret. These allow your fruit, chocolate, honey, ice-cream, syrup or whatever you put on top, to settle into the waffle for a delicious flavor.
Try the following recipes and celebrate your own Waffle Day whenever you like!
---
Scandinavian Waffles - Sour Cream Waffles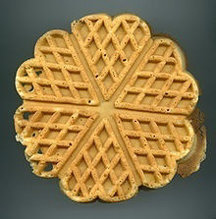 2 cups sour cream (full cream)
4 eggs
1 cup plain flour
1 teaspoon salt
1/2 teaspoon baking powder
½ cup water
Make a smooth batter with all the ingredients. Set for 15 minutes before cooking in a waffle maker.
---
Classic Belgium Waffles with Chocolate Fudge Sauce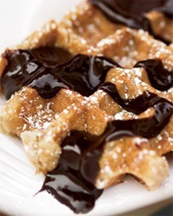 1 1/2 teaspoons active dry yeast
1 cup warm water
3 cups all-purpose flour
1/2 teaspoon salt
1 cup whole milk
1 stick unsalted butter, melted
2 large eggs, separated
1/2 teaspoon pure vanilla extract
Confectioners' sugar, for dusting
1. In a small bowl, dissolve the yeast in the water. In a large bowl, stir the flour with the salt. Whisk in the yeast mixture, milk, butter, egg yolks and vanilla until smooth.
2. In a medium bowl, beat the egg whites until soft peaks form. Fold them into the batter and let stand for 20 minutes.
3. Preheat the oven to 225°. Heat and grease a waffle iron. Pour 1 1/4 cups of the batter into the iron and cook until the waffles are golden, 6 minutes. Transfer the waffles to the oven. Repeat with the remaining batter. Dust the waffles with confectioners' sugar, drizzle with the Belgian Chocolate-Fudge Sauce and serve.
Chocolate Fudge Sauce for Waffles
Makes 2 Cups
1 cup heavy cream
10 ounces bittersweet chocolate, chopped
2 tablespoons confectioners' sugar
1. In a saucepan, bring the cream to a boil. Remove from the heat and add the chocolate. Let stand for 2 minutes, then stir until the chocolate is melted. Add the confectioners' sugar and whisk until smooth.
---
Basic Recipe Waffles
Makes 10-12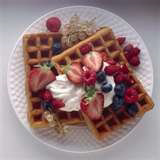 2 cups all-purpose flour
1 teaspoon salt
4 teaspoons baking powder
2 tablespoons white sugar
2 eggs
1 1/2 cups warm milk
1/3 cup butter, melted
1 teaspoon vanilla extract
1. In a large bowl, mix together flour, salt, baking powder and sugar; set aside. Preheat waffle iron to desired temperature.
2. In a separate bowl, beat the eggs. Stir in the milk, butter and vanilla. Pour the milk mixture into the flour mixture; beat until blended.
3. Ladle the batter into a preheated waffle iron. Cook the waffles until golden and crisp. Serve immediately.
---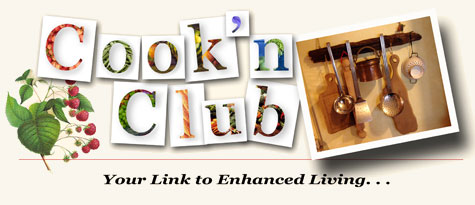 Contribute to the Cook'n Club!
DVO would love to publish your article, prose, photography and art as well as your cooking, kitchen and nutrition tips, tricks and secrets. Visit the Newsletter Submission / Win Win for All section in our Forum for more information and details.