5 Things Our Eyes Say

About our Health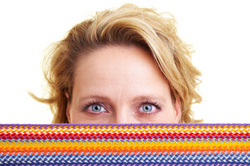 While exploring the Care2.com archives today, I found some startling information on eyes: "The eye is a unique window into health," says ophthalmologist Andrew Iwach, spokesperson for the American Academy of Ophthalmology (AAO) and executive director of the Glaucoma Center of San Francisco. "It's the only place in the body where, without surgery, we can look in and see veins, arteries, and a nerve (the optic nerve)."
The eyes' transparency explains why common eye diseases such as glaucoma, cataracts, and macular degeneration can be detected early with regular eye exams.
"Unfortunately, people get busy and delay not only eye exams but regular physicals. That's why eye doctors sometimes discover other issues, like diabetes or high blood pressure," Iwach says. Especially vulnerable, he says: People like caregivers, who worry about others around them while neglecting care for themselves. So keep your eye out for these 14 problems: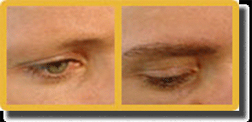 1. Red flag: Disappearing eyebrows. What it means: When the outer third of the brow (the part closest to the ears) starts to disappear on its own, this is a common sign of thyroid disease—either hyperthyroidism (overactive thyroid gland) or hypothyroidism (underactive thyroid gland). The thyroid is a small but critical gland that helps regulate metabolism, and thyroid hormones are among those critical to hair production.
More clues: Brows tend to thin with age naturally. But with thyroid disease, the brow-hair loss isn't evenly distributed; it's a selective dropout on the ends. There's usually a loss of hair elsewhere on the body, too, but the brows are so prominent, it's often noticed here first. Early graying is a related sign of a thyroid problem. Women are more often affected than men, and hyperthyroidism especially strikes women in their 20s and 30s.
What to do: Mention this symptom to a dermatologist or your regular doctor. Most other symptoms of both hyper- and hypothyroidism are notoriously broad and general. Before you see a doctor, make note of any other changes you've noticed, possibly concerning weight, energy levels, bowel or menstrual regularity, mood, or skin changes.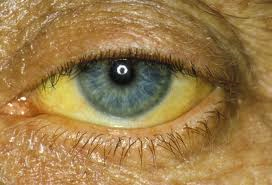 2. Red flag: Whites of the eye turned yellowish. What it means: Two groups of people most often show this symptom, known as jaundice: Newborns with immature liver function and adults with problems of the liver, gallbladder, or bile ducts, including hepatitis and cirrhosis. The yellow in the white part of the eye (the sclera) is caused by a buildup of bilirubin, the by-product of old red blood cells the liver can't process.
More clues: "Other tissues of the body would have the same look, but we can't see it as clearly as in the whites of the eye," says ophthalmologist Iwach. (Skin can also turn yellowish when a person consumes too much beta carotene -- found in carrots -- but in those cases the whites of the eyes remain white.)
What to do: Mention the symptom to a doctor if the person isn't already under care for a liver-related disease, so the jaundice can be evaluated and the underlying cause treated.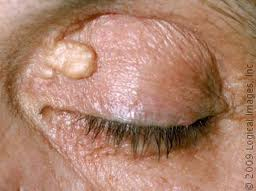 3. Red flag: Bumpy yellowish patches on the eyelid. What it means: Xanthelasma palpebra, the medical name for these tiny yellow bumps, are usually a warning that you may have high cholesterol. They're also called "cholesterol bumps" -- they're basically fatty deposits.
More clues: Sometimes people mistake these bumps for a stye, but with xanthelasma, there tends to be more than one bump and they're quite small.
What to do: See your doctor or a skin or eye specialist. A diagnosis can usually be made by sight. An ophthalmologist can also examine the eye and see deposits; for this reason, in fact, sometimes high cholesterol is first diagnosed during a routine eye exam. The problem usually isn't serious and doesn't cause pain or vision problems. A physician will also evaluate you for other signs of coronary artery disease.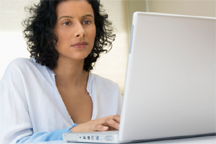 4. Red flag: Burning eyes, blurry vision while using a computer. What it means: You might be a workaholic, and you definitely have "computer vision syndrome" (CVS). The eyestrain is partly caused by the lack of contrast on a computer screen (compared with ink on paper) and the extra work involved in focusing on pixels of light. What's more, by midlife the eyes lose some of their ability to produce lubricating tears. Irritation sets in, adding to blurriness and discomfort.
More clues: Does the problem worsen in the afternoon (when the eyes tend to become drier)? Is it worse when you're reading fine print (more eyestrain)? People who wear glasses or contacts tend to be bothered more by CVS. "Sometimes the problem is made worse by a fan positioned so it blows right in the face," the AAO's Iwach adds, noting that the air further dries tired eyes.
What to do: Reduce glare by closing window shades, investing in a computer hood, or checking out antireflective coating for your glasses (if you wear them). Simply tinkering with the contrast of your screen can help, too. White areas should neither glow brightly like a light source nor appear gray. Flat-panel LCD display screens (like those on laptops) cause less eyestrain than older models. Keep reference material close to the same height as your monitor, giving your eyes a break from having to refocus so much.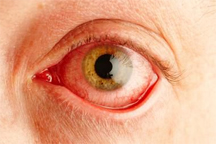 5. Red flag: Red, itchy eyes. What it means: Many things can irritate eyes, but itchiness accompanied by sneezing, coughing, sinus congestion, and/or a runny nose, usually screams "I'm allergic!" When the eyes are involved, the trigger is usually airborne, like pollen, dust, or animal dander.
BOTTOM LINE: We need to keep our rest our eyes, keep our cholesterol down and take care of our liver!
---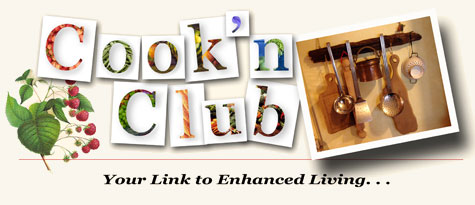 Contribute to the Cook'n Club!
DVO would love to publish your article, prose, photography and art as well as your cooking, kitchen and nutrition tips, tricks and secrets. Visit the Newsletter Submission / Win Win for All section in our Forum for more information and details.