I Should Eat More WHAT?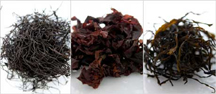 Yes, we should eat more sea vegetables: wakame, arame, dulse, hijiki, kelp and nori, to be exact. WHY? Because they are a super source of absorbable calcium. Also, they help with weight loss, cellulite control, detoxification, beautiful hair and skin, and more. Sea vegetables can transform health! So let's look at them one-by-one and then consider a few recipes calling for these delicious veggies: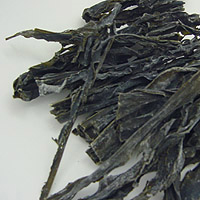 WAKAME (alaria, undaria) is a high-protein, high calcium seaweed, with carotenes, iron and vitamin C. Widely used in the Orient for hair growth and luster, and for skin tone.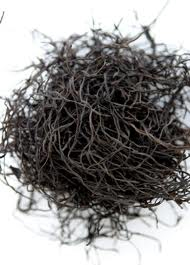 ARAME (Eisenia bycyclis), is one of the ocean's richest sources of iodine. Herbalists use arame to help reduce breast and uterine fibroids, adhesions, and through its fat soluble vitamins and phytohormones, to normalize menopausal symptoms. Arame promotes soft, wrinkle-free skin, enhances glossy hair and prevents its loss.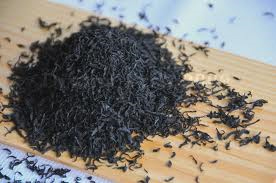 HIJIKI is a mineral-rich, high-fiber seaweed, with 20% protein, vitamin A, carotenes and calcium. Hijiki has the most calcium of any sea green, 1400mg per 100gr. of dry weight.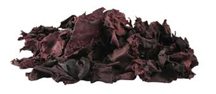 DULSE (palmaria palmata), a red sea plant, is rich in iron, protein, and vitamin A. It is a supremely balanced nutrient, with 300 times more iodine and 50 times more iron than wheat. Tests on dulse show activity against the herpes virus. It has purifying and tonic effects on the body, yet its natural, balanced salts nourish as a mineral, without inducing thirst.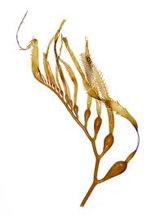 KELP (laminaria) contains vitamins A, B, E, D and K, is a main source of vitamin C, and rich in minerals. Kelp proteins are comparable in quality to animal proteins. A brown marine plant, kelp contains sodium alginate (algin), an element that helps remove radioactive particles and heavy metals from the body. Algin, carrageenan and ager are kelp gels that rejuvenate gastrointestinal health and aid digestion.
It works as a blood purifier, relieves arthritis stiffness, and promotes adrenal, pituitary and thyroid health. Kelp's natural iodine can normalize thyroid-related disorders like overweight and lymph system congestion. It is a demulcent (an agent that forms a soothing film over a mucous membrane, relieving minor pain and inflammation of the membrane) that helps eliminate herpes outbreaks. Kelp is rich and a little goes a long way.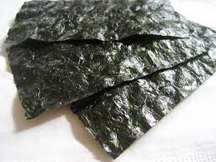 NORI (porphyra, laver) is a red sea plant with a sweet, meaty taste when dried. It contains nearly 50% balanced, assimilable protein, higher than any other sea plant. Nori's fiber makes it a perfect sushi wrapper. Nori is rich in all the carotenes, calcium, iodine, iron, and phosphorus.
---
GINGER-ARAME SALAD
Serves 4 (Thank you to Leslie Cerier.)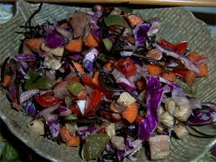 1/2 cup dried arame
8 ounces firm tofu, diced
3 cups thinly sliced green cabbage
1 cup diced celery
4 cloves garlic
1 tablespoon grated ginger
1/4 cup tamari or soy sauce
2 tablespoons toasted sesame oil
1 tablespoon unsulfured molasses or agave nectar
1/2 cup coarsely chopped cilantro, optional
Place arame in the bottom of a large mixing bowl. Layer the tofu on top followed by layers of cabbage and celery (the water from the tofu will hydrate the arame). Set aside.
Place the garlic and ginger in a blender. Add the tamari, sesame oil, and molasses, and purée until smooth. Adjust the seasonings, if desired. Combine the dressing with the arame-vegetable mixture. Garnish with cilantro, and serve.
---
HIJIKI (or HIZIKI) with SHIITAKE MUSHROOMS and BUTTERNUT SQUASH
(Serves 4-6) (Thank you to Leslie Cerier.) According to Leslie, this savory stew can restore the weary and energize those who are feeling fine. Garlic, hiziki, and shiitake mushrooms are renowned for their immune-enhancing properties. Sweet butternut squash fills the pot with the delicious taste of autumn. Serve over rice, quinoa, or noodles.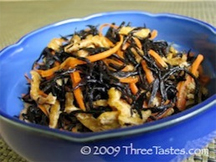 12 ounces seitan
2 cups dried hiziki
3 cups water
2 tablespoons sesame oil
2 cloves garlic, thickly sliced
1 cup coarsely chopped onions
1 1/2 cups coarsely chopped fresh shiitake mushroom caps
3 1/2 cups butternut squash, cut into cubes
1 tablespoon dried nettles, optional
2 tablespoons mirin
Reserving the liquid, cut the seitan into one-inch cubes and set aside. Cover the hiziki with two cups of the water and soak ten minutes, or until tender and triple in size.
While the hiziki is soaking, heat the oil in a six-quart stockpot over medium heat. Add the garlic and onions, and sauté five minutes, or until onions begin to soften.
Add the hiziki and soaking water to the pot along with the remaining ingredients, including the reserved seitan liquid. Bring to a boil, then reduce the heat to low. Simmer covered for twenty minutes, or until the squash is tender. Add more water as needed. Adjust the seasonings, if desired, and serve hot.
---
DULSE CHOWDER
(Serves 4) (Thank you to Wendy Karush, the primary packer, shipper, and can-doer at Maine Coast Sea Vegetables .) According to Wendy, there is no way you can go wrong by adding dulse to any potato based dish. Sea Veggies are a high source of "Natural" nutrients.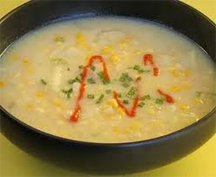 1 medium onion chopped
2 Tbls. olive oil or your preferred oil
2 small or 1 large potato, chunked
1 1/2 cups dried dulse (approx. 1 1/2 oz.)
1/2 tsp. Kelp Granules Sea Seasonings or small piece of kelp
1/2 cup fresh or frozen corn
1/2 cup chopped carrots
1/4 cup chopped parsnips (optional)
1 1/2 - 2 cups water
2 tsp. kuzu or arrowroot starch
1/2 cup soy powder or cashew meal
1-2 tsp. barley miso
Sauté onion in oil, then add potato, dulse, kelp, carrot, corn, parsnip, and sauté another 5 minutes. Add water, then bring to boil and simmer for 15-20 minutes. Dissolve kuzu and soy powder in 1/2 cup cold water, stir into soup and simmer until thick. Dissolve miso in some soup broth, stir into soup and remove from heat. 
---
KELP! HOT POTATOES!
Serves 4 Here's another fun one from Wendy.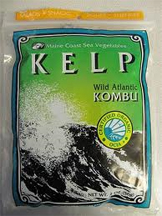 1 1/2 Tbls. olive oil or your preferred oil
3 potatoes, regular or sweet
12 in. kelp, lightly rinsed
1 1/2 Tbls. soy sauce
1/2 tsp. honey
1/2 cup water
Combine the soy sauce and honey. Mix well and set aside. Cut potatoes into bite-sized pieces and sauté in oil until golden. Add kelp cut into 1 in. pieces. Add soy/honey mixture and stir thoroughly. Add water, cover and simmer 15-20 minutes.
---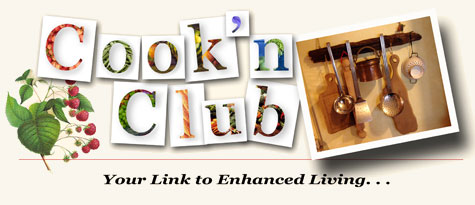 Contribute to the Cook'n Club!
DVO would love to publish your article, prose, photography and art as well as your cooking, kitchen and nutrition tips, tricks and secrets. Visit the Newsletter Submission / Win Win for All section in our Forum for more information and details.