Cook'n without Preservatives
I love love love, your program. I have a son who has, ummm... unusual food allergies and your program allows me to change ingredients so he can have it. He is allergic to anything artificial in food, flavorings, colors and preservatives. Unfortunately the food in this country has become very processed and he just can't eat that without swelling, getting hives or just not being able to breathe.
Did you know that even marshmallows have blue die #1 in it? Boxed cake mixes have artificial flavors in them and canned soup well they are just shocking. Anyway on to my point, do you guys happen to know any recipes for dried cake mixes I can substitute in some of these recipes, or a recipe for cream of mushroom soup to use instead of the condensed soup? Oh and an instant pudding mix?
Tracy
---
Hi Tracy,
Your son is lucky! Not only will he avoid the crazy stuff put into food and thus be healthier, he has a mom who cares enough to learn how to avoid the junk! Way to go!! I try to avoid feeding my family this crazy stuff, too. Here's a few of my resources:
Condensed Soup Mix
2 cups nonfat dry milk
3/4 cup cornstarch
1/4 tsp dried thyme (optional)
1/2 tsp ground black pepper
1/4 cup chicken bouillon
1 tsp dried basil (optional)
2 Tablespoons dried minced onion
Combine ingredients with a whisk. Store in airtight container in the refrigerator or freezer. (I store mine in a Ziploc bag in the freezer).
To use, combine 1/3 cup mix with 1-1/4 cup water in a saucepan. Cook and stir until thickened. (I cook it in the microwave by whisking the mix into the water and cooking on HIGH until it thickens. I stir it after every minute or two to keep it from boiling over.)
Use the sauce to replace 1 10-1/2 oz can condensed cream soup. For variation, add vegetables, pasta, rice, or chipped cooked meat. This also makes an easy gravy or cheese sauce. Very versatile!
Pudding Mix: While it's not instant, it sure cooks up fast. I use this all the time, and I love it. To speed up the cooking process, I bring half the water to a boil. I stir the mix into the remaining cold water (this helps keep the pudding smooth, as hot water makes the starches lump up). Then, I pour the pudding/water mix into the boiling water and whisk smooth (off the heat). I omit the egg because I like the texture/thickness of the pudding without it. It adds one more step, and this way the pudding cooks up faster. For different flavors, I add various extracts or ingredients (bananas, almond extract, vanilla-butter extract, coconut (shredded or extract). For chocolate pudding, I add 2 tablespoons baking cocoa and 2 tablespoons sugar to the 1-1/4 cup mix before mixing it into the water.
Homemade Pudding Enter your email address at this link to receive the recipe.
And here is the link to Homemade Cake Mixes
Happy Cook'n,
Desi
---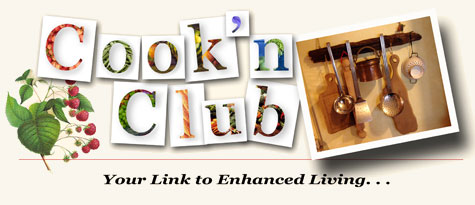 Contribute to the Cook'n Club!
DVO would love to publish your article, prose, photography and art as well as your cooking, kitchen and nutrition tips, tricks and secrets. Visit the Newsletter Submission / Win Win for All section in our Forum for more information and details.