All Things Pie!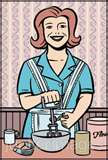 The word "pie", doesn't necessarily have to mean the sweet, cut into 8 wedges kind. Pie can be anything with a filling — whether it is apples, peaches, spinach or chicken. Of course we all love the dessert pie, my favorite happens to be pumpkin, but I also love the recipes that I have listed below.
The chicken pot pie is a hearty favorite in my family. This recipe is perfect for a cold day when a tasty comfort food, accompanied by a good salad, is just what is needed.
I was born in Biloxi, Mississippi, and the Mississippi Mud Pie was one my mother learned to make when she and my dad were stationed in Mississippi. Being the wife of an Air Force pilot, my mother learned to cook recipes from all over the world, as well as within the United States. Considering the fact that she couldn't boil rice when she first married my dad, the honed her talent much to the delight of family and friends. Thanks, Mom!
The Spring Greens Pie is one that I discovered. I was a little nervous about using Phyllo dough, but needed not have been. This is another type of "pie" that is quite good—and good for you as well. Just FYI, I add some light sour cream to the veggies when I mix them up for a little more flavor.
---
Chicken Pot Pie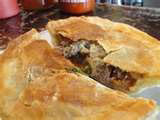 1/2  (15-ounce) package refrigerated pie dough (such as Pillsbury)
Cooking spray
1/8  teaspoon  salt
2  tablespoons  all-purpose flour
1  teaspoon  dried rubbed sage
1/4  teaspoon  salt
1/4  teaspoon  black pepper
8  ounces  chicken breast tenders, cut into bite-sized pieces
1 1/4  cups  water
1 1/2  cups  frozen mixed vegetables
1  cup  mushrooms, quartered
1  (10 1/2-ounce) can condensed reduced-fat, reduced-sodium cream of chicken soup
Preheat oven to 425°.
Cut 3 (4-inch) circles out of dough; discard remaining dough. Place dough circles on a baking sheet coated with cooking spray. Lightly coat dough with cooking spray; sprinkle evenly with 1/8 teaspoon salt. Pierce top of dough with a fork. Bake dough at 425° for 8 minutes or until golden.
Combine flour, sage, 1/4 teaspoon salt, and pepper in a zip-top plastic bag; add chicken. Seal bag, and toss to coat. Heat a large nonstick skillet coated with cooking spray over medium-high heat. Add chicken mixture; cook 5 minutes, browning on all sides. Stir in water, scraping pan to loosen browned bits. Stir in vegetables, mushrooms, and soup; bring to a boil. Reduce heat, and cook 10 minutes. Spoon 1 cup chicken mixture into each of 3 (1-cup) ramekins or bowls; top each serving with 1 piecrust.
---
Mississippi Mud Pie
Yield: 10 servings (serving size: 1 slice)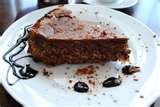 Crust:
4.5  ounces  all-purpose flour (about 1 cup)
2  tablespoons  sugar
2  tablespoons  unsweetened cocoa
1/4  teaspoon  salt
2 1/2  tablespoons  vegetable shortening
2  tablespoons  chilled butter, cut into small pieces
1/4  cup  ice water
Cooking spray
Filling:
3  tablespoons  butter
1  ounce  semisweet chocolate chips
1  teaspoon  vanilla extract
4  large egg whites
1  cup  sugar
3.4  ounces  all-purpose flour (about 3/4 cup)
1/3  cup  Dutch process cocoa
1/2  teaspoon  baking powder
Dash of salt
1. To prepare crust, weigh or lightly spoon 4.5 ounces (about 1 cup) flour into a dry measuring cup; level with a knife. Combine 4.5 ounces flour, 2 tablespoons sugar, 2 tablespoons unsweetened cocoa, and 1/4 teaspoon salt in a food processor; pulse 2 times or until blended. Add shortening and chilled butter; pulse 6 times or until mixture resembles coarse meal. With processor on, slowly pour ice water through food chute, processing just until blended (do not allow dough to form a ball); remove from bowl. Gently press mixture into a 4-inch circle; wrap in plastic wrap. Chill 30 minutes.
2. Preheat oven to 350°.
3. Unwrap and place chilled dough on plastic wrap. Lightly sprinkle dough with flour; roll to a 10-inch circle. Fit dough, plastic wrap side up, into a 9-inch pie plate coated with cooking spray. Remove remaining plastic wrap. Fold edges under, and flute.
4. To prepare filling, place 3 tablespoons butter and chocolate in a microwave-safe bowl. Microwave at HIGH 30 seconds or until butter and chocolate melt, stirring well to combine. Place vanilla and egg whites in a bowl; beat with a mixer at medium speed until foamy. Gradually add 1 cup sugar; beat until soft peaks form (about 2 minutes). Gently fold melted chocolate mixture into egg white mixture.
5. Weigh or lightly spoon 3.4 ounces flour and 1/3 cup Dutch process cocoa into dry measuring cups; level with a knife. Combine flour, cocoa, baking powder, and dash of salt in a small bowl, stirring with a whisk. Fold flour mixture into egg white mixture. Pour mixture into prepared crust. Bake at 350° for 40 minutes or until a wooden pick inserted in center comes out clean. Cool on a wire rack.
---
Spring Greens Pie
Servings: 4
Even though we call for specific greens here, your options include a variety of dark green, leafy vegetables. You will need to purchase several bunches of beets. After trimming the greens for this recipe, roast the beets for later or serve them as a side dish with the meal.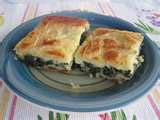 Cooking spray
1  cup  thinly sliced green onions
1/2  cup  sliced shallots (about 5)
10  cup  bagged prewashed baby spinach (about 3 [6-ounce] packages)
5  cups  trimmed arugula (about 9 ounces)
4  cups  chopped beet greens (about 4 ounces)
1/2  cup  part-skim ricotta cheese
1/2  cup  (2 ounces) shredded part-skim mozzarella cheese
1/2  cup  coarsely chopped fresh parsley
1/4  cup  chopped fresh dill
1/2  teaspoon  salt
1/2  teaspoon  fennel seeds
1/2  teaspoon  black pepper
8  sheets frozen phyllo dough, thawed
Preheat oven to 375°.
Heat a large nonstick skillet over medium-high heat. Coat pan with cooking spray. Add onions and shallots; cook 4 minutes or until golden. Remove onion mixture from pan; set aside. Add spinach to pan; cook 6 minutes or until wilted, stirring occasionally. Place spinach in a colander. Add arugula and beet greens to pan; cook 3 minutes or until wilted. Place arugula mixture on top of spinach in colander; drain, pressing until barely moist. (This is when I add the sour cream!)
Combine onion mixture, spinach mixture, and cheeses in a large bowl. Stir in parsley, dill, salt, fennel seeds, and pepper. Place one sheet of phyllo dough on a large cutting board or work surface (cover remaining dough to keep from drying); lightly coat with cooking spray. Place sheet in a 10-inch deep-dish pie plate coated with cooking spray, gently pressing into bottom and up sides of pan, letting ends of phyllo overlap the top of pan. Repeat procedure with remaining phyllo sheets, placing in a crisscross pattern. Spoon spinach mixture evenly over phyllo. Fold overlapping ends of phyllo toward center of pan. Coat ends with cooking spray, and gently press to hold shape.
Bake at 375° for 40 minutes or until golden. Cool 15 minutes on a wire rack; cut into wedges.
---
---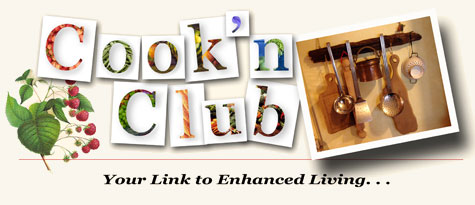 Contribute to the Cook'n Club!
DVO would love to publish your article, prose, photography and art as well as your cooking, kitchen and nutrition tips, tricks and secrets. Visit the Newsletter Submission / Win Win for All section in our Forum for more information and details.