America's Top 5 All-Time

Favorite Gravy Recipes!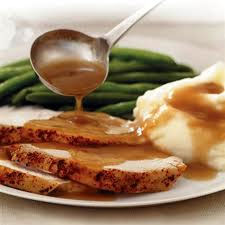 My husband, Rich, says that gravy gives life meaning and purpose — it's one of life's essentials. I dunno, but if it's what the guy wants, it's what the guy should have. I've never been great at gravy-making though, so I went hunting for fool-proof recipes and tried-and-true advice.
Thinking you might appreciate this information as well, I share it. The best thing I found from my research was America's top 5 favorite gravy recipes—unearthed in a humble little cook booklet my Aunt Annie had stashed away! First the how-to, then the recipes:
General Making Gravy Steps:

Step 1: Heat 4 cups of turkey, chicken or beef broth in a saucepan until hot but not boiling.
Step 2: Transfer the cooked poultry or beef from the roasting pan and set it on a cutting board to rest. Remove as much grease or fat as possible from the pan using a spoon, ladle or gravy separator. Reserve ¼ cup fat.
Step 3: Place the roasting pan over two burners on the stove on medium heat. Deglaze the pan by adding ½ cup water or other liquid (wine, turkey, beef or chicken stock). Stir constantly and scrape the bottom of the pan to loosen browned bits. Pour off the liquid from the roasting pan into a measuring cup or the saucepan of hot turkey broth.
Step 4: Add ¼ cup reserved fat to roasting pan over medium heat. Whisk in ¼ cup all-purpose flour. Cook gently, stirring constantly, until the flour loses its "raw" smell and the mixture becomes golden in color. Cooking the flour enhances the thickening power of the roux and adds color and nutty flavor to the gravy.
Step 5: Then transfer the roux to a saucepan. Whisk in the hot broth and pan drippings and simmer over medium heat, stirring frequently, for 5 minutes or until thickened.
Step 6: Season to taste with salt and pepper. Transfer to a warmed gravy boat or serving bowl and garnish with fresh chopped sage. Other herbs and spices may suit your tastes as well; experiment with a pinch of cloves, a sprinkle of thyme, and a touch of mace. 
---
Braggin' Rights Turkey Gravy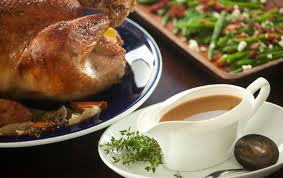 Giblets and neck from turkey
1 ½ C chopped onion
1 C chopped celery
1 pinch ground pepper
2 (1.2 ounce) packages dry turkey gravy mix
3 (14.5 ounce) cans chicken broth, or more as needed
2 C turkey drippings
1/4 C quick-mixing flour (such as Wondra®)
1/2 C milk or cream (optional)
Remove the wrapping, and place the giblets and turkey neck into a large saucepan with onion, celery, white pepper, and turkey gravy mix. Pour the chicken broth over the mixture, bring to a simmer over medium-low heat, and simmer for 30 minutes. Remove the turkey liver and set aside. Allow the stock to simmer for 2 1/2 more hours. Stock should equal about 3 cups; add more chicken broth if necessary. Remove the giblets and chop them if you want to put them back into the gravy. Chop the liver if desired. Strain the stock into a saucepan; discard bones and spent vegetables.
When the turkey is finished roasting, pour the drippings into a fat separator or bowl, and skim off the fat. In a bowl, whisk the quick-mixing flour with the pan drippings until smooth, then whisk the flour mixture into the stock. Bring the gravy mixture to a simmer over medium heat, whisking constantly, and add the chopped giblets, if desired.
---
Veggie-Lovers Gravy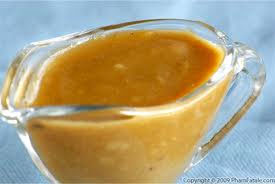 1/2 C extra virgin, cold pressed olive oil
1/3 C chopped onion
5 cloves garlic, minced
1/2 C all-purpose flour
5 tsp light soy sauce
2 ½ C vegetable broth
1/2 tsp dried sage
¼ to ½ tsp dried rosemary
1/2 tsp salt
1/4 tsp ground black pepper
Heat oil in a medium saucepan over medium heat. Saute onion and garlic until soft and translucent, about 5 minutes (be careful not to burn the garlic). Stir in flour and soy sauce to form a smooth paste. Gradually whisk in the broth. Add seasonings. Bring to a boil. Reduce heat, and simmer, stirring constantly until thickened.
---
Beef Gravy to Die For
(You'll never go back to the instant packets again!)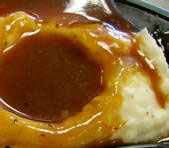 ½ C butter
½ C flour
1 clove garlic, minced
1/8 C ketchup
3/4 tsp Dijon mustard
1 tbsp Worcestershire sauce
1 quart cold beef broth or stock (as high-quality as possible!)
salt and black pepper to taste
In a saucepan, melt the butter over medium-low heat. Add the flour and cook, stirring, for 5 minutes, until the mixture is golden-brown and smells like cooked pie crust. Add the garlic and cook for 30 seconds. Whisk in a cup of the cold beef broth, and then add the rest of the ingredients, except the salt and pepper.
Bring to a simmer, whisking, and then reduce the heat to low and simmer for 20 minutes, stirring occasionally. Taste, and season with salt and pepper.
---
Sensational Sausage Gravy

1 pound Italian sausage
1/4 cup all-purpose flour
2 cups milk or cream
Salt and black pepper to taste
Crumble and cook sausage in large skillet over medium heat until browned. Stir in flour until dissolved. Gradually stir in milk or cream (or a combination of both). Cook gravy until thick and bubbly. Season with salt and pepper. Serve hot over biscuits or rice, or pasta, or eat from the spoon! Leftovers (like that'll happen) refrigerate well.
---
Fish Sauce or Gravy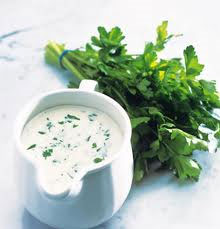 2 to 2 ½ Tbsp butter
2 Tbsp flour (whole grain gives this a nice touch)
1 1/2 C milk or cream, scalded
3/4 C fish stock
2 Tbsp fresh lemon juice
1 egg yolk
Melt butter; gradually add flour and heated milk. Add fish stock and lemon juice just before removing from heat. Just before serving, beat sauce into egg yolk. One tablespoon catsup can be added, if desired. Bottled clam broth can be used as a substitute for fish stock as well.
---
---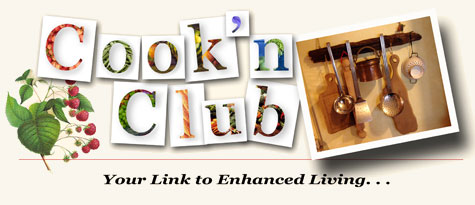 Contribute to the Cook'n Club!
DVO would love to publish your article, prose, photography and art as well as your cooking, kitchen and nutrition tips, tricks and secrets. Visit the Newsletter Submission / Win Win for All section in our Forum for more information and details.