What a Cheese Ball!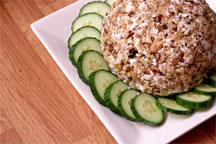 No, I'm not slammin' anyone. I'm talking about what could be one of the best holiday gifts from the kitchen, ever — the all-time favorite — the cheese ball.
Most cooks I've talked to have a favorite recipe for this festive and delicious snack—me included. I inherited two amazing recipes from a terrific neighbor years ago and they have never failed me. (See recipes below.)
One of my favorite things to do with either of my cheese ball recipes is to add a smidge of cream to make it spreading consistency, and use it for sandwich filling. I also like to spread it on thin slices of deli ham, roll it all up (cinnamon roll style), and slice. Voila! I have easy and tasty appetizers for my pre-dinner tray.
Another fun thing to do with cheese ball material is to form little balls, roll in nuts as you would a large ball, and save for school and work lunches. How ultra-cool to have your own little cheese balls and crackers at your desk!
And of course, per my wonderful friend's example, I now give cheese balls to my neighbors at holiday time. I have to say though, it's hard to do—I want to keep 'em because they're so darn good. Guess that's the best gift of all, isn't it? One you'd want for yourself!
Best Cheese Ball
(makes 2 medium balls or 1 humungous ball)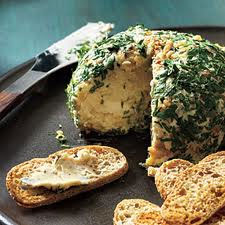 2 (8 ounce) packages cream cheese, softened
3/4 cup shredded medium or sharp Cheddar cheese
1/2 C shredded pepper jack cheese
1/3 red bell pepper, minced
1 tsp Worcestershire sauce
1/2 tsp garlic powder
½ tsp Deliciously Dill (made by Spice Hunter)
1 C chopped cilantro (for rolling)
1 ½ C chopped pecans
In a medium bowl combine the cream cheese, Cheddar cheese, Monterey Jack cheese, bell pepper, Worcestershire sauce, garlic powder and Deliciously Dill. Mix together and form mixture into a ball. Roll ball in cilantro and nuts and serve with your favorite crackers.
---
Bacon Ranch Cheese Ball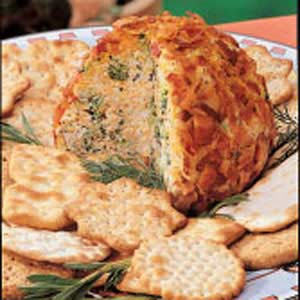 8 slices bacon
2 ½ (8 oz) packages cream cheese, softened
1 (1 oz) package buttermilk dressing mix
1 C shredded sharp Cheddar cheese
4 green onions, chopped
2 Tbsp chopped black olives
2 Tbsp chopped red or orange bell pepper
1 1/2 C chopped pecans or sliced almonds
Place the bacon in a large, deep skillet, and cook over medium-high heat, turning occasionally, until evenly browned, about 10 minutes. Drain the bacon slices on a paper towel-lined plate. Crumble the cooled bacon into small pieces.
Stir together the cream cheese and ranch dressing mix in a bowl until smooth. Add the bacon, Cheddar cheese, green onions, olives and bell pepper; stir until well combined. Shape the mixture into a ball and roll in the chopped nuts. Refrigerate overnight.
---
---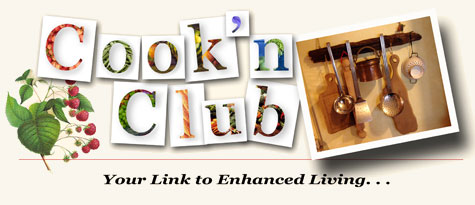 Contribute to the Cook'n Club!
DVO would love to publish your article, prose, photography and art as well as your cooking, kitchen and nutrition tips, tricks and secrets. Visit the Newsletter Submission / Win Win for All section in our Forum for more information and details.