The Most Searched Food Item of 2018… It's Enchanting!
The news isn't always my favorite thing to watch or read these days, but headlines about food always catch my attention. I recently came across an article about the most searched food items of 2018 and I was immediately interested. This article was specifically referring to searches on Google. Can you guess what the number one searched food item of 2018 was? Drumroll… It was none other than "Unicorn Cakes!"
To be completely honest, I wasn't all that surprised. I have two little girls and if you have little girls, you know that unicorns are all the rage right now. They are everywhere; from the girl's clothing section to the toy section to the party section to the bedroom décor, etc. My 3-year-old's birthday was at the end of January, and all she wanted was a "you-knee-corn" birthday party. So, I got my first attempt at making a unicorn cake.
I am not really a cake decorator so I knew I would have to create something simple. Thus, my search for a unicorn cake began by typing "easy unicorn cakes" into the Google search engine. Thanks to Kraft and a little bit of my own creativity, I came up with a super simple unicorn cake that I want to share with you.
I began by baking a good-old fashioned Pillsbury strawberry cake. You could, of course, make any kind of cake you want, but all I had time for that day was a cake from a box. The important thing is to bake your cake in a round cake pan. I used a 12-inch, round springform pan, which turned out to be perfect. Once the cake was baked and cooled, I set it on my cake platter.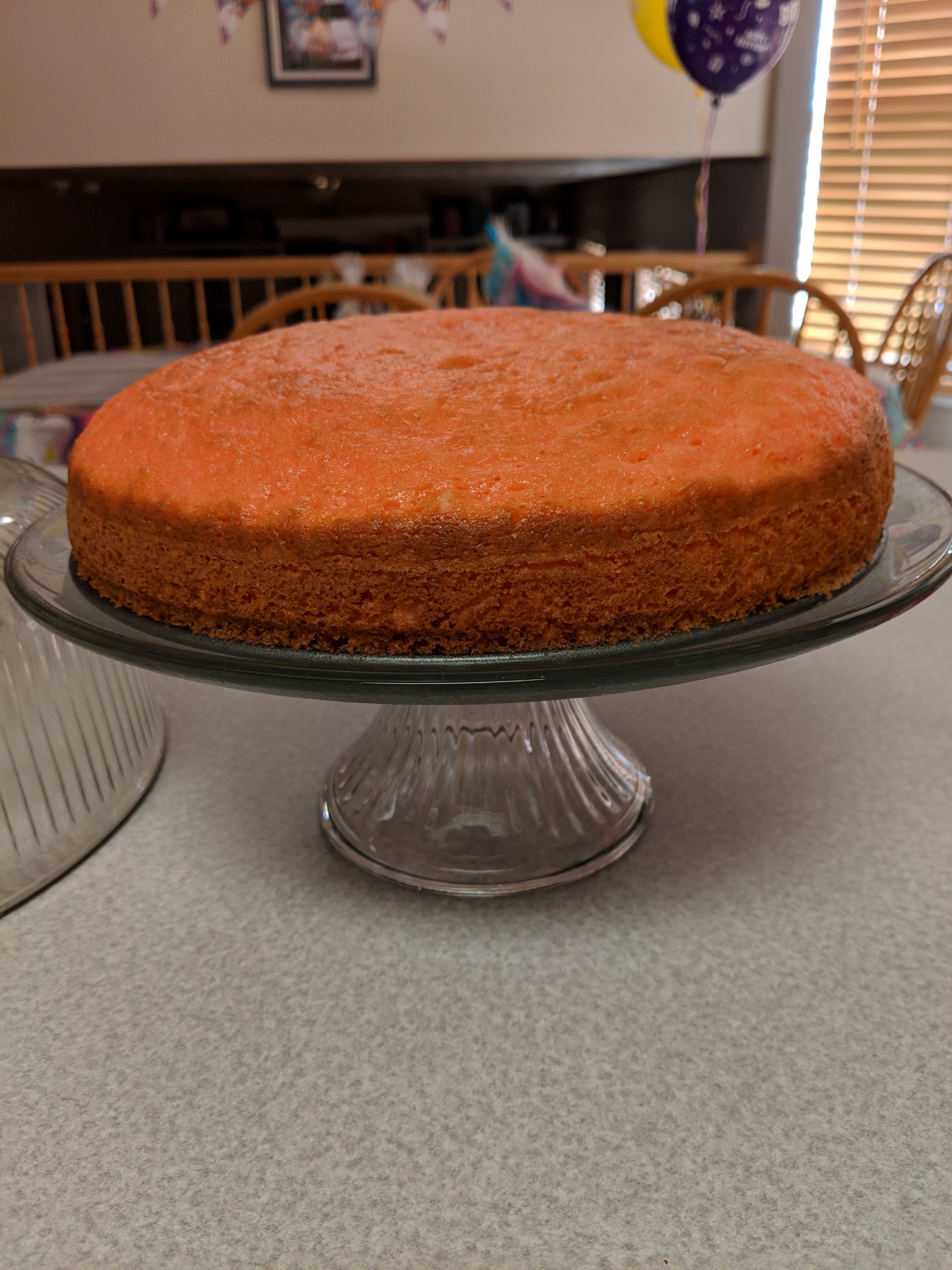 Next, I made the frosting. This frosting recipe is incredible! It was easy and so delicious.
Kraft Unicorn Cake Frosting
1 7oz jar Kraft Jet-Puffed Marshmallow Crème
1 8oz pkg cream cheese
1 tsp vanilla extract
1 8oz tub Cool Whip, thawed
Food coloring (optional)
Directions: Beat marshmallow crème, cream cheese and vanilla extract in a large bowl. (I used a hand-held mixer on medium speed). Stir in Cool Whip until smooth.
Add Recipe to Cook'n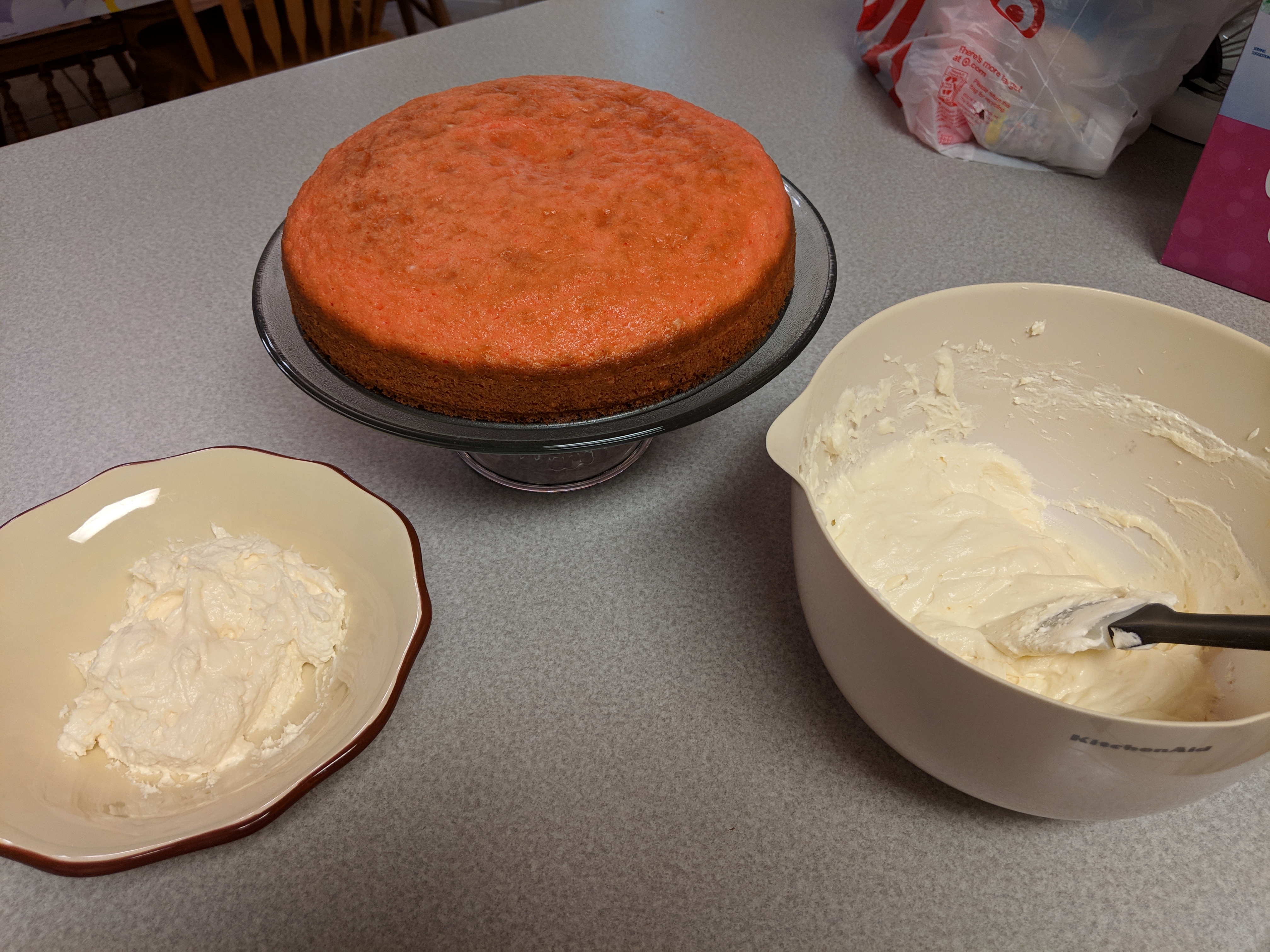 I wanted my unicorn to be mostly white with a different color for the hair. So, I put about ½ cup of frosting in another bowl and added a few drops of red food coloring and set aside. I used this pink frosting later.
After making the frosting, I frosted my cake white. I used the leftover white frosting to help make the unicorn's horn and ears. To make the horn, I got a waffle ice cream cone and first covered it with the white frosting. Then I rolled the frosted cone into a bowl of gold-colored sprinkles until the horn looked shimmery gold.
To make the unicorn's ears I used a jumbo-sized marshmallow. I cut the marshmallow in half so it made 2 triangles. Then I did the same thing I did with horn. I frosted both halves of the marshmallow with the white frosting, and covered the frosted marshmallows in gold sprinkles. (You could also just leave the ears white if you'd rather).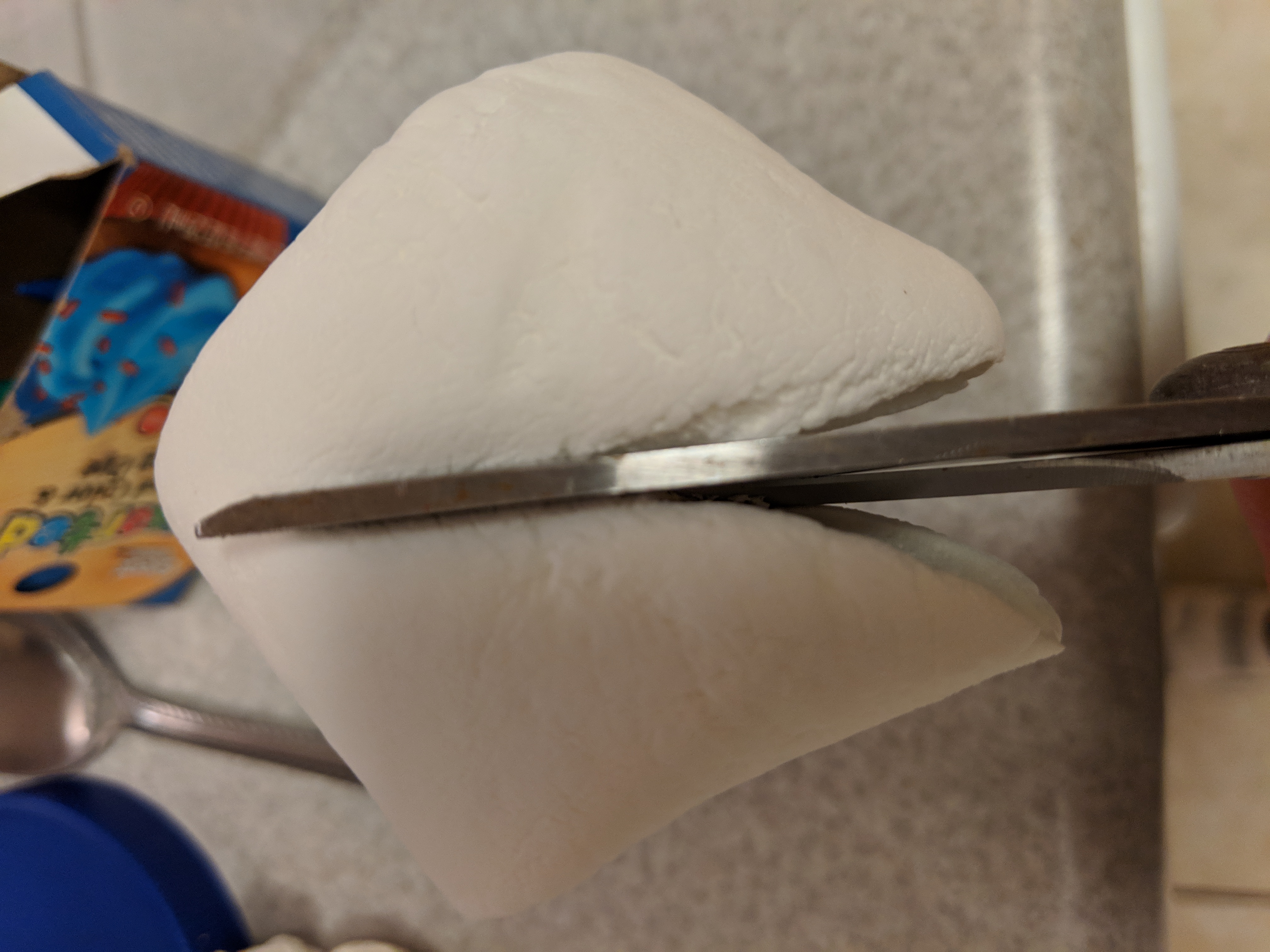 Now that the horn and ears were done, I had to hurry and create the hair. I chose to make my unicorn's hair all pink, but you could use more than one color for the hair if you have more time than I did. I put my pink frosting in a piping bag and piped little tufts of pink hair all around the horn, ears, and back of the cake.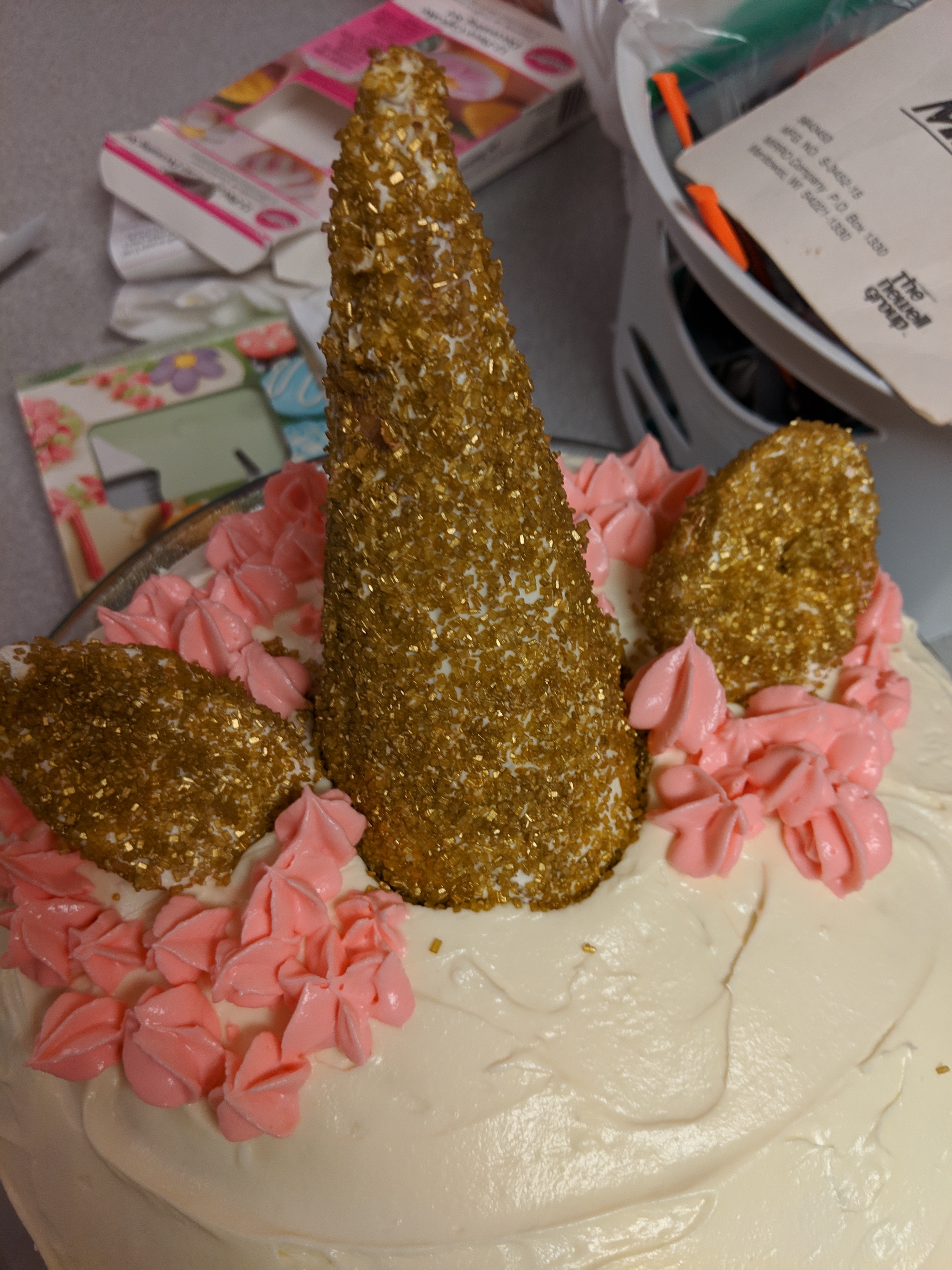 The final step was to create some eyes. My eyes were made super simple with a small tube of blue frosting. I actually would have preferred to use black frosting for the eyes, but they were all out of black frosting tubes at the store when I was buying the ingredients for my cake.
And there you have it… A finished cake! It was super simple, quite yummy actually, and made a 3-year-old pretty happy. What more could you ask for in a unicorn cake?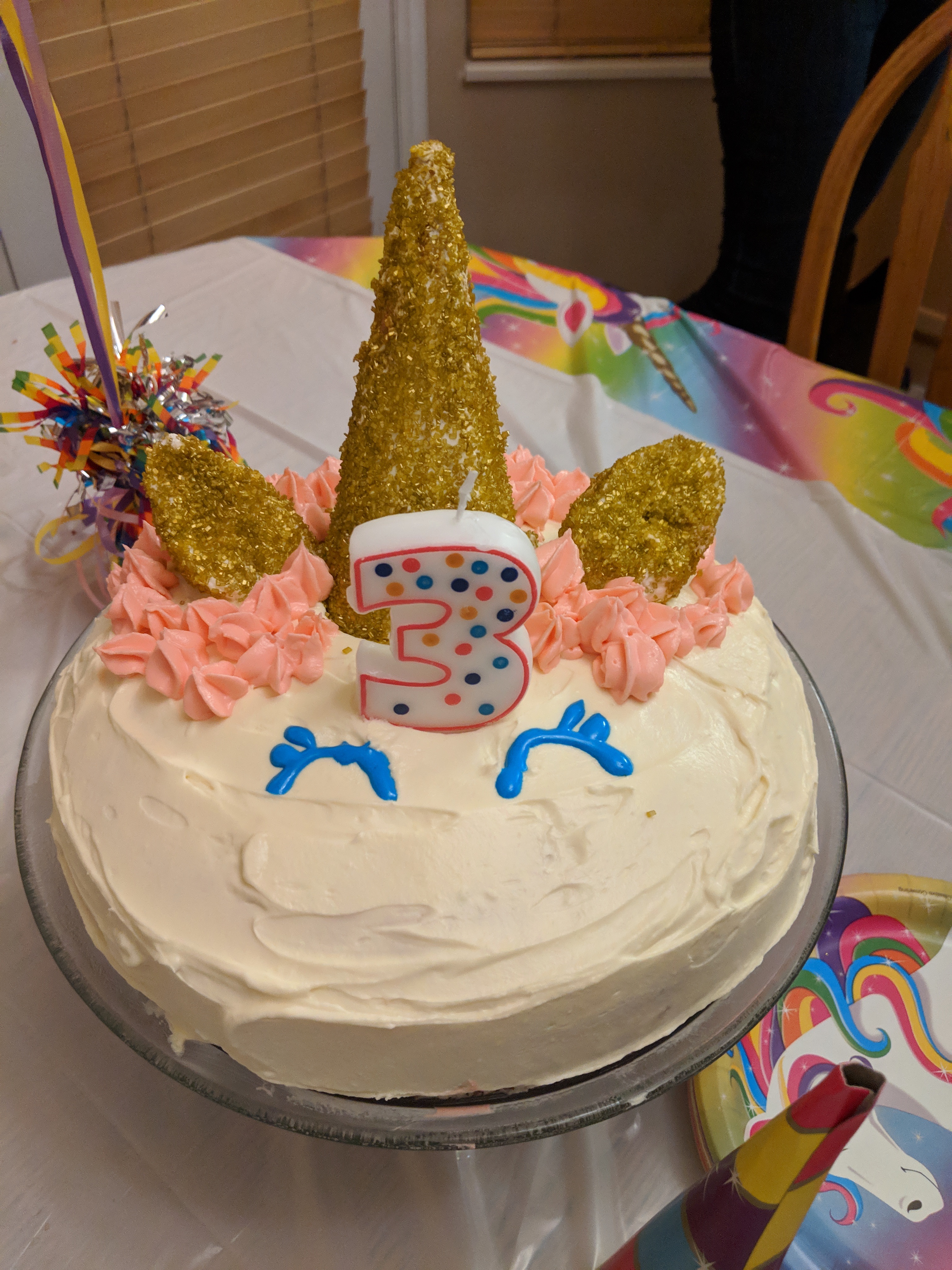 How many of our readers have made a unicorn cake? Tell me about them in the comments below!
Sources:
https://food52.com/blog/23543-2018-google-food-trends
https://www.kraftrecipes.com/recipe/210283/easy-unicorn-cake-recipe

Cristina Duke
Monthly Newsletter Contributor since 2014
Email the author! cristina@dvo.com