Reader Questions Make Our Day and Make for a GOOD Article!
It's such a pleasure receiving feedback and questions from our Cook'n readers. Your posted comments add so much to the value of our articles. We especially love getting specific inquiries from you.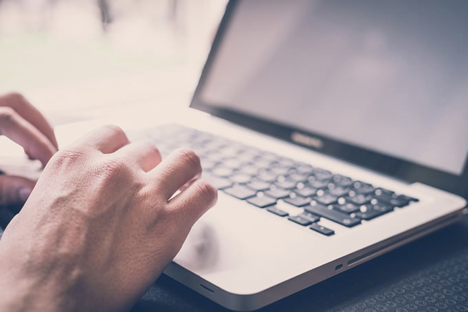 Just recently Cook'n reader, Ellen Ottoson, emailed me with a question regarding biscuit-topped casseroles. Basically, Ellen needed to know how to bake this type of casserole so that the biscuits don't come out doughy in the middle and the casserole itself isn't overdone.
I appreciate this very good question. Knowing the answer to it means you can always jazz up any casserole with a bread or biscuit topping and have a tasty, successful outcome.
So to solve this dilemma, first things first. Meaning the oven temperature needs to be looked at. You want to be sure it's spot on. Ellen said she has a new oven with a thermometer that says the oven temperature is accurate. Therefore, her oven wasn't the reason her biscuit tops came out doughy.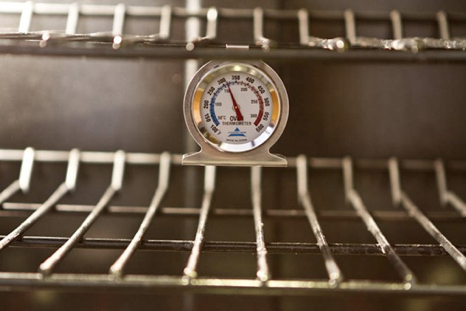 Knowing your oven temperature is correct leads to the next issue: the recipe itself. Specifically, the "bake at" recommendation. You have to wonder if the prescribed baking temperature is at fault. In fact, Ellen asked just that: "What oven temperature do I really want to set the oven at?"
A casserole typically calls for a 350 degree temperature. But biscuits usually need to be baked at 425 degrees.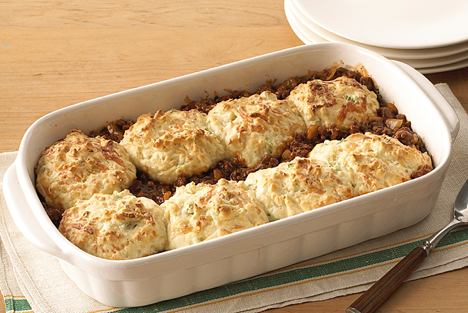 And then there's timing to consider. Casseroles generally need at least 30 minutes to cook through. Whereas biscuits need only 12 to 15 minutes for a thorough bake.
Ellen said that even by adding extra time, her biscuits still didn't finish to the right degree of doneness (doughy middles). So she ended up removing them from the casserole and putting them on a foil-covered tray and baking them at the higher temperature (425 degrees). Only then did they finish baking and rising correctly.
Ellen's email concluded with, "So what are we to do so a recipe comes together correctly, when the two main items require different baking times and temperatures?" Ellen also said she suspected other cooks june well have the same question.
I thought I had the answer, but to double-check, I went to a favorite recipe and HOW-TO site, Taste of Home. Turns out, Ellen was right. Lots of people had written Taste of Home with almost the exact same question.
Here's what their panel of expert cooks and chefs suggested as the answer to this very common frustration:
"Biscuits that are baked on top of casseroles, stews and potpies can easily remain doughy in the middle or become doughy on the bottom. The answer is in achieving better heat circulation. To get this, use a shallow baking dish and arrange biscuits so they are not touching each other. If you're using refrigerated biscuit dough, bake your dish at the same temperature or higher than the directions call for on the package.
"The number one trick, though, is to add the biscuits 12 to 15 minutes before the end of the casserole's baking time. Raise the oven temperature to what the biscuits call for and bake for the prescribed time—likely 12 to 15 minutes."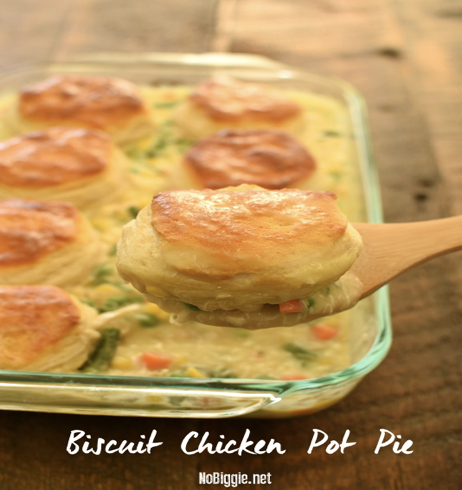 So the bottom line? Do not place biscuits atop your casserole at the beginning of its baking time. And when you do add your biscuits, raise your oven temperature to accommodate the biscuits.
To Ellen and all other readers that june have had the same question, I hope this helps. And a special "Thank You!" to Ellen for asking. I'll conclude with this delicious recipe Ellen sent along with her query (I'm assuming it was the one she was referring to regarding the doughy biscuits.) It's from The Grange Cookbook, Casseroles, Including Breads, by the Virginia State Grange, 1969 (library of Congress # 76-89449).
Remember, DON'T follow the directions by placing the biscuits on the casserole at the beginning of the baking time. Follow the directions above.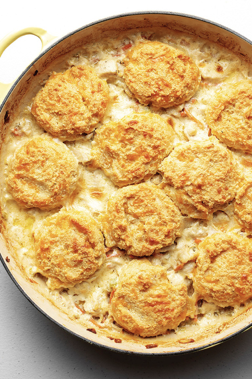 Salmon Pot Pie
Prep time:
Cook time:
Yield:
6 servings
Serving size:
1
Calories per serving:

0




Ingredients:
2 to 3
tablespoons
chopped
onions
4
tablespoons
cooking fat
4
tablespoons
flour
2
cups
milk
1/2
cup
grated
cheese
1
(14 3/4-ounce) can
salmon
drained, flaked, bones removed
1
(15-ounce) can
peas
drained; (or substitute frozen, thawed and drained)
salt
to taste
pepper
to taste
baking powder biscuits, unbaked
BAKING POWDER BISCUITS
2
cups
flour
1
tablespoon
sugar
optional
1
teaspoon
salt
4
teaspoons
baking powder
4
tablespoons
shortening
softened (or butter or coconut oil)
1
cup
milk
Directions:
Cook onion in fat; stir in flour. Add milk slowly, stirring constantly. Cook until thickened; add cheese, salmon and seasoning. Heat mixture through, stirring occasionally. Place in greased 2-quart baking dish; top with unbaked biscuits. Bake at 350° F for 30 minutes. (Mrs. J. C. Fox, Pleasant Grange No. 1615, Lancaster, OH)
NOTES: For the cream sauce you can substitute Cream of Mushroom soup, with only a half can or so of water, and then add less salt. You can also substitute French's Fried Onions crumbled; stir well into casserole ingredients.
BISCUIT DIRECTIONS
Sift flour, sugar, salt and baking powder into a bowl; cut in shortening with knife or pastry cutter. Add 1 cup milk or enough to make dough easily handled. Roll 1/2 to 3/4-inch thick; place on baking sheet. Bake at 425° F for 15 minutes or till nicely browned. (Viola G. Bondurant, Riverside Grange No. 223, Buffalo Gap, South Dakota)
NOTE: Brushing the tops with Eggbeaters adds an appetizing gloss to the baked biscuits, or sprinkle biscuits with grated Parmesan cheese for added flavor.

Recipe formatted with the Cook'n Recipe Software from DVO Enterprises.
Add Recipe to Cook'n
Sources:
www.englishlive.ef.com
www.ohsheglows.com
www.kraftcanada.com
www.nobiggie.net
www.jenniferbanz.com

Alice Osborne
DVO Newsletter Contributor since 2006
Email the author! alice@dvo.com