Picture Perfect Raspberry Brownie Trifle
There are so many traditional foods and holiday events in November and December, but come January we typically hit a slow in food and fun! It's still cold (in many places!) and a great chance to prepare some of those comfort food or show piece dishes that we didn't get to in the previous months. One of my very favorite desserts I just didn't get to over the holidays is this incredible raspberry brownie trifle. It is beautiful and delicious and easy and everything you want a great dessert to be.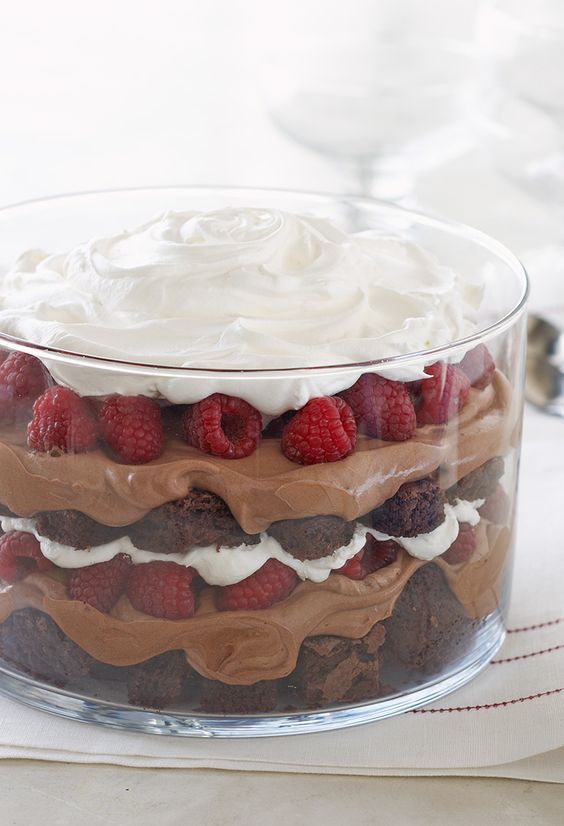 Add Recipe to Cook'n
The ingredients are pretty simple: a brownie mix (with eggs and oil to prepare), chocolate pudding, milk, Cool Whip, and fresh raspberries! You can thaw frozen berries but I think fresh are better and so worth it!
Prepare the brownies as directed. In the meantime, beat the pudding for 2 minutes, and stir in a cup of Cool Whip. Refrigerate this portion until ready.
Cut brownies into half inch cubes, and layer brownie chunks with pudding, berried and the remaining cool whip in the prettiest clear bowl or trifle stand you have. Refrigerate this for at least an hour!
A few optional tips to consider: I like to grate fresh chocolate flakes between each layer and on top of the trifle, it just adds a nice finishing touch that shows you tried (but doesn't take much work at all!) You can also add a layer of broken up health bars to increase the flavor and texture. You may prefer it simple, but this is a good option to consider if you want to fancy it up a little more! This dessert is a hit for when you're having company over or just want to impress your spouse. It's picture perfect!
Sources:
https://www.kraftrecipes.com/recipe/061814/chocolate-passion-bowl?cm_mmc=Social+-_-Pinterest-_-CRM-_-Dessert&crlt.pid=camp.6NgU95MdNjY3

Stefanie Hathaway
Monthly Newsletter Contributor since 2016
Email the author! stefanie@dvo.com