Expert Tips to Customize and Print Your Cookbook
Most Cook'n users know that they can print recipes, but a lot of us don't know just how awesome the printing feature is. Cook'n isn't just a convenient app for storing recipes; it's also a powerful tool for making beautiful, high-quality, and personal cookbooks.
There are many good reasons to print recipes:
With a paper recipe, you're not limited to the small screen of your phone, and you're not forced to bring your computer into the kitchen.

If you keep them close at hand, printed recipes are just a little bit faster to pull up than the Cook'n mobile app, which makes them convenient for kitchen use.

Recipes, and especially cookbooks, make great gifts for birthdays, holidays, and special events like anniversaries and weddings.
Whether you're printing an entire cookbook or just a few recipes, or whether you're printing for yourself or somebody else, we want you to have the best experience possible. To make that process simple and exciting, I've written this article to explain some of the best features of printing recipes through Cook'n. I will explain almost everything as if you are planning to print a whole cookbook, but if you only want to print a few recipes, this article will be just as helpful.
When you've finished your recipes and you're preparing to print a cookbook, you'll do it in two phases.
Phase 1: Customize Your Cookbook Before Starting the Printing Process
Before you ever click "Print Recipe," you should look into some things.
Themes: Cook'n is equipped with dozens of themes for your recipes. Here are just three:
Change the theme to make the cookbook your own.
Pictures: Many Cook'n users add their cherished family photos to the beginning of every chapter in their cookbook.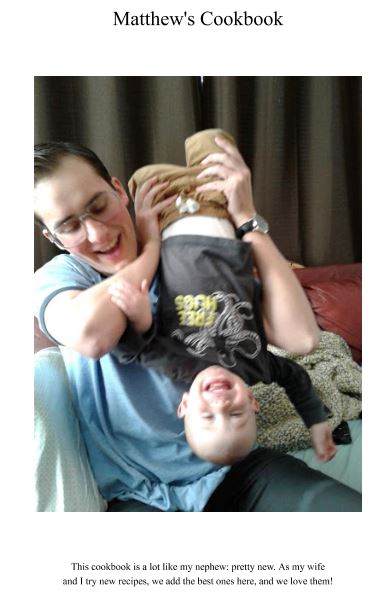 To add a photo to the front of your cookbook chapter, click the chapter in the cookbook, then click to the Edit Tab as if you were editing a recipe. Just like with a recipe, you'll see a small icon to the right for adding pictures. Click that icon and select a picture from your photo library to add a picture to your chapter.
You can follow the same steps to add a picture to the cover of your cookbook.
Descriptions: In the Edit Tab where you added your cookbook/chapter's photo, you can also add a description of the cookbook, the chapter, or the photo you added. Here's the special thing about adding a description:
There is no space limit.
You can make the description as long as you want! Do you have a long explanation about why Desserts are so special to your family? How about a cherished memory to go along with the photo you added?
Adding a good description is the cream of turning your cookbook into a personal book that will be cherished for years, so try it out! Once you've done that, move onto the second phase of printing a custom cookbook.
Phase 2: Customize Your Cookbook During the Printing Process
Honestly, there is too much here to talk about in one article, and most of it is self explanatory. However, here are some key features:
Paper size: Who's a fan of 3x5 recipe cards? You can print them with Cook'n! Just pick your cookbook or recipe and click the Print button. If you use Cook'n X3, make sure to select "Print from Cook'n." On the Print Preview screen, click Settings to change your paper size.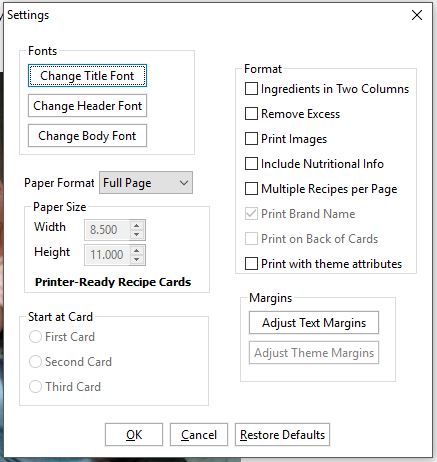 Themed recipes: This is a special feature of Cook'n X3. When printing an individual recipe, click the Print Button and select "Print from View Tab." Your recipe will open in a web browser where you can print it exactly as shown. This way, you can print the full theme of your recipe.
Font and font size: A lot of people have asked me about this, and I only recently discovered the answer. Did you know that you can customize the font and formatting of your cookbook? Just click the Change Font buttons on the Print Settings page!
You can change the font, font size, italics, bolding, and even the color. For clarity, Title Font is the title of the cookbook, and the title of every chapter; Header Font is the title of every recipe; Body Font is everything else.
Print a professional cookbook: I'll make this simple. If you want, we'd be happy to professionally print and bind your cookbook, then send it to your door. Skip the hassle and get it done professionally! Just print your cookbook, and Cook'n will automatically ask if you'd like to have it professionally printed.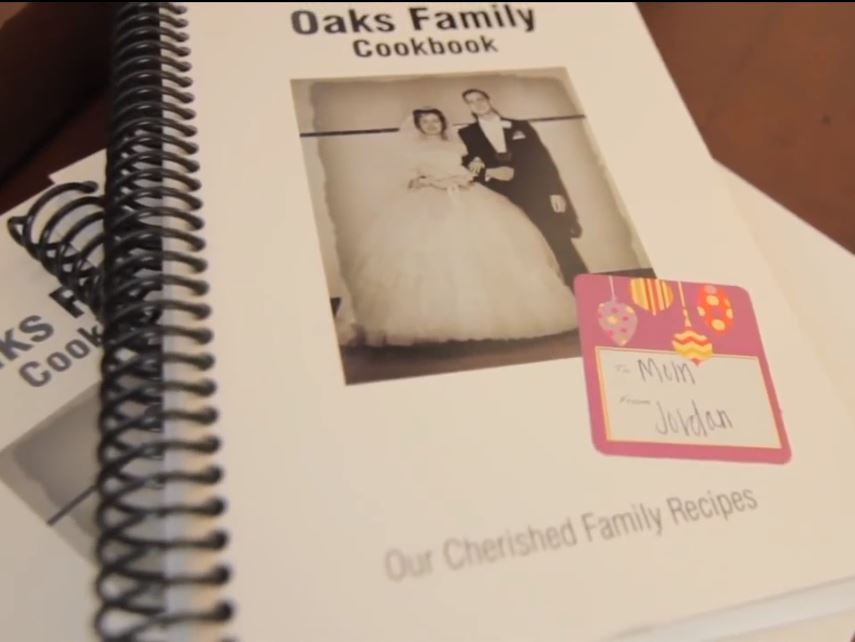 How could printing with Cook'n be better? Do you have any questions or ideas? Let me know in the comments, or write me an email; I'd love to hear about it!