Shepherds Pie Reinvented - An old friend all gussied up.
Do you have any meals from your childhood that you remember just hating? Just really wishing those foods never existed and wanting to turn invisible at 5pm so you wouldn't have to come to dinner?
For me, that meal was Shepherd's Pie. It looked absolutely disgusting, I couldn't even tell what was in it, and the flavors/textures just really turned me off. I so vividly remember how much I loathed that meal, which makes my admiration for it now as an adult so ironic.
Shepherd's Pie is a one dish wonder! The meat, veggies, and starch are all together in one pan which serves up quickly and stores nicely too. It is flavorful and colorful, and with my new Shepherd's Pie recipe, I am excited to serve it to my family and even to company! It's that good!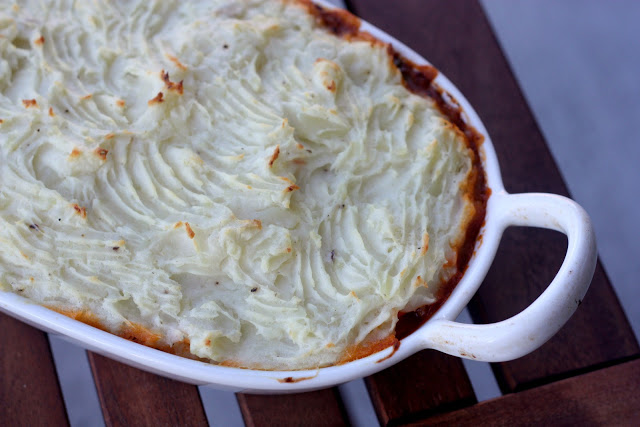 This recipe is adapted from the blog Everyday Reading.
Start by preheating the oven to 425. Cook the meat, onion and carrots together in a large skillet. I like using large carrots coined, but often have baby carrots on hand and just cut them up instead. Stir this until the veggies are soft and the meat is cooked.
Now add the tomato paste and flour. Cook, mixing quickly for about 2 minutes. This will thicken up your base.
Add the Worcestershire sauce, water, salt and pepper. Simmer this mixture for about ten minutes until it is thick. Then stir in the frozen peas for just about a minute.
Transfer this to a 9x13 pan or other casserole dish.
Now it's time to mash those potatoes! Boil peeled and quartered potatoes over medium/low until tender, about 15-20 minutes. Drain them and return to the pot where you'll add the butter, milk, salt and pepper. Mash until smooth to your desired consistency. Spread these over your meat mixture and form small peaks with your fork to add texture!
Bake this in your 425 degree oven for 25-30 minutes. Let it cool for a few minutes and serve warm!
Add Recipe to Cook'n
Shepherd's Pie has made a real turnaround for me, and I'm so glad it has!
What meals were terrible for you as a child, but you love now?! I'm so interested to hear!
Sources:
http://everyday-reading.com/dinner-is-served-shepherds-pie/

Stefanie Hathaway
Monthly Newsletter Contributor since 2016
Email the author! stefanie@dvo.com