Overnight French Toast Recipe to Save the Day
Let's talk about Christmas Morning. There is so much going on, it's nice to have some recipes that you can prepare the night before. I'm all for Christmas morning successes! This Overnight Crème Brulee French Toast Bake by Mel is one you can count on. In fact, you can count on every single one of Mel's recipes, but that's a post for another day! This French toast will please your 3-year-old and Grandma. It's simple and delicious, a holiday breakfast favorite! Top it with raspberries for a little color and kick, you'll be good to go!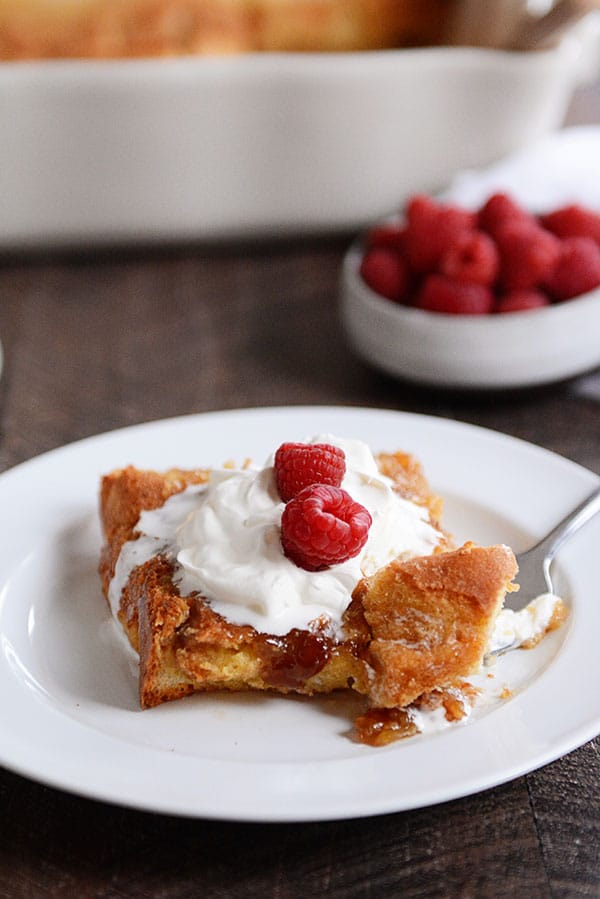 Ingredients List:
6 tablespoons butter
3/4 cup (5.5 ounces) packed light or dark brown sugar
2 tablespoons pure maple syrup (can sub corn syrup or pancake syrup)
6 (1-inch thick) slices French bread, cut into 3/4-inch cubes (see picture below the recipe)
4 large eggs
1 cup half-and-half
1 tablespoon vanilla extract
1/4 teaspoon salt
Sweetened whipped cream + fresh strawberries/raspberries, for serving
First, combine butter, brown sugar and the syrup into a microwaveable bowl. Cook on high for 1-2 minutes until all sugar has dissolved. Then stir. Now, spread brown sugar mixture across a greased 9x13" pan.
Next, place the cubes of bread in a single layer on top of the sugar mixture.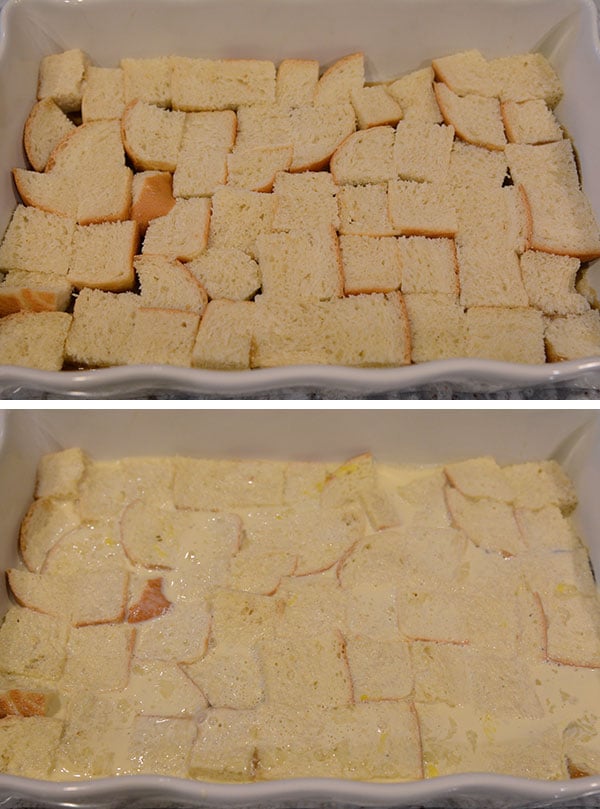 Whisk together the eggs, half and half, vanilla and salt, then pour that over the bread. Cover this pan and refrigerate overnight. Now it's time to celebrate! All the mixing and combining is over! Note: If your bread is thick, or you like a softer finished product, you can up it to 5 eggs and 1.5 cups half and half!
In the morning, take the pan out of the fridge, uncover it and place it in a cold oven. Now preheat your oven to 350 degrees farenheit. Once it reaches temperature, set the timer for 30-35 minutes, until the bread is golden brown and syrup is bubbly! Serve immediately with whip cream and berries! Enjoy!
Add Recipe to Cook'n
Sources:
https://www.melskitchencafe.com/overnight-creme-brulee-french-toast-bake/

Stefanie Hathaway
Monthly Newsletter Contributor since 2016
Email the author! stefanie@dvo.com