A Simple Way to Amp Up the Proverbial Salad!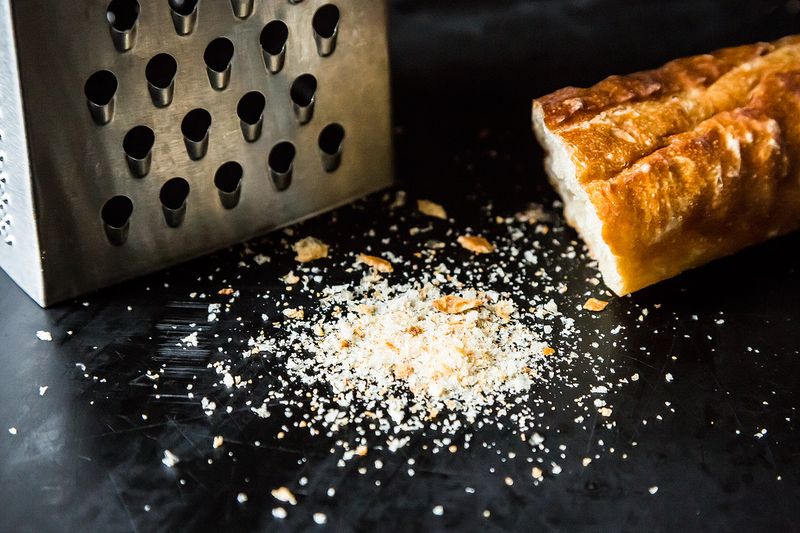 On a favorite site I read about an easy way to amp up the proverbial salad. It's all about breadcrumbs. The folks at www.food52.com explain this phenomenon: "They deliver a salty, crunchy, umami-kick, plus they're cheap and a great way to use up stale bread slices or loaf heels."
They're like croutons, but instead of an occasional delivery of salty, crunchy, umaminess, you get these delights in every bite. They're infinitely customizable and a snap to make at home. And lastly, I have to agree with the Food 52 experts: It's absolutely amazing how much breadcrumbs, such a seemingly "meh" ingredient, will amp up your salads.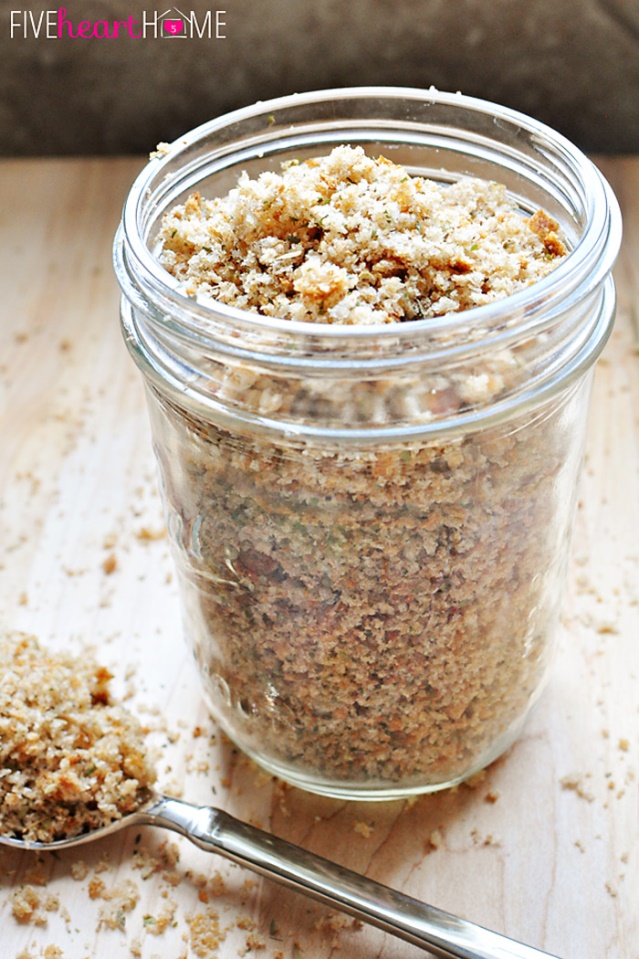 And I have yet to meet a salad that did not take well to a heavy-handed addition of breadcrumbs. This simple ingredient can accomplish so much, too:
You can use them in lieu of cheese, or alongside cheese.

Use them to make a light salad seem a bit bulkier, more assertive.

Use them to add texture and intrigue to some simply-dressed leaves.

Use them to make your salads more interesting, more crave-able (a wonderful help if you're trying to eater lighter fare and ramp up the health factor of your meal).
Of course, homemade breadcrumbs are ideal—that way, you have complete control over the size, toastiness, and seasoning of your crumbs. Panko will do well in a pinch, though.
But if you're a DIYer, it's easy to make your own crumbs. Start by hanging onto your stale bread odds and ends. The easiest (and quickest) is to tear your bread into rough chunks and give it a whiz in the food processor. However, if you want a more low-tech approach you can also grate your bread, using larger holes for a chunkier crumb and smaller ones for a finer crumb.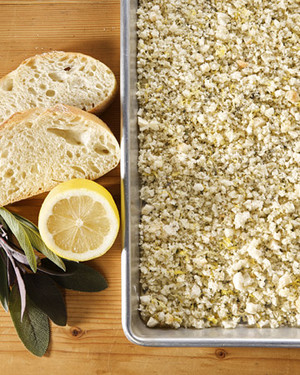 Then, toast your crumbs in a large pan and a few tablespoons of extra virgin olive oil or butter over the stove. Or, if you, prefer, spread them out on a sheet pan and toast them in the oven at 350°F. With either method, watch them closely so they don't burn (which is easy to do).
Most breadcrumbs are flavored with salt and pepper, but you can also add chili flakes or powder, citrus zest, garlic, anchovies (melted into the oil), finely-chopped woody herbs such as thyme, basil, rosemary, and sage.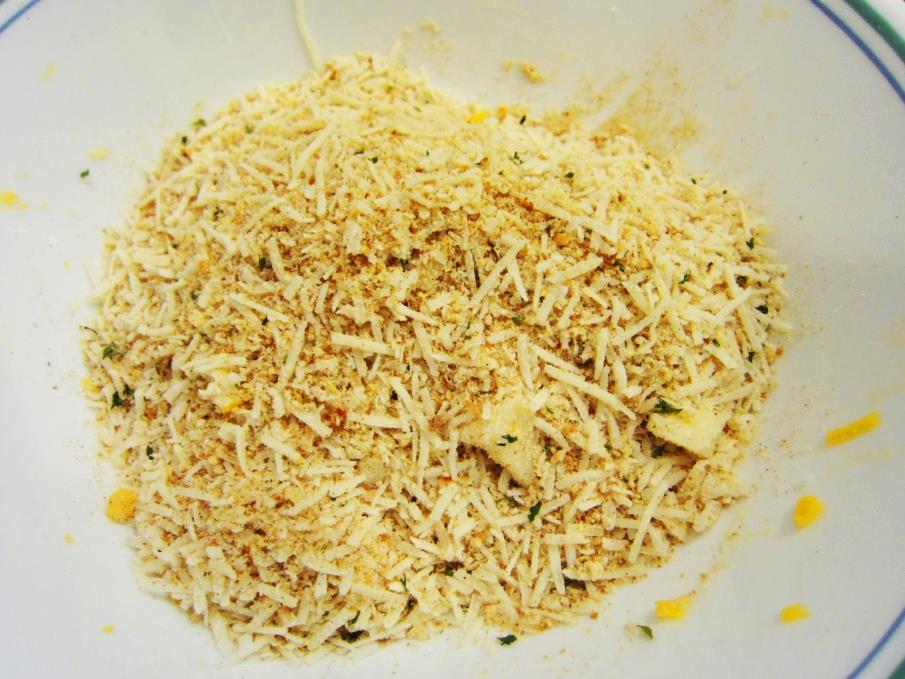 After toasting your breadcrumbs, you can also add some grated cheese or a sprinkle of spices, like cumin, dried mustard, or coriander.
Finally, if you need a jumping-off point, here are a few salads that take nicely to an addition of crispy, crunchy breadcrumbs:
Chard salad.
This is simple and delicious. Slightly sautéed sliced chard leaves in butter until they wilt. Mix these with grated Parmesan cheese and garlic-flavored bread crumbs. For extra spizazz you could add cooked and crumbled bacon. But honestly, this salad doesn't even need the bacon, it's that good.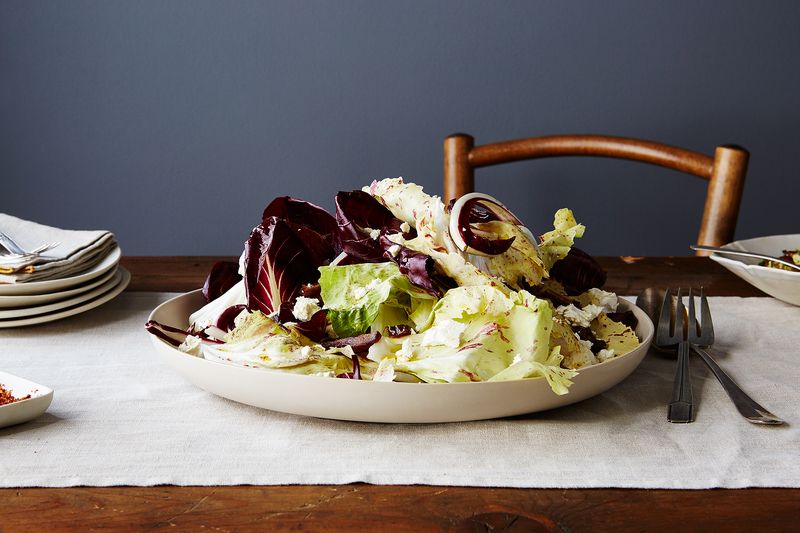 Radicchio
is another green that does well with flavored breadcrumbs. It's hearty texture and snappy zing complement herb-enhanced breadcrumbs well. Add some sliced red onion and dash of vinaigrette and you're in business.
And I'll end with a recipe for a show-stopping salad made from Brussels sprouts. Bring on the breadcrumbs and watch how quickly this disappears!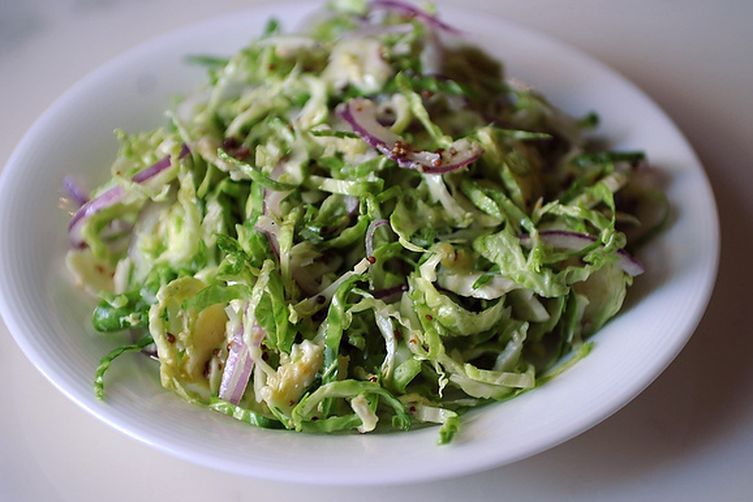 SHAVED BRUSSELS SPROUTS SALAD WITH RED ONION, LEMON AND ROMANO
(serves 6)
½ small red onion
Juice of 1 lemon
1 teaspoon raw honey
1 teaspoon whole grain mustard
Salt to taste
Black pepper, freshly ground, to taste
1 tablespoon extra-virgin olive oil
3 cups Brussels sprouts
¾ cup finely grated Romano cheese
1½ cups toasted breadcrumbs
Soak the onion slices in a small bowl of cold water for 15 to 20 minutes while you prepare the rest of the ingredients.

In a small bowl, whisk together the lemon juice, honey, mustard and a pinch of salt and pepper.

Whisk in the olive oil until the dressing is emulsified. Set aside.

Trim all of the Brussels sprouts, cutting off any bruised outer leaves and slicing off a good portion of the hard root end.

Using a mandoline, shave the sprouts one at a time. When you're done, use your fingers to gently separate the leaves so that the shredded sprouts resemble a very fine slaw.

Put the sprouts in a serving bowl and toss gently with the onions (which you've now drained) and the dressing.

Fold in the Romano cheese; taste and adjust seasonings if necessary.

Fold in toasted breadcrumbs.

Serve immediately, before it starts to wilt!
Add Recipe to Cook'n
Sources:
www.food52.com
www.fivehearthome.com
www.cookedtoorder.com
www.marthastewart.com
www.tasty-eating.blogspot.com

Alice Osborne
DVO Newsletter Contributor since 2006
Email the author! alice@dvo.com