Recipe Hall of Fame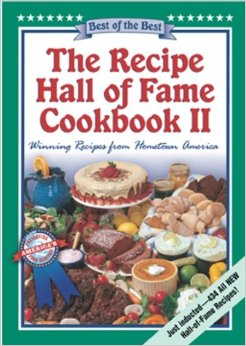 Another great cookbook in "The Best of the Best" series will be released soon! The Recipe Hall of Fame Cookbook II features another fabulous collection of favorite recipes from across the United States. When editors Gwen McKee and Barbara Moseley selected recipes for their first Recipe Hall of Fame Cookbook, they knew that there were still many more recipes deserving of hall of fame status. This cookbook -434 recipes in all- is their attempt to put more of these outstanding recipes in the spotlight.
You will find a little bit of everything in this cookbook; beverages, appetizers, breakfast, soups, vegetables, meats, desserts, and much more. At the end of every recipe, you can read which cookbook the recipe originally came from as well as its state of origin. You'll find "Editor's Extras" throughout the cookbook that will give you additional tips. There are also fun facts and photos from their travels across the country.
So the next time you're in the mood for some Creole Jambalaya from Louisiana, Apple Pan Dowdy from Rhode Island, Grilled Citrus Salmon from Oregon, Chile Relleno from New Mexico, or Three Layered Cheesecake from New York... there's no need to hop on a plane! Just pull out your Recipe Hall of Fame Cookbook II and start cooking! You won't be disappointed.

Cristina Duke
Monthly Newsletter Contributor since 2014
Email the author! cristina@dvo.com