Grilled Desserts
Barbecue season is right around the corner and no time is better to get those grills fired up.
Here is an awesome way to finish off those grill nights. Grilled fruit desserts: light, refreshing and a perfect ending to a great day.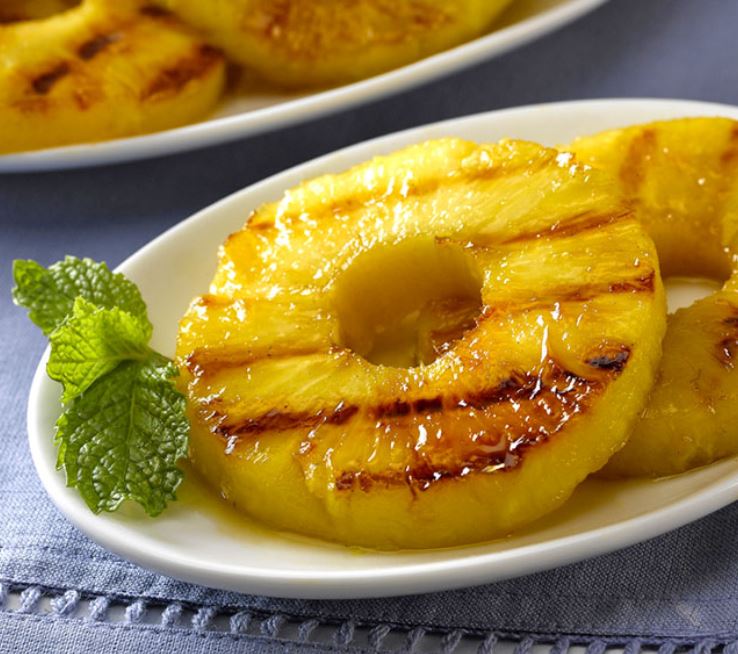 ---
Grilled Pineapple
Ingredients:
2

tablespoons

honey

1

teaspoon

olive oil

1

tablespoon

fresh

lime juice

1

teaspoon

cinnamon

1

ripe

pineapple

sliced into 1/2 inch slices

2

teaspoons

turbinado

sugar

(optional)
Directions:

In a small bowl, combine the honey, olive oil, lime juice, and cinnamon and whisk to blend. Set aside.

Prepare a hot fire in a charcoal grill or heat a gas grill. Lightly coat the grill rack with cooking spray. Position the cooking rack 4 to 6 inches from the flame.

Marinate the pineapple for ten minutes, turning as needed. Remove from marinade and save remaining for basting. Sprinkle pineapple with sugar.

Grill or broil, turning once and basting once or twice with the remaining marinade, until tender and golden, about 3-5 minutes on each side.

Serve warm.
Yield: 8 to 10 rings
Prep Time: 10 minutes
Cook Time: 10 minutes
Add Recipe to Cook'n
---
Lovely, decadent, sweet yet light with a pop of flavor. Try this with some vanilla bean ice cream or vanilla yogurt, or even frozen yogurt. It is such a treat in itself! If you really want to go crazy, make a chocolate dip to go with this!
This newsletter includes tips on how to cut a fresh pineapple
I love this marinade, it's a little bit sweet with a little bit tart and compliments the pineapple deliciously. Marinating is important because it really lets the spice and juices mingle with the pineapple making a perfect companion to accent the sweet juiciness of the fruit.
This could be spiced up a bit by adding a little chili powder, if you like things a little more heated.
This dish could also accompany your dinner as a great side. It goes great with fish and chicken, is delightful along sausage such as bratworst, and adds a kick on a burger.
I find that marinating the pineapple for about ten minutes is sufficient for this recipe. Also, I think the addition of the sugar, though not absolutely necessary, gives a little depth and a bit of texture. Using turbinado sugar, which is a little heavier and more course, works great. However, you could use brown sugar, regular white sugar, or even some agave in this recipe. Sprinkling on the pineapple after marinating is the way to go, the sugar gives a crunch this way, adding texture. If you decide to add it into the marinade, it will sweeten and still be yummy however.
You could use this same marinate for grilling peaches! Remove the pit from the peach and slice in half. Switch the sugar in this recipe for brown sugar and decrease the lime juice to ½ Tablespoon. Do not marinate for the peach version, simply basting is all that is needed. A warm grilled peach accompanies grilled pork very well. This also works great for a dessert, especially alongside a sweet shortcake biscuit with a dollop of whipped cream.
Grilling with fruit can be an easy, light and healthier dessert option. There are still natural sugars (and the ones we added to it), but comparing this to other more calorie-laden desserts and even sides can be a healthier, not processed way of eating. The best part is that you won't feel like you are missing out at all!
Sources:
http://www.skinnytaste.com/2008/05/grilled-pineapple-2-pts.html
http://www.skinnymom.com/2013/05/16/skinny-grilled-pineapple/

Sharon Ng
Monthly Newsletter Contributor since 2012
Email the author! sharon@dvo.com