Chocolate Stuffed Strawberries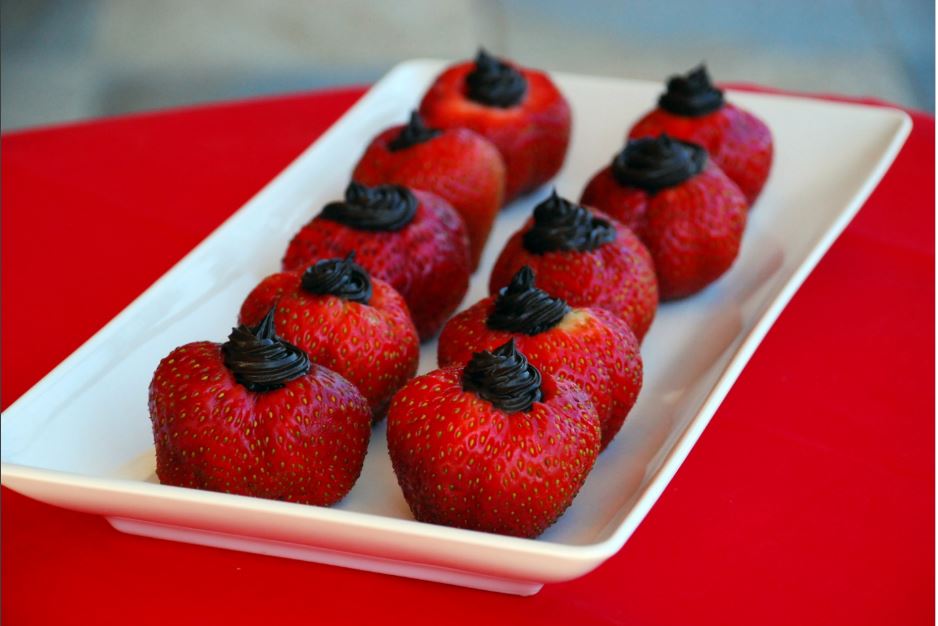 With Mother's Day coming up, I wanted to experiment with some new recipes. This one is a great alternative to the standard chocolate dipped strawberry and trust me, it is just as yummy!
This alternative to the classic dipped berry offers several bonuses! You can fill those babies up with chocolate, these strawberries are not as messy (chocolate doesn't crack everywhere when you bite into it) as the traditional counterpart, and condensation won't affect the berries by getting trapped between the chocolate and strawberry. It doesn't take a lot of ingredients, and cooking can be done in the microwave. With an adults help even children could do this (some might be able to do this alone, but I recommend an adults assistance because the chocolate could get hot).
Chocolate Stuffed Strawberries
An alternative to a classic favorite!
15-20
large
strawberries
1
bag
chocolate chips
milk, dark, or white
Yield: 20 berries
Clean strawberries with a clean, damp cloth or paper towel. Remove stems by cutting. Carefully scoop flesh out of the inside of berry, leaving a cavity. Melt chocolate chips in microwave, 15 seconds at a time, stirring after each interval. When melted add to ziptop or pastry bag. Pipe chocolate into strawberry cavities. Allow chocolate to set. Enjoy!
Add Recipe to Cook'n
Feel free to use this same method with white or dark chocolate as well.
Some tips to help you on your way:
These freeze very well and make for a great gift for any mom or leading lady on your list.
Go for the largest berries you can find.
If you can get local strawberries, those are even better.
If your berries are large enough try using a small melon baller tool to scoop the inside flesh.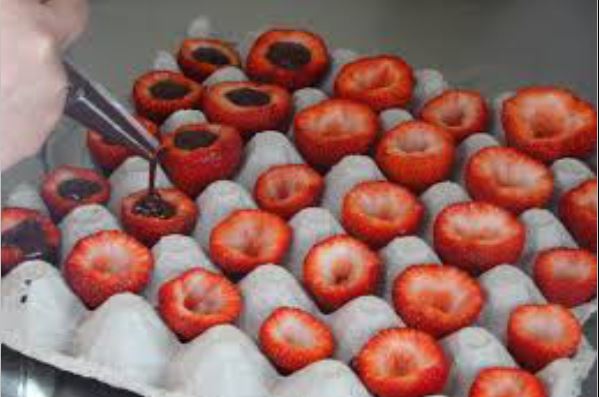 Add hollowed out berries to a clean, empty egg carton or a mini muffin tin. This will allow the berries to stay upright when filled until the chocolate is set.
What to do with the left overs? I don't know if you really need me to answer this: Get a bowl and spoon and go to town!
Or here is another idea.
Insert the scooped out berry flesh into the dividers in the tray. Loosely filled is best. Then squeeze the remaining chocolate into the dividers. Using a toothpick or skewer, poke and lightly stir the chocolate and berry flesh, so the chocolate seeps into the cavities. Freeze. When set, pop the cubes out. Though not as pretty as the filled strawberries, they are just as delicious!
If you want to get fancy, add a star tip to a pastry bag to make a decorate swirl to the tops of your berries. You can also dip the tops after the chocolate sets and then dip in sprinkles, finely chopped nuts or even coconut.
To make a chocolate strawberry pop, add a stick when the chocolate is partially set.
Sources:
http://sugarmamacooks.com/dark-chocolate-stuffed-strawberries/
http://sugarmamacooks.com/dark-chocolate-stuffed-strawberries/

Sharon Ng
Monthly Newsletter Contributor since 2012
Email the author! sharon@dvo.com