Weenie Roast to the Rescue!
As a family, we are trying to coordinate for spring and summer get-togethers. It seems as though getting everyone together is becoming more and more challenging. For instance, we're finding it's almost impossible to have a family reunion without at least one family member unable to make it. But for those who can make it, the one thing we do for sure is to plan the meals ahead of time — less muss and less fuss that way. And, the big bonus — more time for visiting and fun activities.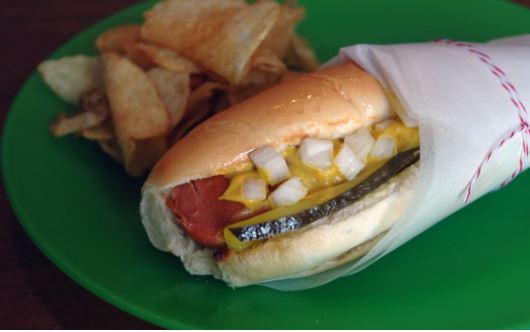 Planning food that will please the whole crowd is the challenge. With this in mind, the first thing we tend to look at is a weenie roast. But let's be honest, when you mention "hotdogs" you either get squeals of delight or moans of chagrin. So to handle the variety of reactions, it's a good idea to have an alternative such as veggie dogs, brats or some cold cuts.
But back to the dogs: They're an easy, fun food that is associated with entertainment — ballgames, the circus, the county fair, camping and special holidays such as the 4th of July. This is why we turn to hotdogs.
Since they're not all that healthy for us, I don't eat hotdogs often. But, when I do, I want to make sure I have the best money can buy. I buy Hebrew Nation because of their advertising claims. Oh, I hope they are as pure as they say. They do have a great taste. No doubt, you hotdog fans have your favorite!
Much of the fun of this activity is being able to create the "Dawg" that will satisfy your unique taste buds. One of the cool things about hotdogs is how creative you can get with them. Everyone has their own idea of how to deck out a hotdog. I'm a mustard, relish and onion girl myself, but I watched my 15-year-old granddaughter, Becca, mix a glob of mustard and ketchup together to dip her dog in. (I don't know, I thought it looked like the wrong thing to do!) Nevertheless, because everyone has a different idea of what should top a hotdog, it's a good idea to have a toppings bar so there are plenty of condiments to pick from. Set up a table with ketchup, mayo, mustard, onions, pickles, tomatoes, cheese, relish, kraut and maybe some bacon bits.
Wait, I'm not done yet! I think the bun is important too. I go for the bakery hotdog buns. The crust is a little chewier and the bread has more substance to it, making them perfect for holding the meat and all the toppings. They cost a bit more but in my book they are worth it, especially for the adult appetite.
Now, I'm stoked! I'm thinking potato salad, baked beans and root beer (and BTW, it's not that tough to make your own Root Beer — but that's another article)! I believe that whether or not you are a hotdog fan, weenie roasts are a great way to go! Bring on that family reunion — we'll be ready.

Jeanne Wolfley
Monthly Newsletter Contributor since 2008
Email the author! jeanne@dvo.com