Healthy, Clever and Quick Candy!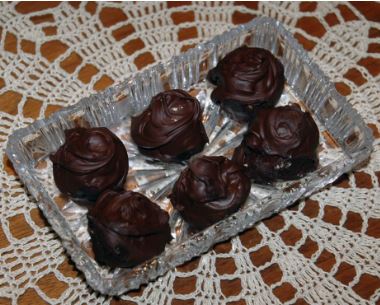 Sweets for my sweeties. Let's face it – Candy gifts are like giving an edible hug! Isn't it perfect when you find a healthy treat that tastes scrumptious? I, like many of you, have my eye constantly on the lookout for treats that taste great and have ingredients that are actually good for you. These healthy dessert recipes are popping up all over on Pinterest. After studying the ingredients in most of these recipes, I find I have had to change my whole attitude of how these more natural foods work together. I have to be open minded! Because I have grown up with lots of sugar and flour in my desserts, it is sometimes hard to believe that desserts could taste decent without them. And when a healthy treat doesn't turn out tasting good, I get a little annoyed! In my mind, the idea is to make it healthy and tasty! If I can't have both of those elements in a dessert then I would rather just have a piece of fruit. That being said, don't expect a healthy recipe to taste like a candy bar, it shouldn't and won't taste the same. But it can and should still be delicious.
The two recipes that I am sharing with you are by Amy Thompson. I found them in a free magazine in our local health food store. Amy's recipes really caught my eye – Chocolate Almond Butter Bon Bones and Gummy Hearts. They both sounded so yummy! I couldn't wait to try them so I could tell you what I think. I made both recipes and can say that both met my expectation for the "taste and healthy for you test." I was also pleased at how easy they were to make and have decided that both of these recipes would be great activities for even the younger grandchildren.
While making these recipes, I started to think of other ways to make and present these candies. After making the Bon Bons I realized that any nut butter that you have on hand can be used. Also, you could add nuts, coconut or whatever else you think would make them interesting. I like the idea of sticking with dark chocolate and not substituting it with a different chocolate because dark chocolate is the healthy choice.
The Gummy candy was also a quick recipe. You can substitute blueberry or cranberry or whatever other type of juice, as long as the juice is pure juice without added sugars. The flavor, colors and shapes are yours to experiment with.
I also found some recipes on this blog site that I am also anxious to try, particularly the recipe for fudge that I am for sure going to make. You might want to check it out! Hooray for healthy candy!

Jeanne Wolfley
Monthly Newsletter Contributor since 2008
Email the author! jeanne@dvo.com
---
Recipes
Almond Butter Bon Bons
Ingredients:
2

tablespoons

almond

butter

1

tablespoon

Coconut Oil

1

tablespoon

maple syrup

3

tablespoons

coconut

flour

sea salt

1/2

cup

dark

chocolate

, melted
Directions:
Combine the almond butter, coconut oil, maple syrup and sprinkling of sea salt in a sauce pan. It doesn't need to get hot, simply warm enough for you to whisk the ingredients together until they're thoroughly combined. Remove from heat and sprinkle the coconut flour over the top, and then stir it in, watching for any lumps.

The purpose of the coconut flour is to give the mixture some substance so it can be rolled into balls; you may need more or less depending on how dense or runny the our almond butter is.

Set the pan in the refrigerator to chill for 20 minutes, stirring once or twice. Once it has cooled a bit, so it is barely warm, you can check to see if you need to add more coconut flour. When it holds a loose shape, gather a small ball about the size of a grape. Do this with all the dough. You can set the balls on a plate in the fridge or even the freezer while you prepare the chocolate. Melt the chocolate in a double boiler.

Dip the almond butter balls into the melted chocolate and set them on a greased plate. You can add a sprinkling of sea salt over the top.

Let treats set in the fridge, then enjoy!
Add Recipe to Cook'n
---
Gummy Hearts or Stars
Ingredients:
1/2

cup

sour

cherry juice

5

tablespoons

honey or

maple syrup

5

tablespoons

lemon juice

3

tablespoons

plain

gelatin

6

drops

wild orange essential

oils

, or more to taste
Directions:
Whisk the juice and gelatin together in a sauce pan until you have a smooth paste. Add honey or syrup and heat the mixture until it is smooth and clear. Remove from the heat and stir in the essential oil.

The treats will work without the essential oil, but I think it's the key to the delicious taste! Next either pour the mixture into individual, silicone, heart shaped molds or pour it into a small, 8 inch baking dish. Set the container in the freezer to chill for about 5 minutes.

Remove from the freezer and either pop out the gummy hearts or peel out the entire gummy square and use cookie cutters or a knife to cut out heart shapes.

Here's a tip, if it's not sweet enough for your taste or you want to add more essential oil, or change anything at all, simply pop that jiggly disk back in the sauce pan, heat it gently and it will melt again and again. You can also add a natural food coloring or a few drops of beet juice if you want a more pronounced color.
Add Recipe to Cook'n
---