Two Step Oatmeal Breakfast Cookies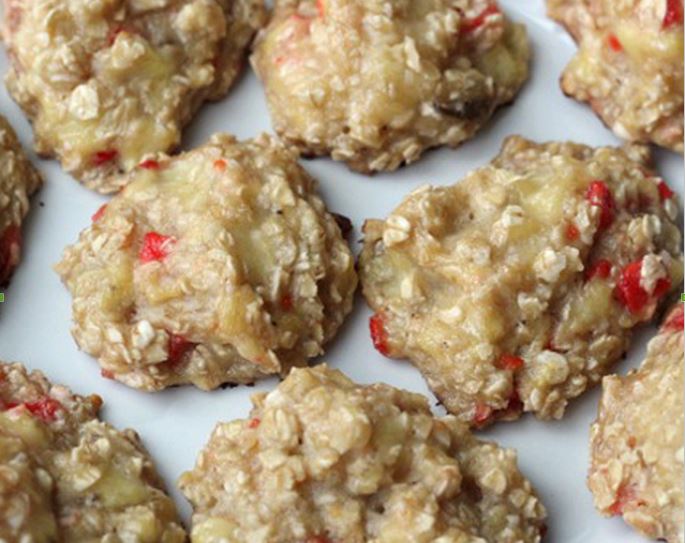 I have been looking for a healthy alternative for mornings on the go, and even more challenging, I needed something my toddler would eat. Lately, he is not much into breakfast, unless it comes in the form of a chocolate bear cookie or graham cracker. Pinterest comes to the rescue once again. If you are unfamiliar with Pinterest, it is a virtual bulletin board where you can pin pictures, links and recipes and save them for later. Clicking the picture or pin guides you to the original sources, which might be an online boutique, or a home blogger's recipe. Cook'n even has a Pinterest account!
Here is the fast, easy and healthy pin that I tested out.
---
2 Step Oatmeal Breakfast Cookies
Cook Time: 10-12
Yield: 8 cookies
An easy, fast and healthy portable breakfast choice!
Ingredients:
2
instant
oatmeal
packets, any flavor
2
ripe
bananas
, mashed
Preheat oven to 350 degrees.
Spray a cookie sheet with non-stick cooking spray.
In a small bowl, mix oats and mashed bananas.
Using a spoon, spoon small amounts of oatmeal mixture onto cookie sheet to form bite size cookies.
Bake in oven for 10-12 minutes until cookies are golden brown.
Serve immediately or store in an air-tight container.
Add Recipe to Cook'n
---
I used two strawberry and cream instant single serve oatmeal envelopes for this recipe. It took about five minutes longer to bake than the original directions indicated. The taste and texture were both amazing. I thought that the mashed banana would make the whole cookie taste strongly of banana, but it didn't. Though the cookie was not crunchy, it was a great and fast breakfast that I didn't feel bad letting my toddler have. I used regular oatmeal, but low sugar options would work just as well. I can't wait to try this recipe with some more adult versions of oatmeal, like the cranberry pistachio I have sitting in my pantry.
I think this recipe would be very easy to adapt using regular oats and adding whatever you would like. I enjoy nuts and seeds for added protein and energy, but raisins, cranberries, coconut, fresh berries, cinnamon and peanut butter chips would all be awesome additions. Dried cherries and dark chocolate chunks sound so tempting!
These cookies stored great in ziptop bags. They were so filling that this recipe lasted my little guy and I two morning walks, making about 8 bite size cookies.
Sources:
http://www.skinnymom.com/2013/04/22/two-step-oatmeal-breakfast-cookies/?_szp=336212

Sharon Ng
Monthly Newsletter Contributor since 2012
Email the author! sharon@dvo.com