Which Butter Do I Use?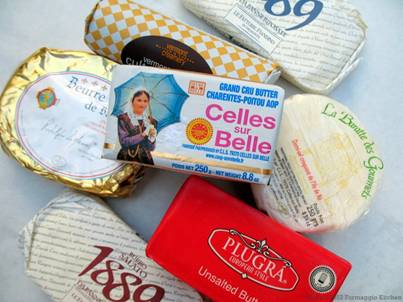 Like butter? Who doesn't! The good folks at Formaggio Kitchen give us a run-down of the butters in their case and the differences between them, including which are best for baking, sautéing or just slathering on a chunk of crusty baguette:
Butter, Beurre and Burro: What Distinguishes Different Butters?
Most of us love butter. It melts beautifully on a piece of toast, it gives wonderful flavor to both sweet and savory goods and provides a preferred mouth-feel to the likes of buttercream frosting.
One of the most critical differences can be whether the butter is made in the European style. European butter is typically made with cultured cream which means it sits for some hours before churning. This allows the butter to ferment slightly, lending it a slightly tangier and nuttier flavor profile. As well, the increased acidity is important when baking – the acid helps to tenderize pastries like croissants and bread. Most American butters are not cultured and are labeled as "sweet cream" butter.
Are you buying your butter for baking, cooking or direct consumption? Most professional kitchens use unsalted butter. The reason for this is that it allows each chef and baker to more closely control the seasoning in their dish, adding the desired amount of salt themselves. However, when taking home a crusty baguette and some butter, Ihsan – owner of Formaggio Kitchen – invariably selects La Baratte des Gourmets, a butter containing large crystals of fleur de sel that give a burst of flavor in your mouth when they hit your tastebuds.
So, please pass the butter!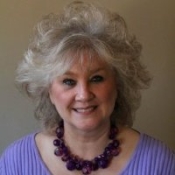 Barbara Williams
Creative DVO Employee since 2007
Email Barbara! barbara@dvo.com