Pizza with Pizzazz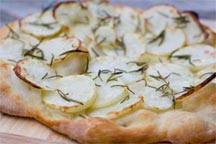 A little pizzeria opened up in my hometown when I was in the seventh grade and changed my life forever. By my second pizza experience, I loved, loved, loved pizza! Well that hasn't changed much, except now there are so many kinds of pizza to choose from. Pizza used to always be a tomato based sauce with cheese and several kinds of toppings to choose from. Now many pizza recipes have healthier options, less cheese and more veggies.
As far as pizza toppings go, the sky's the limit! Now instead of just cheese or pepperoni pizza we have options such as Taco Pizza, Philly Cheese, or Barbeque Chicken Pizzas. You may have made some I have never even heard of.
Even the crust can be made in a variety of ways. Some of us like thick crust, some thin, and some like it stuffed. There's also whole wheat or soy crusts as well as gluten free. And some pizza recipes have other healthy options, such as thinner crust with less or no cheese. Sauces are no longer just regular pizza sauce. We now have white alfedo and even pesto. On a taco pizza, refried beans are used. Why, there are even a boat load of different kinds of dessert pizzas.
It's true you can order a pizza with toppings on one half, and different toppings on the other. But there is a better way—a "make-your-own-pizza night!" Half the fun for me is trying new things. How about trying some pizzas with real pizzazz! So, with this idea in mind, I'm going to create a shopping list from my Cook'n Organizer and have a family pizza party, that way I will know just how many ingredients to buy to keep the troops happy!
---
Rosemary Potato Pizza
1 pizza crust
2 medium potatoes
1/4 onion finely chopped
1 Tablespoon rosemary
4 Tablespoons olive oil
1 cup shredded mozzarella cheese
1/2 teaspoon salt
1/4 teaspoon pepper
2 Tablespoons olive oil for brushing crust
Preheat the oven to 425 degrees. Roll prepared pizza dough.
Peel and thinly slice the potatoes. In a large bowl, combine potatoes, onion, and rosemary. Add the olive oil, salt and pepper.
Brush surface of pizza dough with olive oil. Arrange potato mixture onto the pizza crust. Sprinkle with cheese.
Bake for 20 minutes.
---
Taco Pizza
1 pound extra lean ground beef
1 fresh pizza crust
1 8-ounce can re-fried beans
1 Tablespoon taco seasoning mix
1 1/2 cups shredded Mexican cheese blend
1 1/2 cups shredded lettuce
1 Large tomato (diced)
3/4 cup salsa
1/4 cup sour cream
Preheat oven to 400 degrees. Cook pizza crust for 5 minutes without any toppings. Cook the beans and hamburger with taco seasoning. Spread mixture on pizza crust. Sprinkle with cheese. Bake for 10 minutes. Remove from oven and drizzle with salsa, top with lettuce and tomato. Serve with sour cream on the side.
---
Philly Cheese Steak Pizza
1 pizza crust
1 small green pepper (chopped)
1/2 pound deli roast beef
1 small onion (chopped)
2 Tablespoons olive oil
1 cup mushrooms (sautéed)
2 teaspoons fresh oregano
2 teaspoon fresh basil
1/2 teaspoon salt
1/4 teaspoon pepper
11/2 cups mozzarella cheese
1 clove garlic (minced)
Preheat oven to 350 degrees. Bake pizza crust for 6 minutes and set aside. In a skillet, add olive oil and sauté onions and peppers for 3 minutes. Add garlic and mushrooms and cook for another 2 minutes. Add cooked beef to warm. Sprinkle in spices. Spread meat mixture over crust and sprinkle with cheese. Bake at 350 degrees for 8 – 10 minutes or until edges are nicely brown and cheese is bubbly.