The Best Pizza Stone is the Cheapest Pizza Stone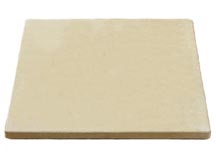 "Do I really need a pizza stone?" and the answer is "Maybe." I went without one for a longtime and no one complained about my pizza. I used a cookie sheet and poked a few holes in the crust. Then along came the round aluminum pan which seemed logical because it was round, and pizza is usually round. It made the pizza look more official! But now many people are using the infamous pizza stone.
You may have noticed that a clay pizza stone is not always round, some are square. The clay distributes the heat more evenly, making the crust crispier. The stone is porous and gets very hot which is good because high temperatures are important for pizza and also for crusty breads. Consequently, the upside to the pizza stone is the crispy crust and the evenly cooked pizza. The downside is that, because the stone is porous, the stone looks soiled after a few uses.
A pizza stone is basically a terra cotta slab. You can pay a lot of money for a brand name, a generic brand for less or you can go to your local hardware store and buy an unglazed 18"x18" tile for less than 2 dollars. How's that for economical? (Never use glazed tile, though!)
All pizza stones should be put into a cold oven and pre-heated to the high heat according to your recipe instructions. And know that if you put a cold stone into a hot oven, it will crack. Boo hiss. Clay becomes very hot when heated and you want to be sure you have more than just a thin pot holder to handle it. A pizza paddle is the best tool for removing the pizza from the oven, but not a necessity. Just be careful! I roll out my crust, sprinkle my hot stone with corn meal and carefully toss the dough onto the hot stone.
Because the pizza stone is porous, it will season itself by absorbing the oils from the crust. There is a special way to clean your stone. First, it must be cooled down to room temperature (see above for the "cracking lesson."). Then scrape off any bits of cheese or pizza left on the stone. When washing, after the stone is completely cooled, use only warm water and no soap. The soap would be absorbed by the stone.
One more tip: If you use too much sauce you will have a soggy pizza no matter what kind of pan or stone you use. So use a light hand when slathering on the sauce.
Pizza is such a crowd pleaser. Who doesn't love pizza? I sure do. Making your own pizza ensures you have a fresh, hot pizza made just the way you like it!
I hope you found these tips helpful! I love pizza, I'm very fond of saving money and I enjoy knowing what tools are the best and most economical.
---
---
An unbeatable value with exclusive benefits for members only.
Get a newsletter like this each week when you join the Cook'n Club.