Stuffed Crust Pizza Recipe
---
Recipe by Amy
---
Pin It
Ingredients:
3 cups all-purpose flour
1 tablespoon active dry yeast
2 tablespoons vegetable oil
1 teaspoon salt
1 tablespoon white sugar
1 cup warm water (110 degrees F/45 degrees C)
1/4 cup corn meal (DO NOT mix this into the dough)
3/4 to 1 C mozzarella cheese
2 tsp Italian seasoning
2 Tbl melted butter
1/2 tsp garlic powder
---
Directions:
Mix water, yeast, sugar & oil in mixer bowl. Then add flour & salt. Mix-knead for 10-12 minutes, sprinkling with flour to keep from sticking to bowl. Dough should be elastic & smooth. Place dough in oiled bowl, cover dough with oil, cover & let stand 1 hr at room temp. (If you use a mixer to knead your dough for 10 min you don't need to let it rise before use.)
Heat oven to 415 . Spray pizza stone with non-stick spray and sprinkle with corn meal. Roll dough out onto the pizza stone. Stretch or roll the dough about 1 inch past the edge of the stone. Cover outer edge of dough with cheese and Italian seasoning. Roll outer edge with cheese and seasoning towards the center of the crust making sure that no dough is left hanging over the edge of the stone. Press to seal the stuffed crust edge.
Top pizza as desired. (We used chicken cooked and cubed, cilantro, BBQ sause, mozzarella cheese)
Bake in preheated oven for 18 to 20 minutes. While pizza is baking mix garlic powder with butter. When pizza is done brush the crust with garlic butter.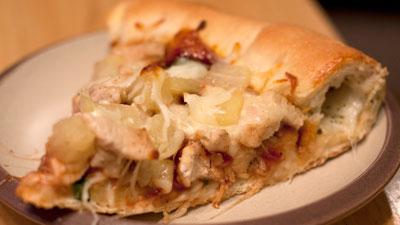 Back to the March 2012 Newsletter