Grilled Goodness
It may be a bit cold right now, but spring and summer will find their way back before we know it and if you are anything like us you may use your grill all year round anyway. I have a picture of my husband out of the deck in boots, pajamas, and a coat grilling our Sunday dinner in the snow once. He wanted that steak and the snow wasn't about to stop him! You may not be quite that devoted (or ridiculous, as the case may be) but even in the colder climates there are plenty of months each year to enjoy the grill.
Last summer we gave grilled pizza a try and it was a hit. It is fun, the kids thought it was pretty clever, and we all agreed that it was delicious! I wanted to share some recipes for grilling pizza with you. Whether you go light the grill in your snow boots or wait for the summer heat, these recipes are sure to leave you happy.
---
Grilled Pizza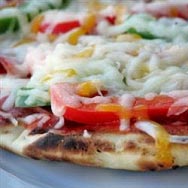 3 1/2 cups all-purpose flour, or as needed
1 envelope Fleischmann's Pizza Crust Yeast
1 tablespoon sugar
1 1/2 teaspoons salt
1 1/3 cups very warm water (120 degrees to 130 degrees F)*
1/3 cup oil
Additional flour for rolling
Additional oil for grilling
Pizza sauce
Other toppings as desired
Shredded mozzarella cheese
Start charcoal fire or preheat gas grill to medium-high heat.
Combine 2 cups flour, undissolved yeast, sugar and salt in a large bowl. Add very warm water and oil; mix until well blended, about 1 minute. Gradually add enough flour to make a soft dough. Dough should form a ball and will be slightly sticky. Knead** on a floured surface, adding additional flour if necessary, until smooth and elastic but not sticky, about 5 minutes.
Divide dough into 8 portions. Pat or roll dough on a well-floured counter to about 8-inch circles; they do not need to be perfect.
Brush both sides of crust with additional oil. Using hands, lift each crust carefully and place on grill. Cook for 3 to 4 minutes until bottom is lightly browned and top looks set. Using long handled tongs, remove crust from grill, grilled side up, to a platter or baking sheet.
Lightly add sauce and top the grilled side of each pizza crust. Excess sauce or toppings makes the pizza hard to handle. Repeat with remaining pizzas.
Carefully slide each pizza onto the grill. Cook an additional 3 to 4 minutes until bottom of crust is browned and cheese is melted. Remove from grill and serve immediately.
---
Pizza On The Grill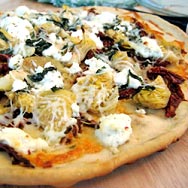 1 (.25 ounce) package active dry yeast
1 cup warm water
1 pinch white sugar
2 teaspoons kosher salt
1 tablespoon olive oil
3 1/3 cups all-purpose flour
2 cloves garlic, minced
1 tablespoon chopped fresh basil
1/2 cup olive oil
1 teaspoon minced garlic
1/4 cup tomato sauce
1 cup chopped tomatoes
1/4 cup sliced black olives
1/4 cup roasted red peppers
2 cups shredded mozzarella cheese
4 tablespoons chopped fresh basil
In a bowl, dissolve yeast in warm water, and mix in sugar. Proof for ten minutes, or until frothy. Mix in the salt, olive oil, and flour until dough pulls away from the sides of the bowl. Turn onto a lightly floured surface. Knead until smooth, about 8 minutes. Place dough in a well oiled bowl, and cover with a damp cloth. Set aside to rise until doubled, about 1 hour. Punch down, and knead in garlic and basil. Set aside to rise for 1 more hour, or until doubled again.
Preheat grill for high heat. Heat olive oil with garlic for 30 seconds in the microwave. Set aside. Punch down dough, and divide in half. Form each half into an oblong shape 3/8 to 1/2 inch thick.
Brush grill grate with garlic flavored olive oil. Carefully place one piece of dough on hot grill. The dough will begin to puff almost immediately. When the bottom crust has lightly browned, turn the dough over using two spatulas. Working quickly, brush oil over crust, and then brush with 2 tablespoons tomato sauce. Arrange 1/2 cup chopped tomatoes, 1/8 cup sliced black olives, and 1/8 cup roasted red peppers over crust. Sprinkle with 1 cup cheese and 2 tablespoons basil. Close the lid, and cook until the cheese melts. Remove from grill, and set aside to cool for a few minutes while you prepare the second pizza.
---
Grilled Pizza Margarita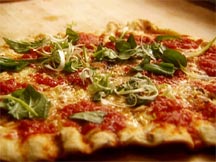 6 ounces Pizza Dough, recipe follows
1/4 cup virgin olive oil, for brushing and drizzling
1/2 teaspoon minced fresh garlic
1/2 cup loosely packed shredded fontina
2 tablespoons freshly grated Pecorino Romano
6 tablespoons chopped canned tomatoes, in heavy puree
8 basil leaves
Prepare a hot charcoal fire, setting the grill rack 3 to 4 inches above the coals.
On a large, oiled, inverted baking sheet, spread and flatten the pizza dough with your hands into a 10 to 12-inch free-form circle, 1/8-inch thick. Do not make a lip. You may end up with a rectangle rather than a circle; the shape is unimportant, but do take care to maintain an even thickness.
When the fire is hot (when you can hold your hand over the coals for 3 to 4 seconds at a distance of 5 inches), use your fingertips to lift the dough gently by the 2 corners closest to you, and drape in onto the grill. Catch the loose edge on the grill first and slide the remaining dough into place over the fire. Within a minute the dough will puff slightly, the underside will stiffen, and grill marks will appear.
Using tongs, immediately flip the crust over, onto the coolest part of the grill. Quickly brush the grilled surface with olive oil. Scatter the garlic and cheeses over the dough, and spoon dollops of tomato over the cheese. Do not cover the entire surface of the pizza with tomatoes. Finally, drizzle the pizza with 1 to 2 tablespoons of olive oil.
Slide the pizza back toward the hot coals, but not directly over them. Using tongs, rotate the pizza frequently so that different sections receive high heat; check the underside often to see that it is not burning. The pizza is done when the top is bubbly and the cheese melted, about 6 to 8 minutes. Serve at once, topped with the basil leaves and additional olive oil, if desired.
---
Pizza Dough
1 tablespoon active dry yeast
6 cups high-gluten flour
2 1/2 teaspoons kosher salt
Extra-virgin olive oil
Sprinkle the yeast over 1/2 cup warm (105 to 110 degrees F) water and allow it to dissolve and activate, about 5 minutes.
Combine the flour and salt and mound it onto a cool work surface creating a high walled well in the center. Combine the yeast mixture with 1 1/2 cups of cool water and pour into the well. Slowly begin to mix the water and flour, a little at a time, moving your fingers in short, counter clockwise circles around the border of the water. When the dough is firm enough to hold it's shape, scrape the remaining flour over it and knead until the mass is smooth and shiny, approximately 7 minutes.
Transfer the dough to a bowl that has been brushed with olive oil. Brush the top of the dough with olive oil to prevent a skin from forming, cover the bowl with plastic wrap, and let rise in a warm place away from drafts until doubled in bulk, about 2 hours. Punch down the dough and knead once more. Let the dough rise again for about 40 minutes, punch down again and form dough into 4 balls.