Cook'n is the best selling recipe organizer
Cook'n Version 10 Features
Enter Your Own Recipes...Easily
It's easy to enter your family recipes into Cook'n and organize them into categories. The Cook'n Recipe Window looks just like a recipe card and "Quick-Fill" editing does much of the typing for you! Even add recipe photos if you'd like.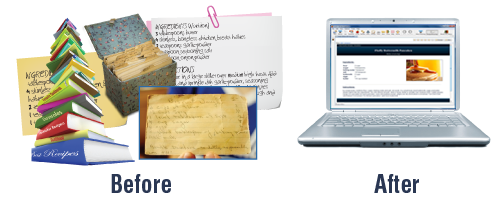 ---
Capture Recipes from the Internet
Finding recipes on the Internet is fun... but printing them just adds to the clutter. Instead, simply click "Capture" and import Internet recipes into Cook'n and keep them in one central database for easy access! (Learn More)

---
Add Brand-Name Cookbooks
With access to hundreds of Recipe Expansion Sets you can download e-books and build your custom cookbook library for less. In fact, when you install and register your Cook'n Software, you will get the e-book of your choice for free, a $30 value! (Learn More)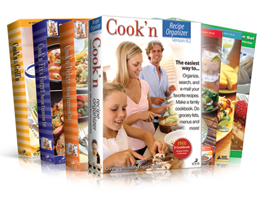 ---
Adjust Serving Sizes
Need to expand a recipe serving size for guests? Just enter in the number of people to feed and Cook'n will automatically adjust all the ingredient amounts in that recipe!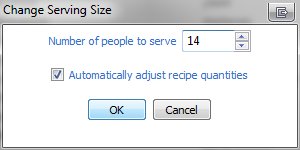 ---
E-Mail Recipes
If a friend is asking you for a recipe, simply email it to them right in Cook'n at just the click of a button. Search, select, email. Cook'n makes it very easy.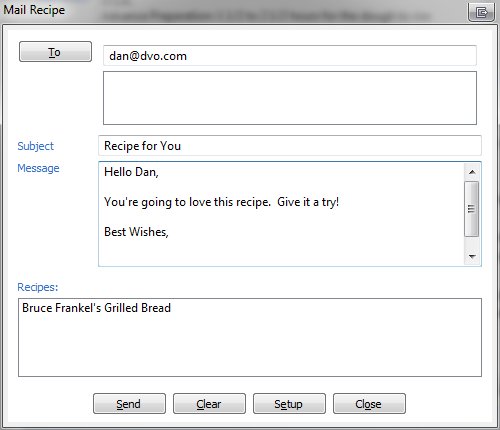 ---
Add Recipes to Blogs
Cook'n even has a feature where you can export your recipes and cookbooks onto your blog or website to share with friends and family.

---
Create Meal Plan Menus & Shopping Lists
With Cook'n you can simply drag recipes into the days of the week to create a menu. (Learn More) Plan the right meals for the right day or time of year. Use your menus to automatically generate shopping lists! (Learn More)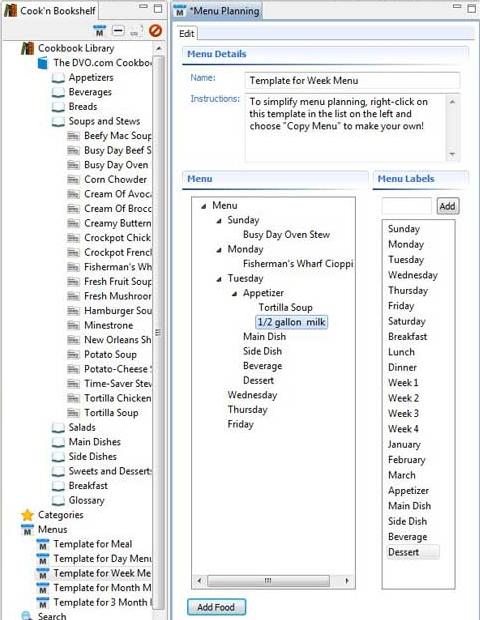 ---
Calculate Recipe & Meal Plan Nutrition
Cook'n calculates the nutrition of every recipe or menu, even the ones you add! With a click of the mouse you can view a nutritional label just like you'd find on the back of a can. With over 10,000 food facts in the Cook'n database, it even helps you choose the healthiest brands. (Learn More)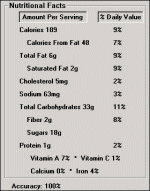 ---
Print and Publish Cookbooks
Cook'n allows you to print your cookbooks by automatically generating a title page, a table of contents, the recipes of that book, and an index. Customize it onto different paper sizes and various fonts. (Learn More)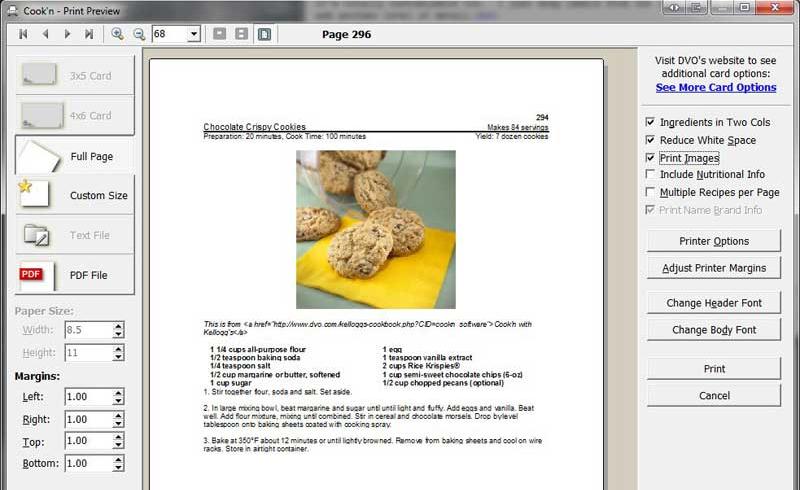 ---
When you Try Cook'n Today, you will also recieve:


Free software updates to Cook'n

License to install program on multiple personal computers at no extra charge!

Access to Hundreds of Brand-Name eCookbooks in the Cook'n format

One free eCookbook of Your Choice with Purchase (a $30 value!)

Access to Hundreds of Free Recipes in the Cook'n format directly from our site

Over 350 of our best recipes, most with photos, that come loaded on the program

Free Monthly Newsletters (only if you'd like to receive them) with recipes and video demonstrations
---
...and Don't Forget our 5-Star Customer Service:
---

for Windows 7/Vista/XP/NT/ME/2000



Start organizing your recipes today
Download Cook'n and get organized!


Buy the CD or download the full version of Cook'n right now! Includes over 350 of our best recipes.

---