Cook'n is the best selling recipe organizer
Easily Organize Internet Recipes

with Cook'n!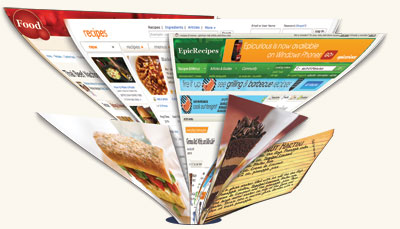 With Cook'n, there's now a better way to find and organize your favorite internet recipes. Save time by mananaging these recipes in the software so you can clear out unorganized site bookmarks and throw-away the stacks of messy internet print-outs.
Cook'n allows you to: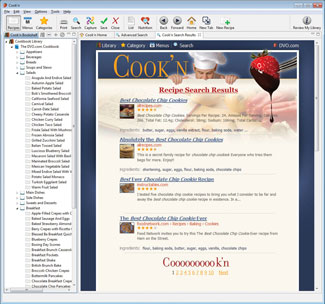 Find
the best internet recipes
Search for the perfect internet recipe using the Cook'n search engine. You can tell Cook'n which ingredients you have on hand and it will give you a list of options in seconds. Recipe ratings and pictures are displayed within the search results.
---

Capture
(Import) recipes you want to save
When you find a great recipe on the internet simply click Capture and Cook'n will instantly import the recipe into your Cook'n Library. Cook'n lets you customize your recipes with colorful recipe themes so they look just the way you like!
---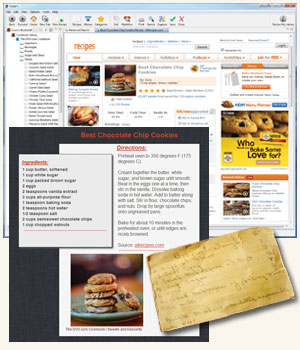 Integrate
recipes with personal cookbooks
Once the internet recipes are imported, you can add them to your exisiting cookbooks within Cook'n or create new ones. Easily keep them organized.
---
Scale
recipes and use other Cook'n features
As recipes are imported, you can quickly adjust recipe serving sizes to make the right meal quantities for your family! You can also incorporate these recipes in your menu plans, shopping lists, and nutrition analyses.
Watch how it works!
---
Now you can stay organized in the kitchen and enjoy cooking again!

---
Learn More About How Cook'n Can Help You:

Organize Recipes
Menu Plan
Make Shopping Lists
Analyze Nutrition
Download Recipes
Share Recipes
Print Family Cookbooks
Save Money
More...
---
"Just a quick note to let you know how much I love your program. Not only has it enabled me to get rid of a good deal of paper but recipes are just a couple of clicks away, no more hunting." -Judy
---
"I think the Cook'n software is the best purchase I have ever made. You have no idea how many times I looked for a recipe I knew I had but could not find anywhere and had to give up after hours of going through many of my cookbooks and loose recipes that I keep in a greatly disorganized manner. Thank you very, very much for having come up with such a great tool for those of us who love to cook. I absolutely love your software. " -Margaret
---
"Thank you for coming up with such a wonderful way to keep track of all recipes. I use Cook'n everyday and it is the best program on the market to organize recipes." -Eloise