Is Granola REALLY Good for You?
When it first came on the market, granola was known both as the ultimate hippie food, and later as an expensive upscale breakfast found in fancy supermarkets. But you might be surprised to learn where this classic food got its start, and the truth about it—is granola REALLY good for you? Some research found on www.foodrevolution.org tells the story.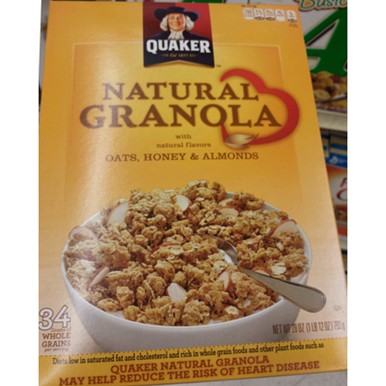 First its history: It was at the Woodstock music festival that granola was to the hippie generation. Counterculture icon
Wavy Gravy
distributed pound after pound of bulgur wheat, rolled oats, currants, almonds, and dried apricots into paper Dixie cups to all the festival attendees.
But actually, the hippies didn't invent granola. Its origins, ironically, were rooted in a movement that emerged in the mid-19th century—known as the clean-living crusade. We can thank crusading doctors James Caleb Jackson John Harvey Kellogg for pioneering this favorite breakfast and snack food. Granola actually preceded Kellogg's Corn Flakes®!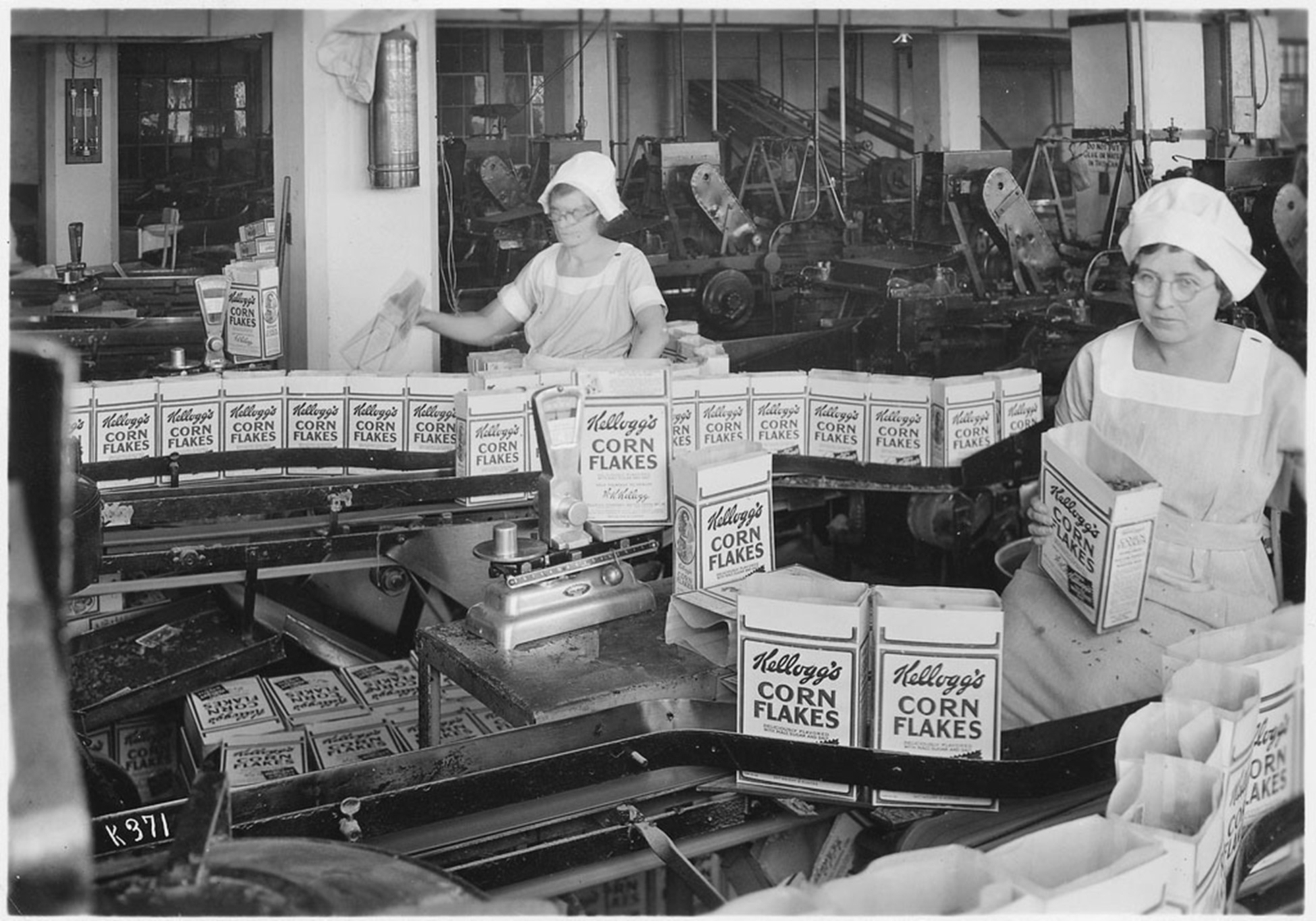 So, between the clean-living crusaders and the Woodstock generation (both distrusted anything "artificial" and saw salvation in anything "natural") granola morphed into today's version of a mixture of nuts, seeds, rolled grains, and dried fruit. It's all coated in oil and sweeteners and baked until toasted.
Sounds like a healthy recipe, right? But it's this coating of oil and sweeteners that leads to the question, "Is granola REALLY good for you?" It all depends. Take storebought granola, for example. Many brands are loaded with refined or other added sugars. Some brands actually deliver more sugar to your bloodstream than popular breakfast cereals such as Honey Bunches of Oats®.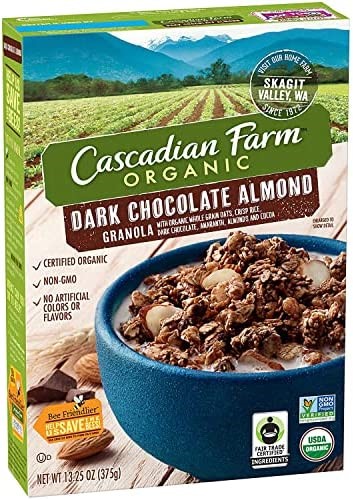 One popular brand, Nature Valley Oats & Honey Protein Granola® contains 16 grams of added sugar. And then there's the fat issue. Cascadian Farm Dark Chocolate Almond Granola® has over 25% of its calories coming from fat. Lastly, most popular brands include GMO corn in the form of high fructose corn syrup.
The point to the above discussion? As always, in today's commercial food environment we need to be label readers. But another point is that if you like granola, maybe consider a wiser route and simply make your own. Making your own gives you total control over the ingredients and quality of your granola, and the good news is that it's easy to make. It's absolutely possible to end up with a delicious variety of granola flavors and textures without the added sugars and fat.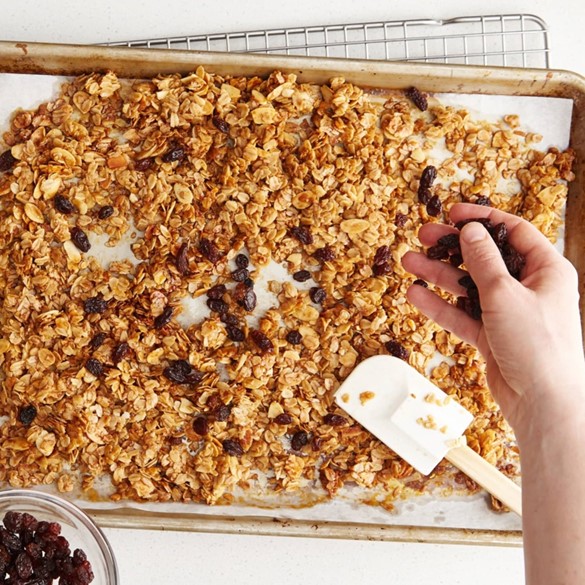 With all this said, I'll close with www.foodrevolution.org's recipe for a basic granola recipe that's good dressed up or down. It's a "go ahead and use-what-you-have" recipe that can't fail.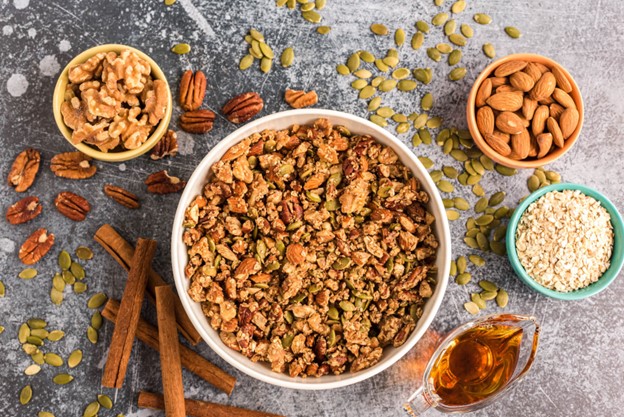 BASIC and HEALTHY Homemade Granola
Yield:
approximately 2 cups
Ingredients:
1/2
cup
raw, chopped
almonds
1/2
cup
raw, chopped
walnuts
1/2
cup
raw, chopped
pecans
1/2
cup
rolled oats
1/4
cup
raw
shelled pumpkin seeds
3/4
teaspoon
cinnamon
3
tablespoons
pure
maple syrup
or date paste
1
teaspoon
vanilla extract
1/8
teaspoon
salt
optional
Directions:
1. Preheat oven to 350 degrees F; line a baking sheet with parchment paper.
2. Coarsely chop almonds, walnuts, and pecans into bite-size pieces; place in a large bowl.
3. Grind the oats into a coarse meal in a food processor or grinder.
4. Add the oats to the bowl with the nuts.
5. Add the pumpkin seeds and cinnamon. Stir well.
6. In a small bowl, add the maple syrup and vanilla extract. Stir.
7. Pour the maple and vanilla mixture over the oats, nuts, and pumpkin seed mixture.
8. Mix well until the nuts and seeds are coated.
9. Spread out evenly on the baking sheet and sprinkle with salt, if using.
10. Bake for 12 minutes, stirring halfway through. Let cool for 10 minutes before serving (this will allow it to form clusters).

Recipe formatted with the Cook'n Recipe Software from DVO Enterprises.
Add Recipe to Cook'n

Alice Osborne
Weekly Newsletter Contributor since 2006
Email the author! alice@dvo.com