The Sweet Potato...So Deserving of Our Awe and Appreciation!
There are so many reasons to develop an appreciation for the remarkable sweet potato. For starters, this is a powerfully healthy vegetable. Besides being high in fiber and low in fat, they're full of vitamins A, C, B6, and manganese, potassium, copper, niacin, and pantothenic acid. This anti-oxidant rich plant does a stunning job of protecting the body from free radical damage. The sweet potato really does deserve our awe and appreciation!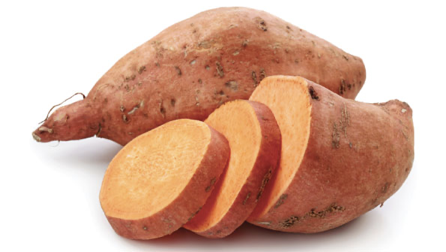 I remember when sweet potato fries hit the market. CLEVER IDEA I thought, and my love of this vegetable grew stronger.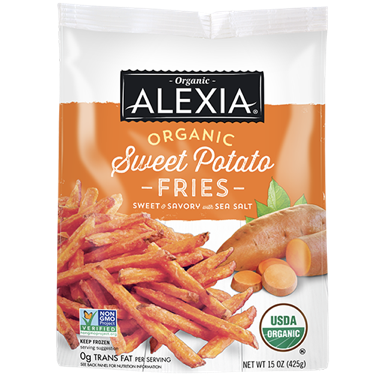 Turns out, lots of folks are experimenting with them. Rebecca, recipe developer and cookbook author, shared another clever idea on her great site, Foodie With Family (www.foodiewithfamily.com).
Rebecca created what she calls "sweet potato croutons." While the original idea was to heap them atop her salad, she's found they're also delicious as a snack. She and her family discovered that besides being completely irresistible when hot from the oven, their munchiness lasts for two hours or longer, meaning they're definitely snack-worthy.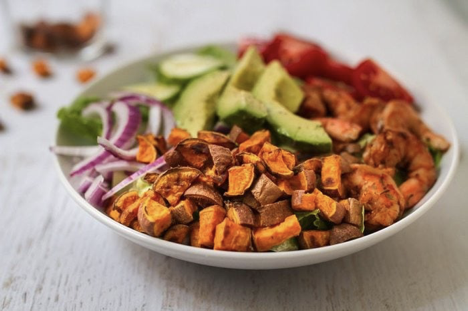 And what's more, Rebecca says they're still really tasty even cold from the refrigerator 24 hours later (making them a terrific salad-topper). Or you can reheat them by toasting them on a cookies sheet in a 400°F oven for 4 minutes, and they'll be as good as new.
Sold? Me too! Let's get started. The trick is to cut the potatoes evenly so they'll roast and crisp evenly. Here are her instructions: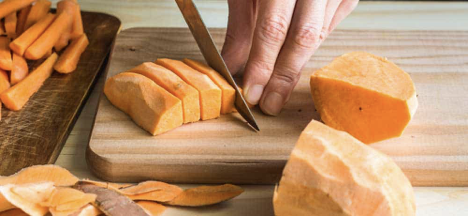 Sweet Potato Croutons
Ingredients:
sweet potato
grapeseed oil
(or olive or canola oil)
cajun seasoning
(or buttermilk ranch dressing mix, or other seasoning of choice)
Directions:
1. Peel potato and slice away a just under 1/2-inch thick wafer of the potato lengthwise. This will allow the potato to sit safely on the cutting board without rocking.
2. Cut the potato into 3/8-inch-thick 'cards'.
3. Slice one 'card' at a time into 3/8-inch-thick strips.
4. Turn those strips 90 degrees and cut them into 3/8-inch-thick cubes.
5. Repeat with the remaining 'cards' of sweet potatoes. Now you have perfect 3/8-inch sweet potato cubes that will roast up to crispy Sweet Potato Crouton perfection!
6. Coat the cubes in oil (visually, every cube should be coated and shiny, but there should not be any pooled oil in the mixing bowl).
7. Sprinkle cubes with seasoning(s) of choice (Cajun and buttermilk ranch dressing mix are good).
8. Bake in a single layer on a rimmed cookie sheet in 425&degF preheated oven for 25 to 40 minutes.
9. Stir after the first 15 minutes to release the cubes from the pan and shift their position. After the first 25 minutes, remove and allow them to cool slightly; eat one cube to test the crispness. If you like it where it is, take the croutons from the oven. If want them a little crispier, return the pan to the oven and repeat the test every 5 minutes until desired crispness is achieved.

Recipe formatted with the Cook'n Recipe Software from DVO Enterprises.
Add Recipe to Cook'n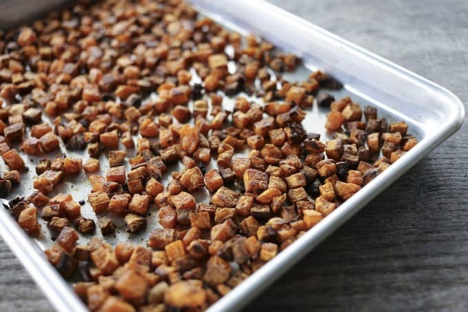 Now some tips: You want to pick the big ones for this project. Depending on the size of potatoes, you only need 1½ tablespoons of oil per sweet potato (an oil with a higher smoke point like canola, grapeseed, or olive oil are good choices). When seasoning, you want to toss enough of whatever seasoning you're using with the oiled up spuds to coat them but not overwhelm them. As a good starting point, use 1 tablespoon per sweet potato with low salt blends or 1 teaspoon per sweet potato for high salt blends.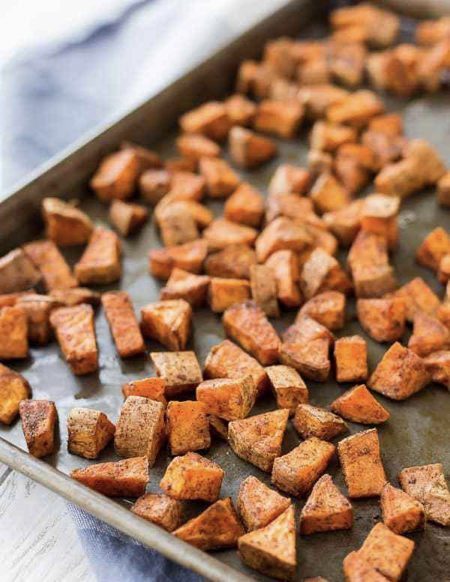 Avoid crowding the cubes; they need lots of air circulating around them to crisp up. Don't bother trying to stir the croutons until they've crisped well on the underside and released themselves from the pan. Then you can shake them around and return to the oven until crunchy.
Finally, these freeze well. Just be sure when you initially bake them to leave them a little underdone. That way, when baking later on, they'll come to a perfect crispness and not be overbaked.
One last thought: I wonder, if you were short on time, if you could make these from ready-made sweet potato fries…just cube the existing fries and go from there? I might try that.
Sources:
www.deliciousliving.com
www.walmart.com
www.eatingbirdfood.com
www.kitchenbyte.com
www.foodiewithfamily.com
www.rachelcooks.com

Alice Osborne
Weekly Newsletter Contributor since 2006
Email the author! alice@dvo.com