Corned Beef and Cabbage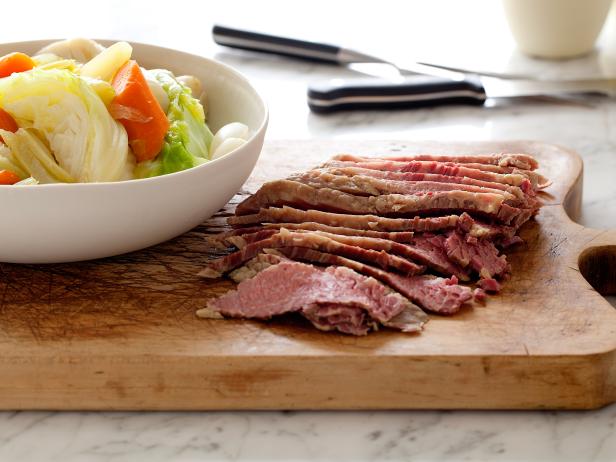 Serves:
6
This recipe has you treat the brisket to a flavor-packed brine before slow-cooking it for hours in a Dutch oven to ensure tender results. Hearty root vegetables, cabbage and herbed butter fill up the rest of a plate worth the wait.

Dovetailing Tip: Prepare an additional 2 heads + 3 cups of cabbage by cutting it finely for days 2, 3 and 5. Colcannon, Corned-Beef and Cabbage Pizza and Sauted cabbage.
Prep Time:
Cook Time:
Total Time:
Ingredients:
1

cup

kosher

salt

1

cup

brown sugar

1 1/2

tablespoon

whole

coriander

1 1/2

tablespoon

whole

mustard seeds

1 1/2

tablespoon

whole black

peppercorn

1 1/2

tablespoon

whole

allspice

4

sprigs

fresh

marjoram

4

sprigs

fresh

thyme

leaves

2

bay leaves

1

(2 1/2 to 3 pound) brisket

3

tablespoons

extra-virgin

olive oil

1

onion

, halved

6

carrots

, coarsely chopped

1

head

celery

including leaves, coarsely chopped

1

head

garlic

, halved

3

sprigs

fresh

marjoram

1

small

cabbage

cut into 6 to 8 wedges

herbed root

vegetable

, recipe follows

2

tablespoons

extra-virgin

olive oil

2

tablespoons

unsalted

butter

1

pound

new

potato

, scrubbed

1

pound

baby

carrot

, trimmed and scrubbed

1

pound

baby

turnips

, trimmed and scrubbed

1

pound

baby

parsnip

, trimmed and scrubbed

kosher salt and freshly ground

black pepper

1/2

pound

unsalted

butter

, softened

1/2

cup

mixed chopped fresh herbs like thyme, mint, chives, parsley, or

chervil

kosher salt and freshly ground

black pepper
Directions:
Combine all the brine ingredients, except the brisket, in a large non-reactive bowl. Add the brisket (you may have to cut it into 2 pieces) and rub the spice mix into the meat. Pour cold water over until the meat is covered. Weight the brisket down with a small plate so that it is completely submerged; cover and refrigerate. The meat can be brined overnight or as long as 10 days. The longer the brining the more pickled the meat.

Heat the oven to 300 degrees F.

Heat a large pot or Dutch oven over medium-high heat and add the olive oil. Add the onion, carrots, celery, garlic, marjoram, and bay leaves and cook until starting to soften, about 10 minutes. Remove the meat from the brine and rinse it well. Set the meat on top of the vegetables and add water to just cover the meat. Bring to a boil skimming any foam that surfaces. Reduce the heat to a simmer, place the lid on the pot, and cook for 15 minutes. Add the cabbage pieces, cover, and put it into the oven; cook for 3 hours.

Remove the meat, cover it with foil, and let it rest for 20 minutes. Cut the fat off the corned beef, slice the meat against the grain, and serve it in shallow bowls with the cabbage wedges, some cooking liquid, and the Herbed Root Vegetables.

Put the olive oil and butter into a large pot over medium-high heat. Add the vegetables and toss to coat them well with the fat; season with salt and pepper. Add 1 cup water and bring to a boil. Lower the heat to a simmer, cover the pot, and cook until the vegetables are tender, about 20 minutes.

Meanwhile, make the Herb Butter by combining the soft butter and herbs together; season with some salt and pepper.

To serve, spread some Herb Butter in the bottom of a bowl. Add the hot vegetables and dot with more Herb Butter. Moisten with some of the cooking liquid and serve.

Source: foodnetwork.com