For The Bread-makers In The House...
My son and daughter-in-law gave us a great cookbook for Christmas a few years ago—Artisan Bread in 5 Minutes a Day, by Jeff Jertzberg. M.D. and Zoe Francois. Cookbook reading is such an inspiring pastime, and this book is inspiring for sure.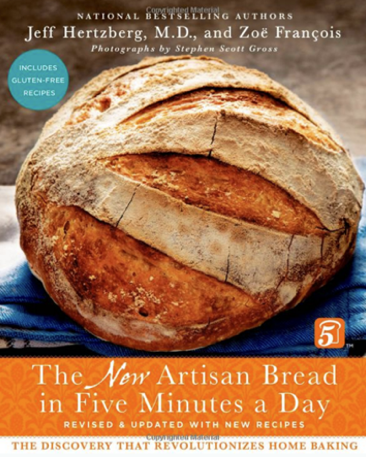 Before the book even begins, the authors reveal their method of operation. On a page titled "The Secret," they say:
"It is so easy to have freshly baked bread when you want it with only five minutes a day of active effort. First, mix the ingredients from our recipe into a container all at once, and then let them sit for two hours. Now you are ready to shape and bake the bread, or you can refrigerate the dough and use it over the next couple of weeks. Yes, weeks! You've prepared enough dough for many loaves. When you want fresh-baked crusty bread, take a piece of the dough from the container and shape it into a loaf. Let it rise for twenty minutes or more and then bake."
So the secret is out: to make artisan bread in 5 minutes a day, always keep refrigerated pre-mixed homemade dough on hand. And this is a very doable goal. Using the authors' approach, you don't have to follow the typical steps needed for traditional artisan baking, namely: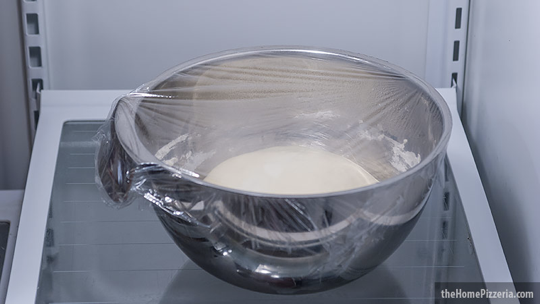 Mix a new batch of dough every time you want to make bread
"Proof" yeast
Knead dough
Cover formed loaves
Rest and rise the loaves in a draft-free location—it no longer matters!
Fuss over doubling or tripling of dough volume
Punch down and re-rise the dough
Poke rising loaves to be sure they've "proofed" by leaving indentations
OK, just this much reading and I was convinced. If you like this idea as well, here is a recipe from the book that you might try. This recipe is easily doubled or halved. Let me know what you think—we ought to compare notes. I think learning to make great homemade bread,
easily and quickly
, is a super goal for 2020, don't you?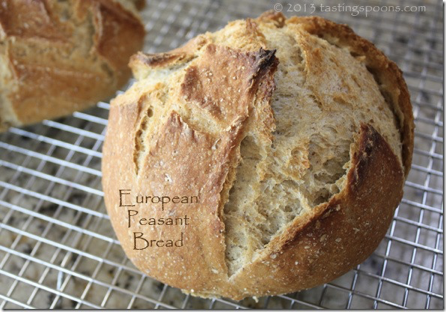 European Peasant Bread
Yield:
4 1-pound loaves
Serving size:
1
Calories per serving:

2,660




Ingredients:
3
cups
lukewarm
water
1 1/2
tablespoons
yeast
(2 packets)
1 1/2
tablespoons
kosher
salt
1/2
cup
rye flour
(or other whole grain flour)
1/2
cup
whole wheat flour
5 1/2
cups
unbleached
flour
cornmeal
for the pizza peel
Directions:
Mix and store the dough:
Mix the yeast and salt with the water in a 5-qt bowl, or a lidded (not airtight) food container. Mix in remaining dry ingredients without kneading, using a spoon, a 14 cup capacity food processor (with dough attachment), or a heavy-duty stand mixer (with dough hook). If you're not using a machine, you may need to use wet hands to incorporate the last bit of flour.
Cover (not airtight), and allow to rest at room temperature until the dough rises and collapses (or flattens on top), approximately 2 hours.
The dough can be used immediately after the initial rise, though it is easier to handle when cold. Refrigerate in a lidded (not airtight) container and use over the next 14 days.
On baking day:
Dust the surface of the refrigerated dough with flour and cut off a 1-pound (grapefruit size) piece. Dust with more flour and quickly shape it into a ball by stretching the surface of the dough around to the bottom on all four sides, rotating the ball a quarter-turn as you go. Allow to rest and rise on a cornmeal-covered pizza peel for 40 minutes.
Twenty minutes before baking time, preheat the oven to 450 degrees
, with a pizza stone placed on the middle rack. Place an empty broiler tray on any other shelf that won't interfere with the rising bread. Sprinkle the loaf liberally with flour and slash a cross, "scallop," or tic-tac-toe pattern into the top, using a serrated bread knife. Leave the flour in place for baking; tap some of it off before slicing.
Slide the loaf directly onto the hot stone. Pour 1 cup of hot tap water into the broiler tray, and quickly close the oven door. Bake for about 35 minutes, or until the top crust is deeply browned and very firm. Smaller or larger loaves will require adjustments in baking time. Allow to cool before slicing.

Recipe formatted with the Cook'n Recipe Software from DVO Enterprises.
Add Recipe to Cook'n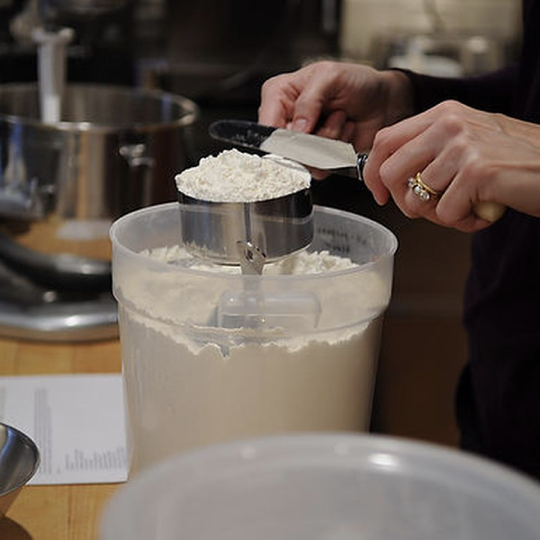 Finally, one quick tip the authors call "The Scoop-and-Sweep Method:" This technique gives consistent results without sifting or weighing. It's easier to scoop and sweep if you store your flour in a bin rather than the bag it's sold in; it can be hard to get measuring cups in a bag without making a mess. Also:
NEVER use an extra-large 2-cup-capacity measuring cup
. While handy for liquids, it's not the best for flour. It allows the flour to over-pack and then you end up measuring too much flour.
Sources:
www.artisanbreadinfive.com
www.thehomepizzeria.com
www.tastingspoons.com
www.food52.com

Alice Osborne
Weekly Newsletter Contributor since 2006
Email the author! alice@dvo.com