Duxelles and a Terrific Vegetarian Alternative to Beef Wellington
French in origin, duxelles is a mushroom condiment that's traditionally used in the preparation of beef Wellington. But it can also be used to flavor soups and sauces, fill omelets and ravioli, top a burger, and used as a delectable spread on crostini or toast points.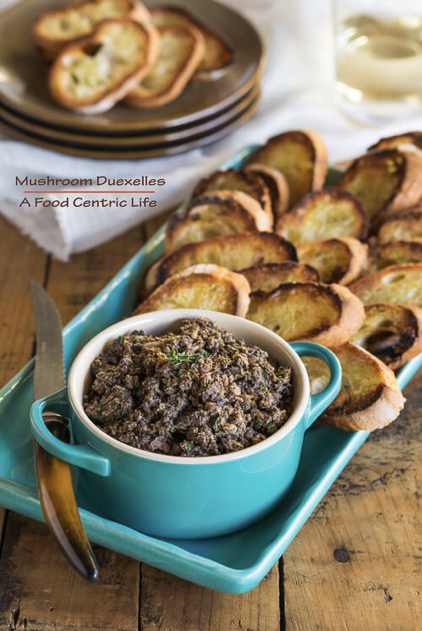 The key ingredients in duxelles are always mushrooms, butter, salt, and pepper. Common recipes also include shallots and sometimes herbs. Whatever recipe you use, the approach is always the same: slow cooking in the butter until the mixture becomes thick.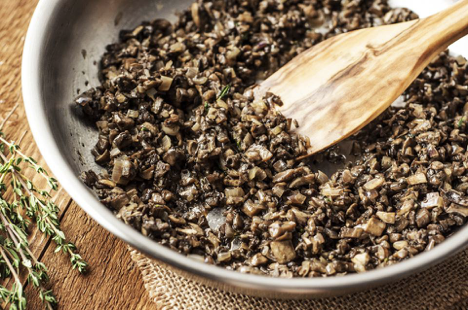 Since mushrooms are 90% water, the long, slow cooking of duxelles will evaporate the water and concentrate the mushroom flavor. Be sure to save any leftover duxelles in the freezer—it's great in omelets, stuffed under the skin of a roasted chicken, stuffed in baby squash or cherry tomatoes, or as part of your baked potato toppings. And I also discovered what a nice addition this was to my traditional turkey stuffing recipe!
But here's a question a neighbor asked when I was telling her all about this discovery. "WHY go to the bother? Why not just chop some fresh mushrooms and add them to your soup, omelets, and so on?"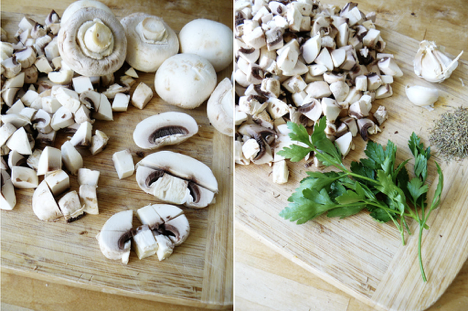 Good question, right? Well, from a preservation standpoint, one great benefit is that they can be frozen without losing quality. Most mushrooms react negatively to freezing, as they tend to get stringy and chewy. While blanching mushrooms in salt water and freezing is doable, it's not the first choice for preservation. Making duxelles from them is a clever way to have your mushrooms now and later!
If you're interested in trying this, here's a standard duxelle recipe from a favorite site, www.finecooking.com.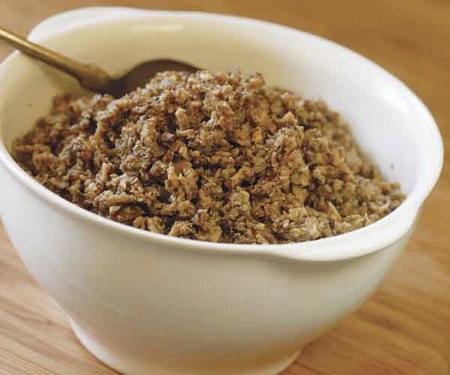 Duxelles
Yield:
about 3 to 4 cup
Serving size:
1
Ingredients:
6
ounces
white button
mushrooms
cleaned and thinly sliced (about 2 cups)
10
ounces
shiitake
mushrooms
stems removed and discarded, caps cleaned and thinly sliced (about 3 cups)
2
large
shallots
peeled and thinly sliced
4
tablespoons
unsalted
butter
3/4
teaspoon
kosher
salt
1/8
teaspoon
freshly ground
black pepper
Directions:
Put the mushrooms and shallots in a food processor fitted with the chopping blade. Pulse until finely chopped. The mushrooms and shallots should be in about 1/8-inch pieces—don't over-process.
Melt the butter in a 10-inch skillet over medium heat. Add the mushroom mixture, salt, and pepper and cook, stirring. When the mushrooms begin to release their moisture, turn the heat to low and cook, stirring occasionally, until the liquid has evaporated and the duxelles look dry, 20 to 25 minutes. Let cool.

Recipe formatted with the Cook'n Recipe Software from DVO Enterprises.
Add Recipe to Cook'n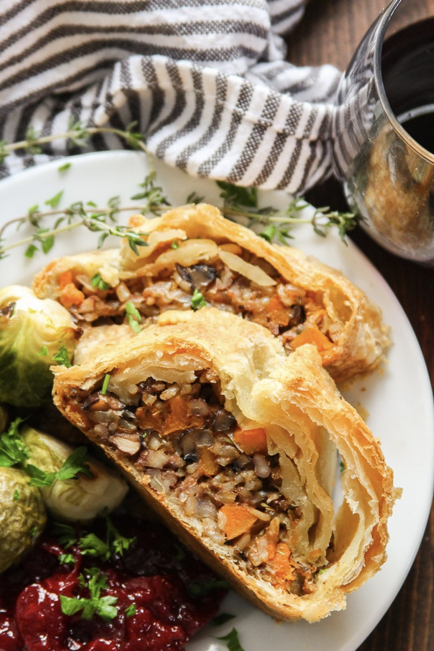 Herbed Butternut Squash Wellington is stuffed with lentils, roasted veggies, and duxelles. It's wrapped in flaky puff pastry. Serve it up with a drizzle of mushroom gravy and you've got a hearty, satisfying main dish for your next holiday meal.
I found this delicious recipe on another favorite site, www.wellvegan.com. The talented cooks and site authors, Kate and Katie, say that although this dish looks impressive and complicated, it's actually not difficult to make. If you can boil water and roast vegetables, the filling will come naturally.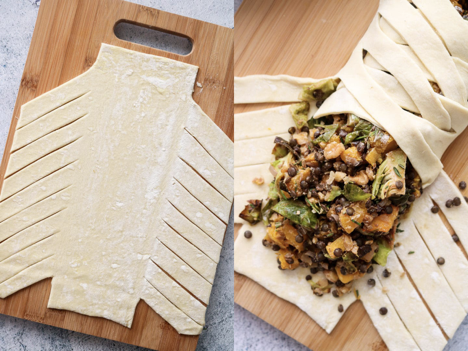 They advise that the only tricky part is making the proper cuts for braiding the puff pastry. You can make as many or as few as you'd like. Fewer cuts (about 5 per side) will work just fine, if you're a bit nervous about this technique.
So all this said, I'll conclude with their recipe. It makes two Wellingtons about 12 inches in length. Serve both, depending on the size of your party, or freeze the second for an effortless post-holiday dinner. I will be adding this to our Christmas spread; I'd love to hear from you should you decide to use it as well.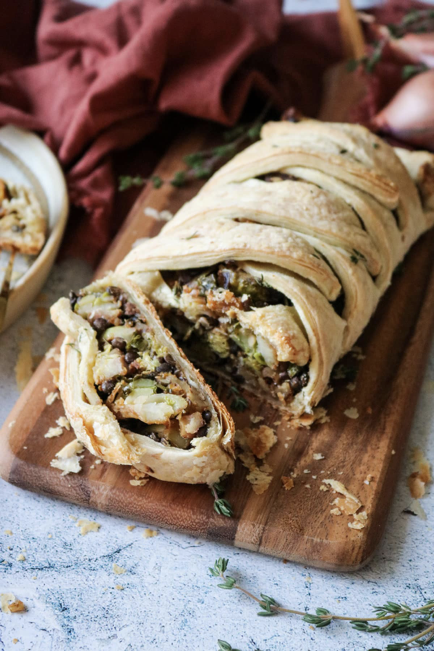 Herbed Butternut Squash Wellington
Yield:
2 12-inch Wellingtons
Serving size:
1
Ingredients:
1/2
butternut
squash
peeled, seeds removed, and diced into ½-inch cubes (about 3 cups)
4
cups
brussels sprouts
quartered
2
shallots
finely chopped
1
tablespoon
olive oil
1
pinch
salt
2 to 3
twist
black pepper
1/2
cup
French
lentils
1 1/2
cups
vegetable broth
1/2
teaspoon
soy sauce
1
teaspoon
pure
maple syrup
1
pinch
paprika
1/2
cup
raw
walnuts
finely chopped (swap sunflower seeds for nut-free)
1
teaspoon
fresh
thyme
1
tablespoon
fresh
rosemary
finely chopped
1 1/2
tablespoons
whole wheat flour
2
puff pastry shells
thawed
mushroom gravy, for serving
Directions:
1. Preheat oven to 400F degrees. Combine the butternut squash, Brussels sprouts, and shallots on a large baking sheet. Drizzle with olive oil and season with salt and black pepper; toss to combine.
2. Roast the veggies for 30 minutes, or until tender and slightly caramelized. Remove the veggies from the oven and set aside. Leave your oven on.
3. Meanwhile, make the lentils. Combine the French lentils and vegetable broth in a saucepan and bring to a rapid simmer over medium heat. Cover and reduce the heat to maintain a gentle simmer until lentils are tender, about 20 minutes.
4. Mix the soy sauce, maple syrup, and paprika together in a small bowl. Set aside.
5. Drain any excess broth from the lentils and transfer them to a large mixing bowl along with the roasted veggies, walnuts, and fresh herbs. Drizzle in the soy sauce/maple syrup mixture and sprinkle in the whole wheat flour. Stir until well combined and slightly sticky.
6. Unwrap one of the puff pastry sheets and roll into a slightly larger rectangle, about 12 inches wide by 15 inches long. Make two vertical slits at the top of the puff pastry sheet and two vertical slits at the bottom one third of the way in from each side, about 1 inch long (see photo above).
7. Then, make four diagonal cuts from the end of each slit to the edge of the puff pastry sheet (again, it's easier to demonstrate in a photo! Just scroll up to view the cuts). Remove the little triangle cutouts.
8. Finally, make diagonal slits all the way down the puff pastry sheet on both sides, about 1 inch wide. Pile half of the filling into the middle of the puff pastry and form into a rectangular mound with your hands.
9. Fold the top edge of the puff pastry up and over the filling. Then, begin to braid the puff pastry by folding the strips on top of one another in an alternating pattern. Once you reach the bottom, fold the bottom edge up and over the filling and press the ends to stick.
10. Brush the wellington with olive oil and sprinkle with more thyme leaves. Repeat with the other puff pastry and the other half of the filling. Bake for 25 to 30 minutes, until the puff pastry is golden and fluffy.
11. Transfer the Herbed Butternut Squash Wellington to a platter and slice. We highly recommend serving it with a drizzle of your favorite mushroom gravy!

Recipe formatted with the Cook'n Recipe Software from DVO Enterprises.
Add Recipe to Cook'n
Sources:
www.afoodcentriclife.com
www.thespruceeats.com
www.finecooking.com
www.connoisseurusveg.com
www.flickr.com
www.wellvegan.com

Alice Osborne
Weekly Newsletter Contributor since 2006
Email the author! alice@dvo.com