Delightful Easter Snack Combinations for Any Occasion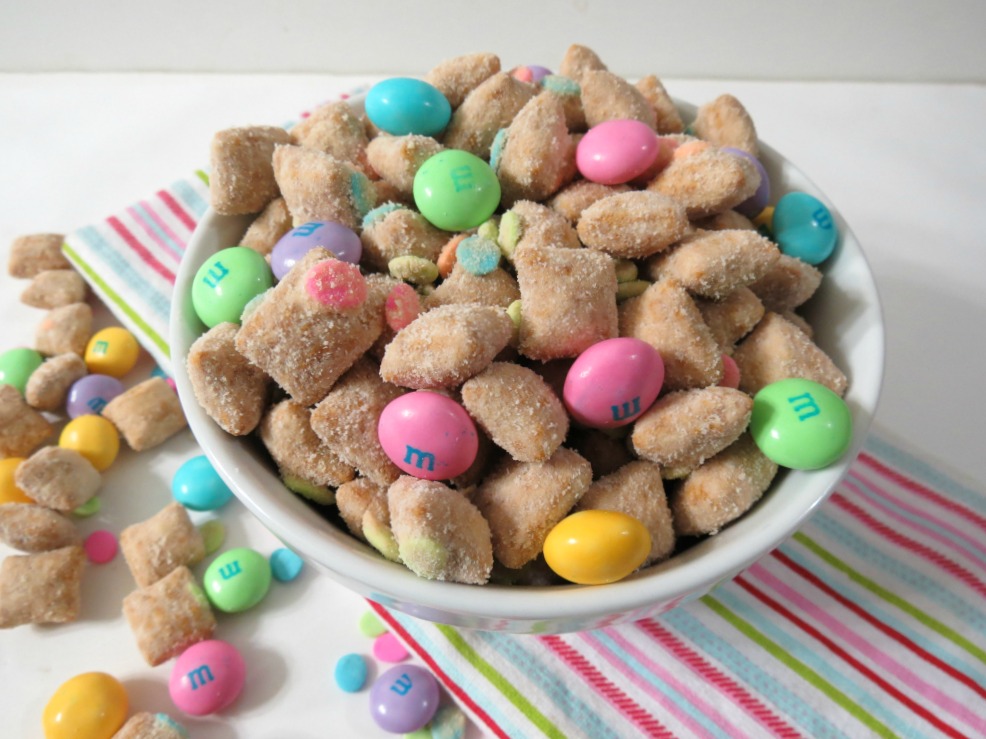 Easter is coming up quickly! This particular year, Easter falls on the first Sunday in April, which means that my family will be participating in a general conference put on by the Church of Jesus Christ of Latter-Day Saints. It's an opportunity to hear from the president of the church and to be uplifted and edified. This is one of my favorite Sundays of the year, and with it being Easter on top of it, it's the perfect chance to make a fun, tasty and festive snack!
Of course, there are many occasions that would constitute the making of a delicious Easter snack! There are many Easter goodies sold in stores, but sometimes you want a little something crunchy with your chocolate. Here are a few tasty snacks you can concoct this springy season for any upcoming parties, school functions, or just for a festive snack around the house!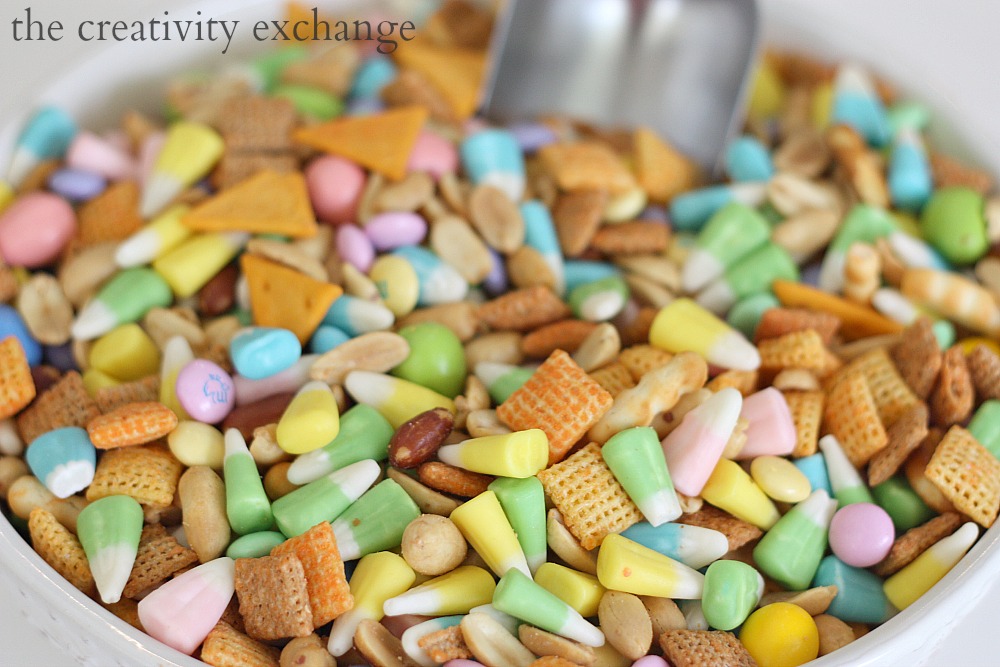 This is the perfect mix if you like a little salty mixed with your sweets! I also love the variety of colors- it's just a happy, fun-looking mix! And easy too- just combine 1 pound of Easter candy corn, 1 bag of Cheddar Chex Mix, 3 small bags of Reese's Pieces' Eggs, 1 16-ounce container of peanuts, and 1 bag of pastel M&M's. Beautiful, tasty, and simple.
Another easy way to get a tasty Easter snack mix is to go with an oldie but goodie- Muddie Buddies (or Puppy Chow, as my family called it ;). You can stick with a basic recipe and just add your favorite Easter additions! Marshmallows, Cadbury eggs, M&M eggs, Reese's Pieces eggs, or if you're just looking for color without the extra add-ins, just add a few Easter/spring sprinkles! I also love this idea: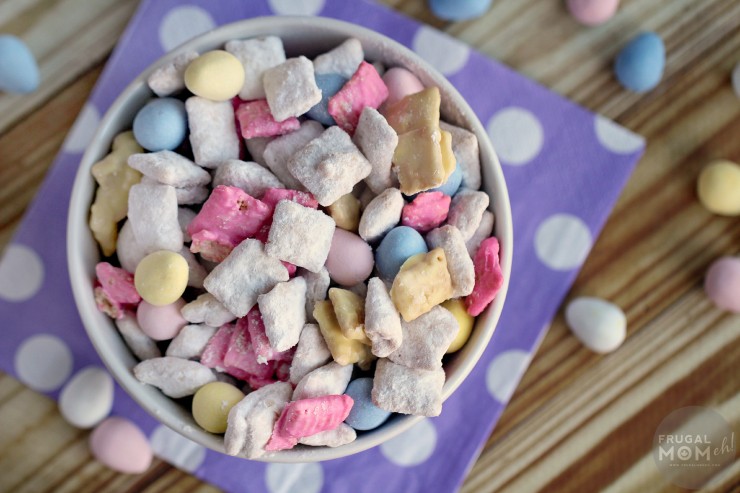 To create this cute look, you can just use your favorite Muddy Buddy recipe. Instead of coating all the cereal in peanut butter, chocolate and powdered sugar, take ⅔ (or less if you're wanting more peanut butter flavor ;) ), and coat the Chex in colored melted candy melts instead of the peanut butter mixture. Then when it's all dry just combine your different colored Chex with the peanut butter stuff.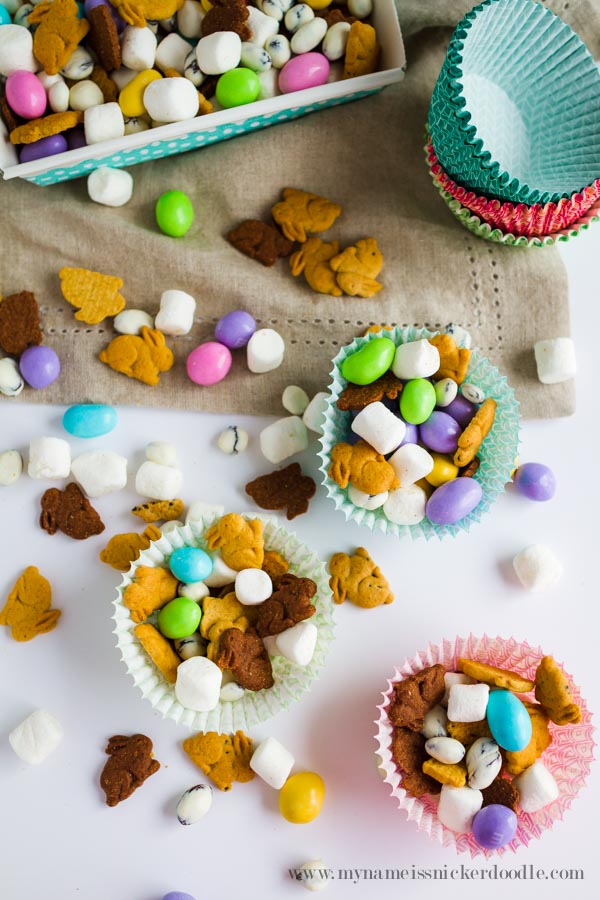 And since it's Easter, why not include some actual BUNNIES in your snack mix? (Ok, maybe not actual bunnies, but you get what I mean ;) ). There are a variety of Annie's Gluten-Free Bunny Cookies, and so it's really up to you which flavor you want to include and what to add to it! Chocolate is always a safe bet- particular mini Cadbury eggs ;). I also love the idea of adding yogurt-covered raisins for some added nutrition. Almonds, craisins, or Robin eggs would also be great add-in choices!
Another way to create a great snack is to cover whatever you have in your pantry with chocolate ;). Cheerios, Chex, pretzels- anything crunchy covered in white chocolate is just superb. It doesn't hurt to throw in some extra chocolate eggs, either! And one of my favorite things to cover in chocolate is popcorn! It gets soft and yet still holds a little bit of crunch- the perfect addition to any snack mix.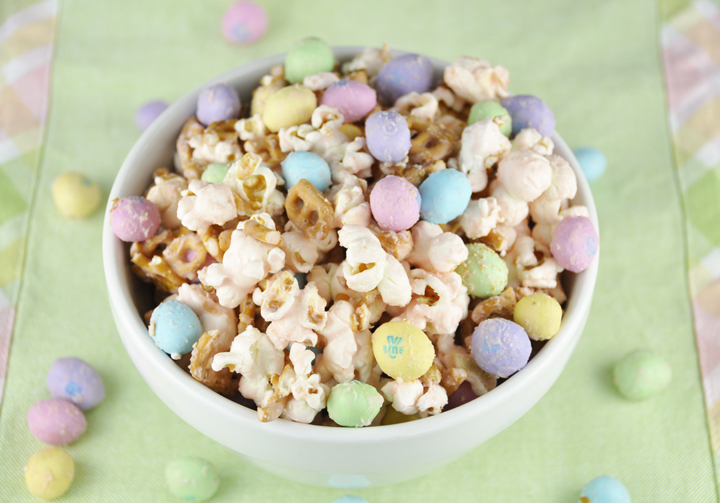 If you want to be a little more creative than just plain old white chocolate, you can try this recipe for Salted Caramel Easter Popcorn!
Add Recipe to Cook'n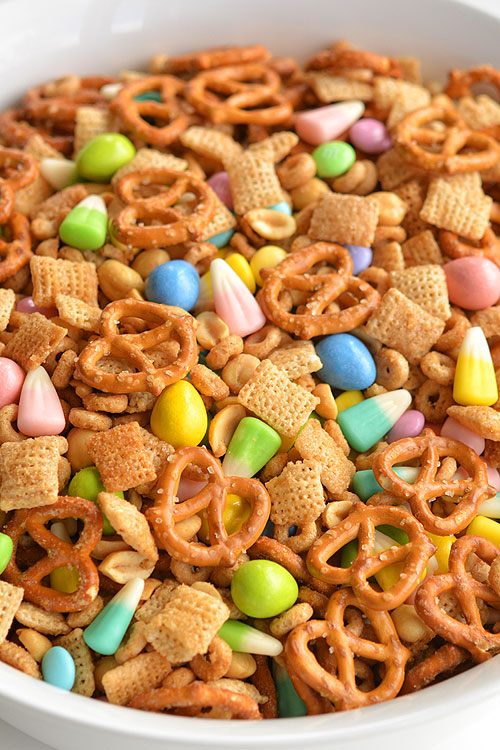 And here's another tasty option if you want a little more variety but still want that caramel flavor!
Add Recipe to Cook'n
I would love to hear about your favorite snack mix combinations! Are you a salty and sweet type of person, or do you believe the more chocolate the better? Share your ideas for the perfect mix below!
Sources:
https://www.thecreativityexchange.com/2014/03/sweet-and-salty-spring-snack-mix.html?utm_source=feedblitz&utm_medium=FeedBlitzRss&utm_campaign=thecreativityexchange
http://www.frugalmomeh.com/2015/02/easter-muddy-buddies.html
https://www.creatingreallyawesomefunthings.com/bunny-trail-mix/
http://www.peanutbutterandpeppers.com/2013/03/30/easter-bunny-chow-weekly-recap/
https://wishesndishes.com/salted-caramel-easter-popcorn/
http://onelittleproject.com/spring-snack-chex-mix/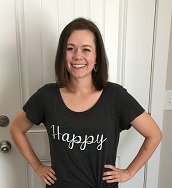 Camille Hoffmann
Weekly Newsletter Contributor since 2014
Email the author! camille@dvo.com