Quick, Easy Meals to Throw Together with a Rotisserie Chicken
One of my favorite things to have on hand to make quick, healthy lunches and dinners is a big rotisserie chicken from Costco. I always grab one or two of them while I am there and there is always enough meat on these juicy birds to make two meals for our family from each one!
I also love to by the packs they make of rotisserie chicken they have pulled off for you that is ready to go. Here are some of my favorite ideas for quick meals to throw together with a rotisserie chicken.
PIZZAS
-Hawaiian Chicken Pizza: I love throwing together some quick pizzas on pita bread by adding BBQ sauce, pineapple, sliced onion, chopped rotisserie chicken and cheese. They are so quick and yummy!
-BBQ Chicken and Blue Cheese Pizza: You could kick that pizza up and notch and make it a little more "grown-up" by going in with some blue cheese! My husband LOVES this! I think in his heart my husband wishes the moon were made out of blue cheese and if so, he would become an astronaut and live there forever in stinky cheese bliss! :)
QUESADILLAS
-Green chili chicken quesadilla: I love cooking some chopped rotisserie chicken with a can of chopped green chilies up on the stove until it's heated through. Then I add this to a tortilla and cheese and brown up a quesadilla. Dip in sour cream and salsa and you have a delicious quick and easy meal.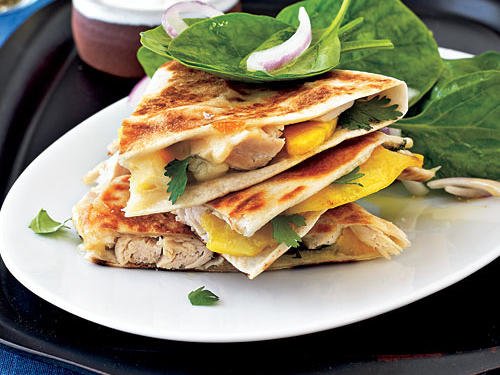 -Pepper jack, chicken, and peach quesadillas: Give average chicken quesadillas new life with sweet peaches (when they are in season) and spicy cheese. For the kids try fontina or Monterey Jack instead.
SALADS
-Apple, chicken, berry salad with poppy seed dressing: Of course there are so many options for salads to throw together with some leftover chicken but one of my favorites is a salad with chopped green apple, blueberries (or any berries), sliced almonds, thinly sliced red onion, chopped chicken, and poppy seed dressing. Perfect balance of tang and sweet!
(Insert cobb_salad.jpg)
-Cobb Salad: Of Course Cobb salad is a delicious, quick salad you could whip up if you make some boiled eggs and cook up a couple slices of bacon. Add whatever else you have on hand and top it with some creamy ranch dressing and you are good to go!
SOUPS
Chicken noodle soup: This is the most common soup I make with rotisserie chicken, especially when someone in my family is sick. I even whip up some quick noodles and throw this together with some carrots, chicken broth, celery, and any herbs I have on hand that I want to add.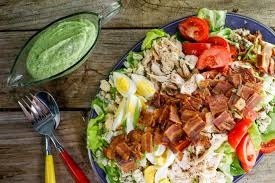 You can even make this a lot more low-carb friendly by making "chicken ZOODLE soup" and using zucchini noodles instead of regular pasta noodles.
Do you have any other ideas for what meals you like to whip up using a rotisserie chicken? Please share in the comments below.
Sources:
www.allrecipes.com
www.rachaelray.com
www.myrecipes.com
www.cookinglight.com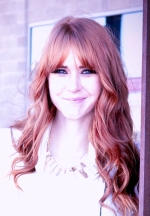 Mary Richardson
Weekly Newsletter Contributor since 2014
Email the author! mary@dvo.com