What is a Pop-Over?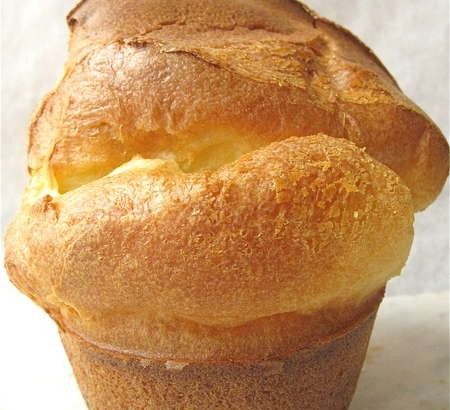 Question: What is a Pop-Over?
Answer from King Arthur Flour:
A Pop-Over is just five simple ingredients – flour, salt, milk, butter, and eggs – that create a steam-filled wonder that magically bakes up to nearly triple its original size.
POP. You can actually see it happening before your eyes – if your oven has a window and you're patient enough to stand and watch for 5 minutes or so.
Now, you may think something as simple-looking as a popover would be simple to prepare. A straightforward process. 1, 2, 3, Bob's your uncle – popovers!
Not so fast. Popovers are sneaky-simple; they LOOK like there's nothing to them, but oh, the side paths you can go down…
Make the batter in a blender; make it with a whisk. Beat till smooth and frothy; leave some lumps.
Everything should be at room temperature. Everything should be lukewarm. C'mon, it really doesn't matter what temperature the ingredients are.
Butter the pan. Grease the pan with shortening. Grease with vegetable oil. Or bacon grease. Non-stick spray is fine.
Put the pan in a cold oven. Put it in a hot oven.
DON'T PEEK!
And that, my friends, is probably the only hard-and-fast rule for popovers – once you put them into the oven, DON'T OPEN THE DOOR until they're nearly done; it lets in deflating drafts.
Over the years, I've made popovers using all the techniques above in various combinations. And, maybe I'm just lucky, but my popovers always seem to come out pretty well. They pop; they're light/crisp outside, nicely eggy inside.
Sometimes they're darker than I like, but in this latest go-around I found a solution to that – baking towards the bottom of the oven, and sliding a cookie sheet onto the highest oven shelf to shield their vulnerable tops.
So I'm convinced. This simple creation is, indeed, simple at heart – despite the way we try to complicate it.
Popovers are a wonderful vehicle for carrying other flavors, be it strawberry jam, lemon curd, or butter.