Is It Possible to Have Better Health and Pizza, TOO? You Bet!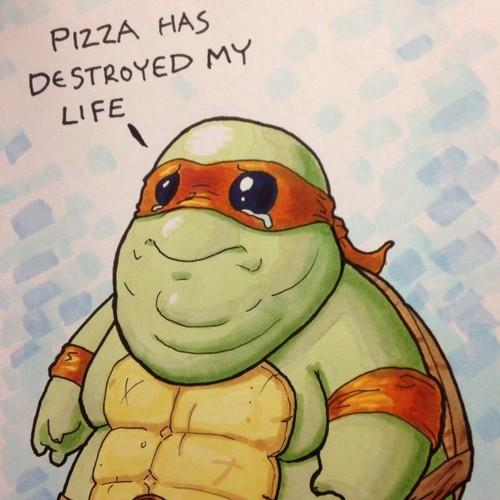 Who doesn't love, love, love pizza? But dang, it's typically so bad for you. A single slice of a 14-inch pepperoni pizzeria pizza can have more than 300 calories, 12 grams of fat and 690 milligrams of sodium. (And who's going to eat just one slice?)
But there's gotta be a way to have better health and your pizza too. As usual, the best answer is in making your own. So let's look at this approach. Here's the HOW-TO and ideas for some delicious combinations from a great article found at http://healthyeating.sfgate.com.
First of all, start with a thin, whole-grain crust, no matter what direction you go with toppings. Next, place heavy emphasis on vegetables. Then minimize your cheese; reduced fat mozzarella is your best bet. Finally, get creative.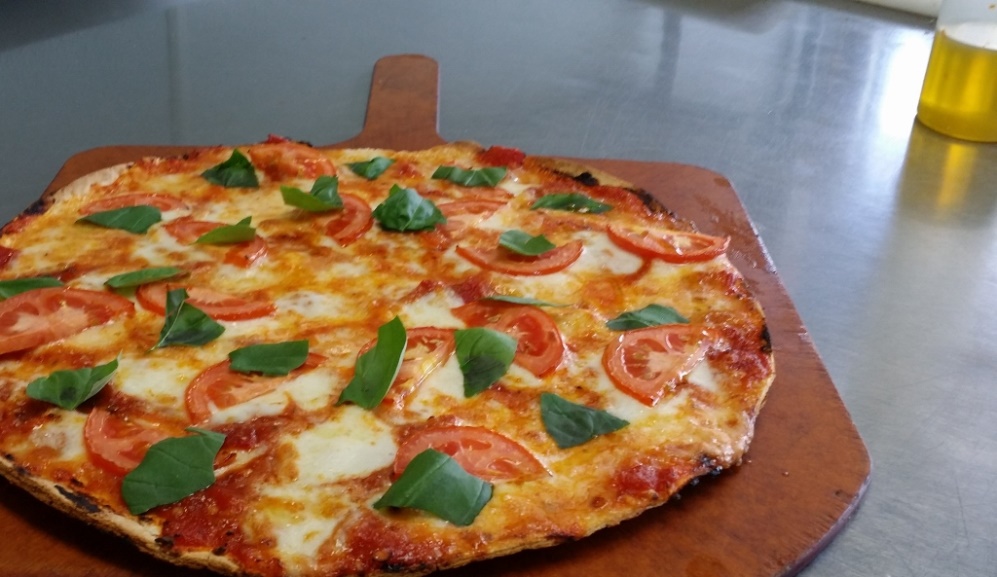 Try the Pizza Margherita for starters.
Named for Margherita of Savoy, the Queen of Italy in the late 1800s, pizza Margherita is a fresh, light variation on the more common Neapolitan pizza. Its toppings traditionally include olive oil, tomato, mozzarella and basil. Don't let the olive oil scare you off, though, as consuming olive oil can help lower your risk of heart disease because of its high content of monounsaturated fats.
The olive oil is brushed over the pizza dough to add flavor and to help the crust brown. Use shredded mozzarella to create a thin layer between the crust and LOTS of fresh, thin-sliced tomatoes. Top the tomatoes with fresh basil. Each 4-ounce slice of a basic pizza Margherita made with whole-grain crust, olive oil, red tomato, low-fat mozzarella and fresh basil has 90 calories, 7 grams of heart-healthy fats and 60 milligrams of sodium.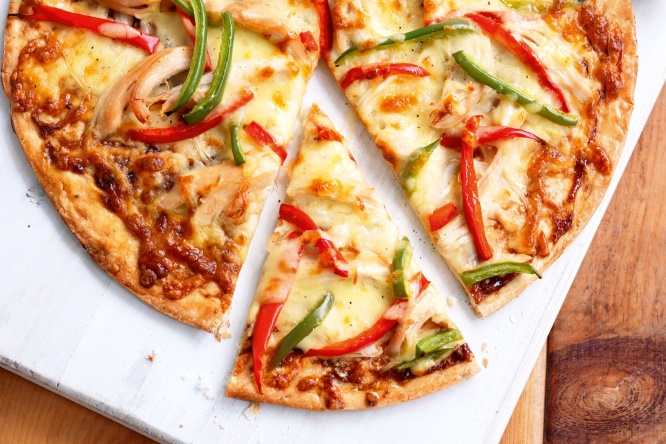 Barbecue chicken pizza
is a big favorite at our house. A whole-grain crust topped with low-sodium barbecue sauce and shredded chicken will have an inherently sweet flavor. A 1/4-cup serving of barbecue sauce should be plenty to coat one pizza shell. Add cooked, shredded chicken breast and thin-sliced red onions to complete the pizza's toppings. If you want some spice, crushed red pepper works well. We boost the nutrition factor by adding lots of thinly sliced bell peppers and mushrooms.
One 4-ounce slice of barbecue chicken pizza made with whole-grain crust has about 125 calories, 3 grams of fat and 70 milligrams of sodium. If you want cheese on your barbecue chicken pizza, adding a 0.25-ounce serving of skim mozzarella per slice increases the calories by 18, the fat by 1 gram and the sodium by 44 milligrams.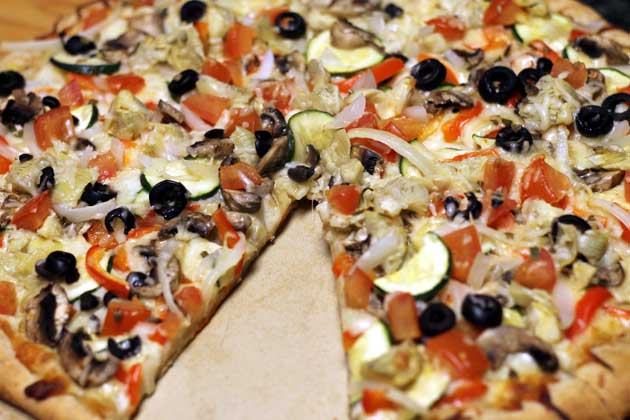 The best vegetable pizza
incorporates thin-sliced vegetables and olive oil on a whole-wheat crust. With no sauce and no cheese, you're not adding excess fat and sodium. A layer of olive oil gives the pizza a heart-healthy base on which to layer sliced tomatoes, zucchini, onions, mushrooms, garlic, bell peppers, radishes or any other favorites. Stick with four or five veggies so the pizza still bakes evenly. A vegetable pizza made with olive oil, tomatoes, bell peppers, onions and mushrooms has 115 calories, 2 grams of fat and 55 milligrams of sodium per 4-ounce slice.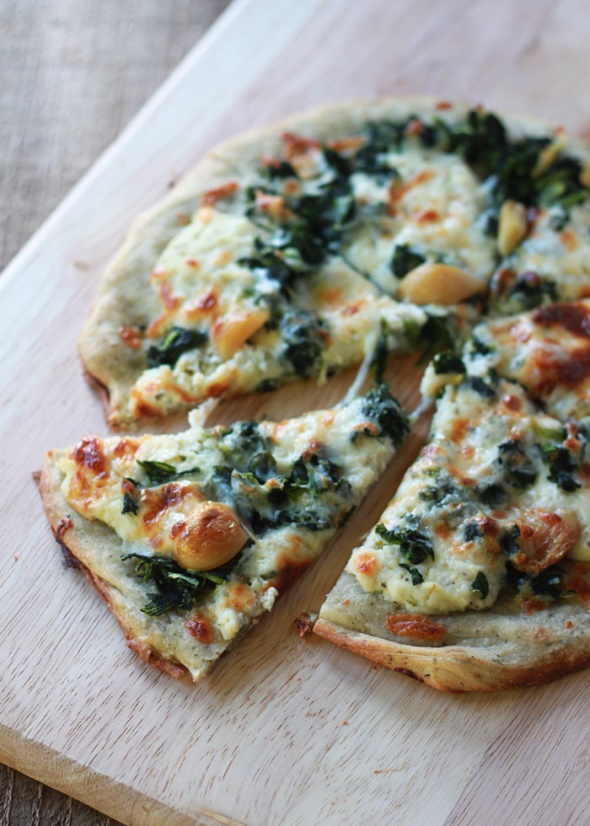 Herb and Ricotta Pizza
is a real crowd-pleaser. Fresh herbs add a flavor punch without adding notable calories, fat or sodium. Chopped basil leaves, for example, have only 6 calories per 1-cup portion. Layer as many fresh herbs as you would like on your thin whole-grained crust. Basil, cilantro, rosemary and parsley are tasty choices. Add a conservative amount of skim ricotta cheese to make your pizza creamier and tangier. This combination made with a whole-grain crust, basil, parsley and skim ricotta has 95 calories, 2.5 grams of fat and 60 milligrams of sodium in a 4-ounce slice.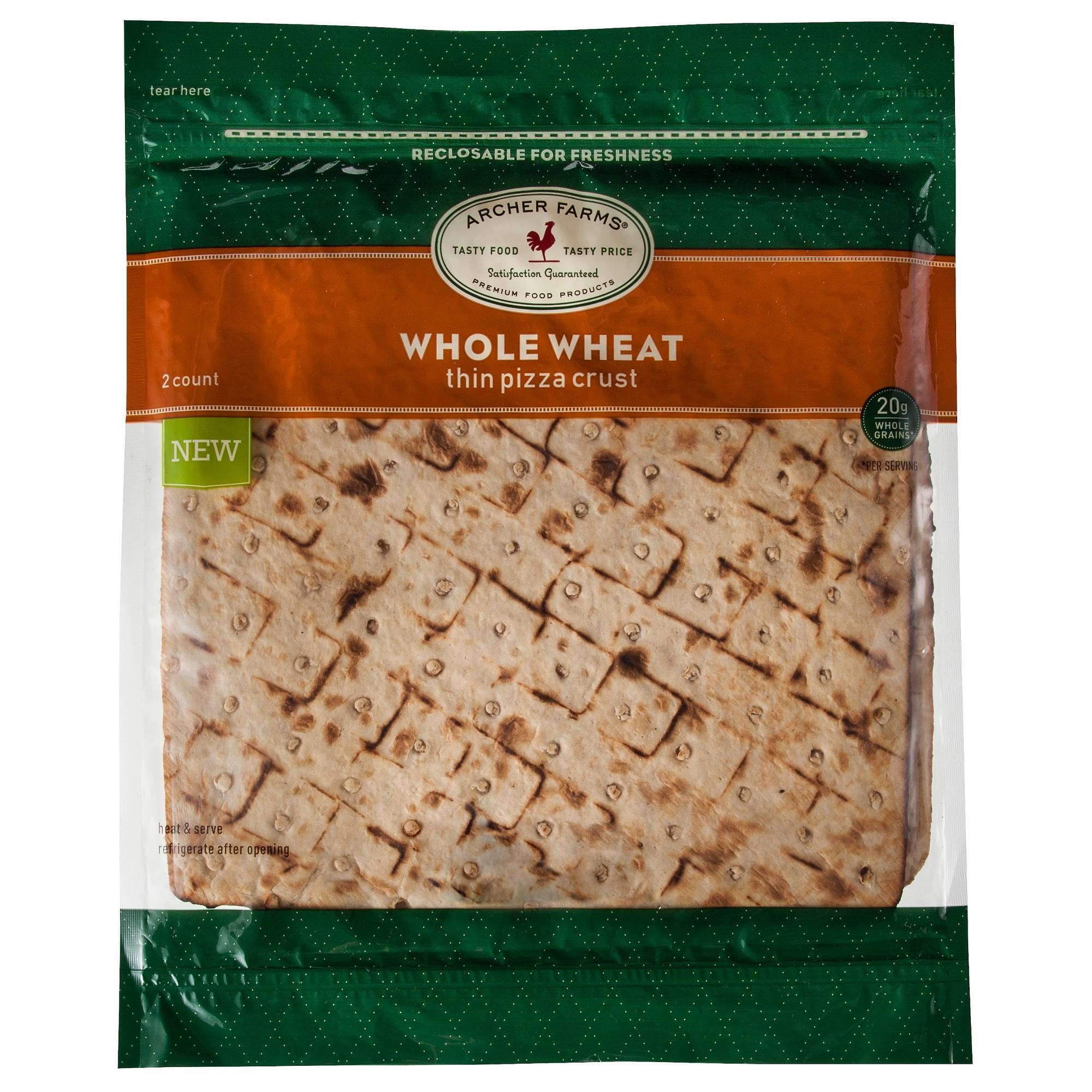 Since all the above recommendations are built on a thin, whole grain crust, I'll close by sharing the best store-bought crust out there. Reviews scored it much higher than the popular Boboli, even. Around here we find the Archer Farms brand at our local Target store.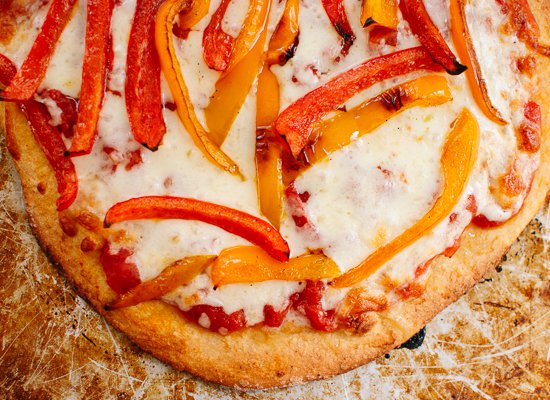 But if you'd rather go the homemade route, here's a scrumptious and easy recipe I found on
Cookie and Kate
(www.cookieandkate.com). You can whip up this 100% whole wheat pizza dough in your food processor. It hardly needs kneading or rising time. You can make this pizza in less than the amount of time it would take for pizza delivery. It yields two medium (11″ diameter) pizzas.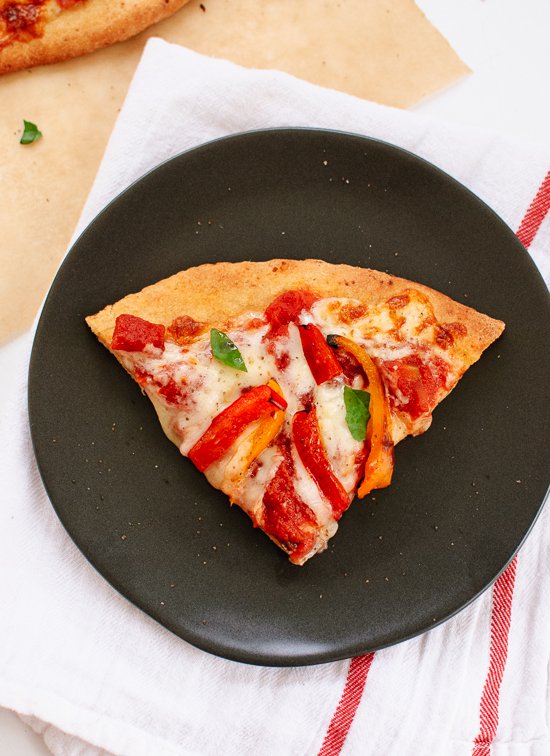 HOMEMADE WHOLE WHEAT PIZZA DOUGH
(yield: 2 11-inch crusts)
1 cup water, heated to 110 degrees (very warm, almost too hot for comfort)
1 tablespoon sugar
1 tablespoon olive oil
1 envelope (2 ¼ teaspoons) rapid-rise yeast (or instant)
2 ¾ cups white whole wheat flour or regular whole wheat flour
¼ cup grated Parmesan cheese
1 teaspoon sea salt
TOPPINGS
⅔ cup pizza sauce of choice
2 cups shredded low-moisture part-skim mozzarella cheese
Smoked sea salt
Torn fresh basil
Additional toppings of choice
Preheat oven to 450°F, with a rack in the upper third of the oven.
Whisk water, sugar, oil and yeast in a liquid measuring cup or small bowl. Allow yeast to proof for 5 minutes. It should puff up some by then.
Pulse flour, Parmesan, and salt in food processor until combined. While running the food processor, slowly pour in the water mixture and process until a shaggy ball forms, about 1 minute.
Dump the dough onto a floured work surface and quickly knead dough a few times until it comes together. Halve the dough.
On a floured surface, use a rolling pin to roll dough into two rounds about 11 inches in diameter. For best results, roll the dough out about as thin as reasonably possible. Aim for even thickness rather than a perfectly round shape. Transfer dough to a baking pan (my baking pan is non-stick, but if yours isn't, you might want to lightly grease it with cooking spray). Brush the outer 1-inch of the dough with a light coating of olive oil.
Add drained, crushed tomatoes (crush the tomatoes over the sink to get out as much liquid as possible) or pizza sauce of your choice. Sprinkle with cheese and vegetables.
Bake on the top rack until the crust and cheese are lightly golden, rotating halfway, about 10 minutes for cheese pizza and 12 minutes for pizza with additional toppings. Sprinkle with smoked sea salt and/or fresh basil and serve.
Add Recipe to Cook'n
Sources:
www.twitter.com
www.cooksillustrated.com
www.paparonis.com
www.taste.com.au
www.passingtherelish.com
www.kitchentreaty.com
www.target.com
www.cookieandkate.com

Alice Osborne
Weekly Newsletter Contributor since 2006
Email the author! alice@dvo.com