Why Go Nuts for Pistachios!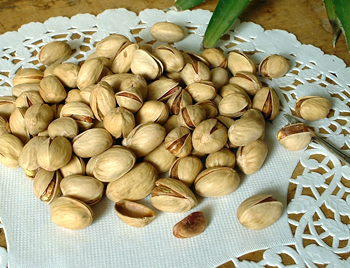 Every Christmas our dear friend and neighbor, Stan Jardine, gives a tall container of pistachio nuts. We come close to dieing and going to heaven over this gift. Let me tell you why we go nuts for pistachios (besides their delicious taste, I mean):
First, we think they're fun to eat. But what's wonderful about this marvelous nut is how incredibly nutritious they are! When it comes to healthy nuts, almonds and walnuts get all of the love, but research shows the pistachio is another delicious option that's simply packed with health benefits.
I could quote dozens of researchers, but to be brief I'm quoting health and food researcher, Becky Striepe (she writes for a favorite site, Care 2, www.care2.com). Here's her lowdown on why this nut is so good for you, plus a recipe from the American Pistachio Growers that everybody at our house loves.
Pistachios lower cholesterol. This is because they're a great source of antioxidants and the amino acid arginine.

Pistachios also improve blood sugar. Studies conducted around metabolic syndrome showed that people who eat a diet with 20 percent of calories from pistachios experienced highly improved blood sugar numbers. And there was an added bonus: they had also lost belly fat, another risk factor for disease.

Pistachios facilitate a slow and healthy weight loss. Studies show that replacing high carb snacks (such as pretzels), with a handful of pistachios actually helped participants lose weight.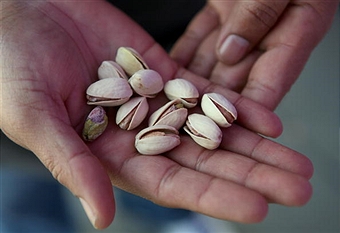 Actually, most nuts will do this. But one thing that sets pistachios apart from other nuts, is that they're usually sold in the shell. Why does this figure in to anything? Studies show when you must shell your nuts before eating them, you'll eat up to 22 percent fewer calories. It seems this physical exertion to get to the snack somehow eliminates the mindlessness aspect of snacking!
Makes sense, right? A shelled nut naturally slows you down. Who doesn't know how easy it is to demolish a mountain of cashews, for instance. But when faced with shelling the same amount of pistachios, your body has a chance to tell you it's full before you overdo it.
If you'd like to test these claims out for yourself (lowered cholesterol, improved blood sugar, and weight loss), here's a great recipe to get you started. I've substituted walnuts and finely chopped almonds when we didn't have pistachios. But we think the pistachio gives this bar the best flavor. See what you think: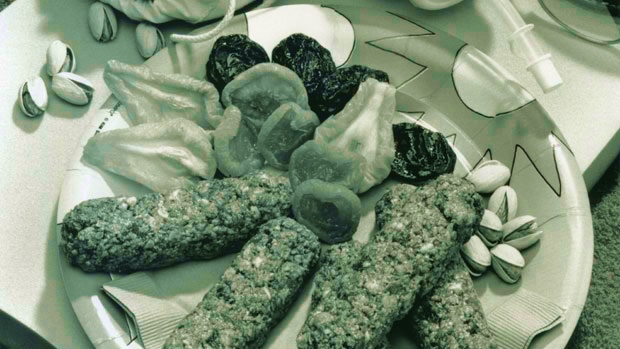 PISTACHIO HIGH ENERGY BARS
(Yield: 8, 2-ounce bars)
2 1/2 cups pistachio nuts
1/2 cup raw honey
1/8 cup brown sugar (packed)
4 cups whole grain, vitamin-supplemented cereal flakes
1/2 cup mixed diced dried fruits (non-sulphured are the best tasting and the healthiest)
Grind half the pistachios in food processor or a portion at a time in electric blender. Coarsely chop remaining pistachios. Combine honey and brown sugar in saucepan and heat, stirring, until mixture comes to boil. Let bubble 15 to 30 seconds then turn into large mixer bowl. Add ground and chopped pistachios, cereal and fruit; beat or mix until well combined. Shape 1/2 cup firmly packed portions into bars, pressing with oiled fingers (it should be sticky). Wrap each bar individually in plastic wrap.
Add Recipe to Cook'n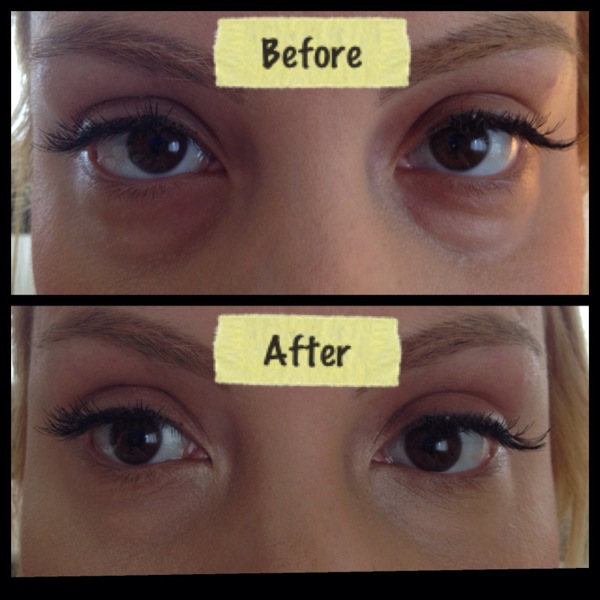 Finally,
4. Pistachios lighten under-eye circles.
Here's a surprise: eating this yummy nut is only one way to access their health benefits. Turns out they do wonders when just sitting on your skin! This home remedy uses ground pistachios topically to help get rid of dark circles under your eyes. And you can use soy milk or soy yogurt to make your paste, if you're not a dairy user.
REMEDY: Grind a few pistachio nuts than blend in a teaspoon of milk and gently apply this to the delicate area around the eyes. Wash it off after half an hour. Please note, though, that like so many natural remedies, this one doesn't work overnight. It takes time and patience. With this, consistency and routine is important. Don't be tempted to abandon it in haste.
Sources:
www.cooksinfo.com
www.americanpistachiogrowers.org
www.gettyimages.com
www.americanpistachios.org
www.pinterest.com.au

Alice Osborne
Weekly Newsletter Contributor since 2006
Email the author! alice@dvo.com