TWO Pasta Issues Resolved!
Ever thought about buying a pasta pot? I hadn't. "Why won't cooking my pasta in the pots I already have work just fine?" I ask myself.
Excellent question, and the answer is, "My existing pots
will
work just fine." But the difference between the pots I own and a pasta pot is the built-in sieve. The built-in sieve's purpose is to allow me to remove the pasta from the pan while at the same time capturing the pasta water. I shouldn't be pouring it down the drain.
According to the experts at Bon Appetit magazine, pasta water is liquid gold. Their master chefs all agree, "You shouldn't be pouring this down the drain because it can turn good pasta into the silky, saucy pasta of your dreams."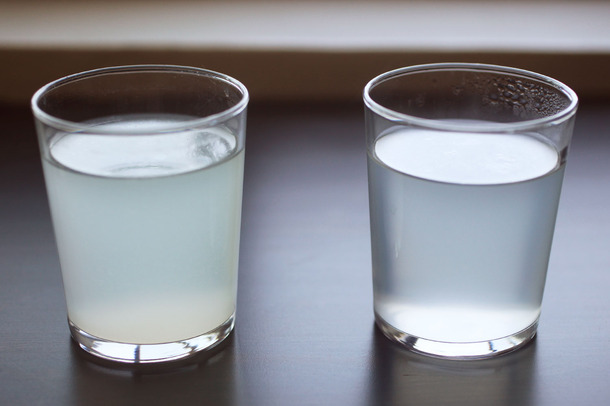 How does that work though? That murky left-over liquid (note the glass on the left) is filled with plenty of salt and leftover starch from those boiling noodles. And when added to whatever hot fat (olive oil, butter, pork fat, etc) is hanging out in the pan that you're finishing your pasta, the results are a luxuriously smooth sauce. It's a process called emulsification.
Using pasta water properly is what separates the pasta you eat at your favorite Italian restaurant from the pasta that Uncle Louie serves on Sunday nights. It's time to say "Sorry" to Uncle Louie (and his colander), because it's time to change.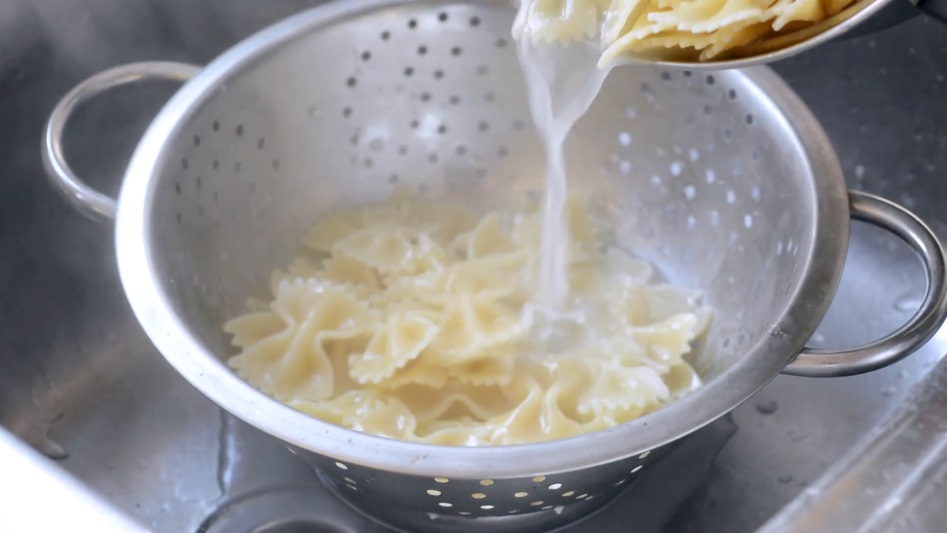 So no more draining your pasta into the sink and letting your liquid gold wash away. Save it. But if you don't want to invest the money or cupboard space in a pasta pot, the
Bon Appetit
chefs suggest investing in some inexpensive tools designed to save your cooking water while moving your pasta to the finishing pan: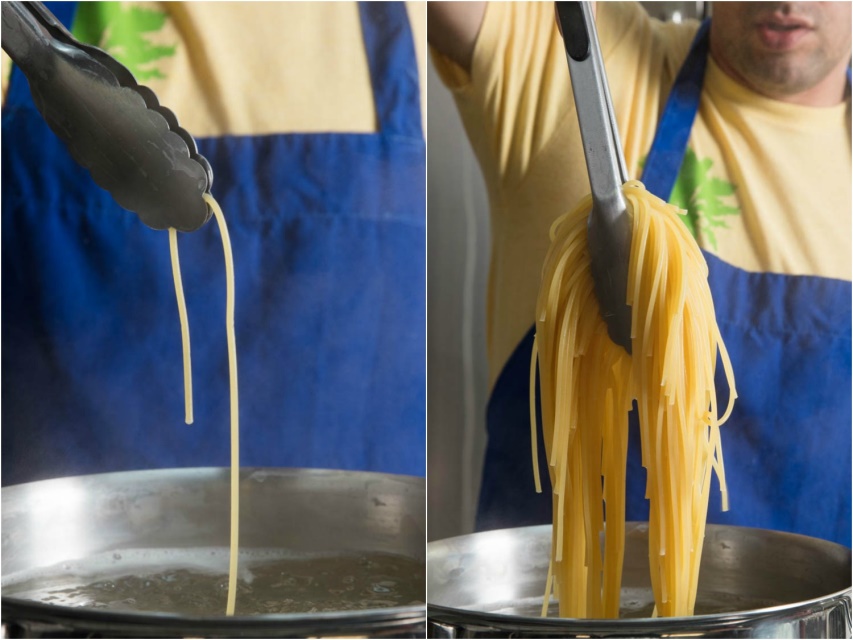 TONGS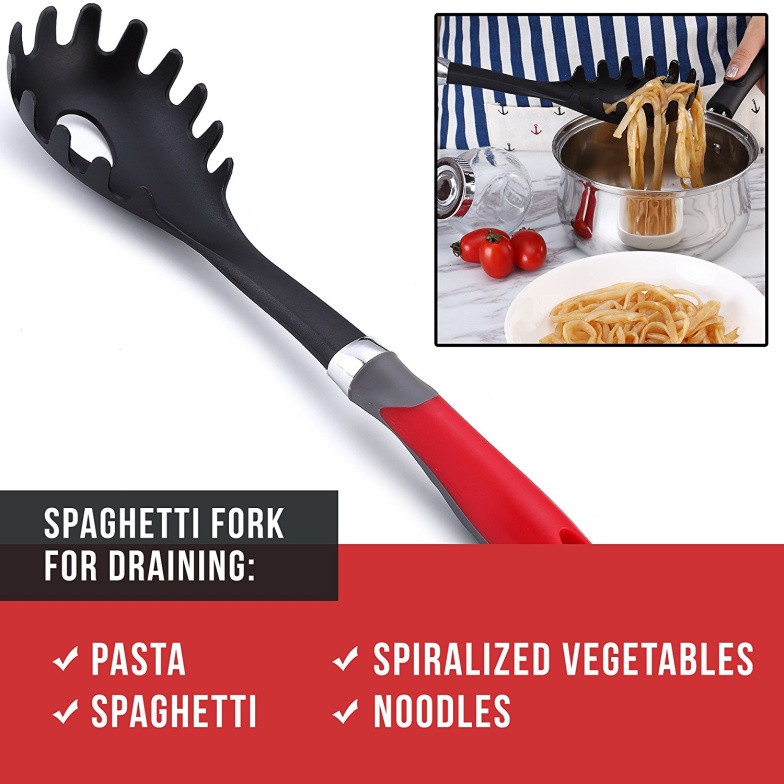 PASTA FORK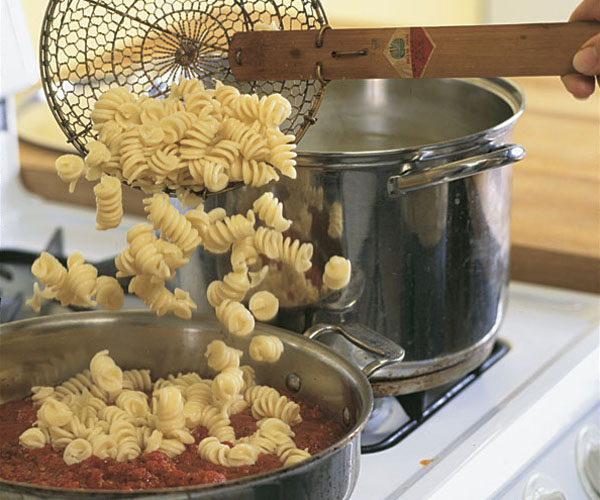 SPIDER
That's the trifecta of pasta transportation technology. All three allow you to get pasta out of the pot and directly into a skillet quickly while preserving all of that glorious liquid for your favorite pasta sauce recipe.
OK, good, that issue (hanging onto pasta water) is resolved. But here's another pasta issue: what if you're just not up to, or don't have time for all the fuss of making a separate pasta sauce? Then turn to this 1-pot pasta approach and that issue is resolved as well.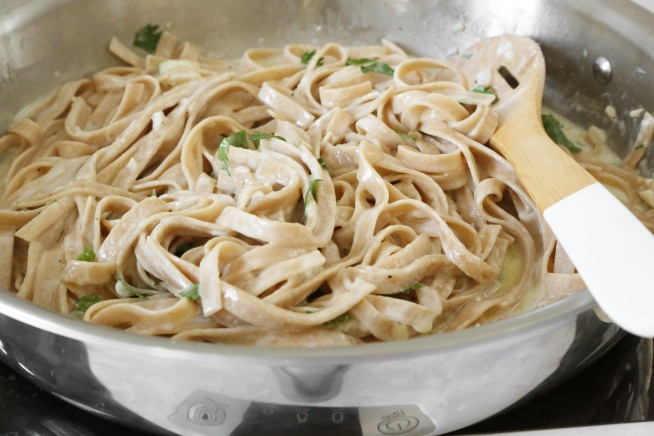 This 1-pot fettuccine Alfredo technique might actually change your life. There's no need to make the cheese sauce in a separate pan when the pasta can be cooked in the liquid for maximum flavor and easy cleanup.
This recipe comes together effortlessly in under 30 minutes, making it ideal for busy weeknights when you can't be bothered to fuss over the stove. Most importantly, it doesn't taste like starchy glue. Instead, the pasta cooks to an enjoyable al dente, and you'll want a piece of crusty bread to mop up every last drop of that velvety Alfredo sauce, made super savory thanks to the addition of chicken broth.
I'll conclude with this delicious and forgiving recipe. By "forgiving," I mean that you can just use whatever milk or cream you have on hand. And if you want to make it vegetarian, sub out the chicken broth for vegetable broth. Or, if you want more protein, serve it with some diced-up baked chicken.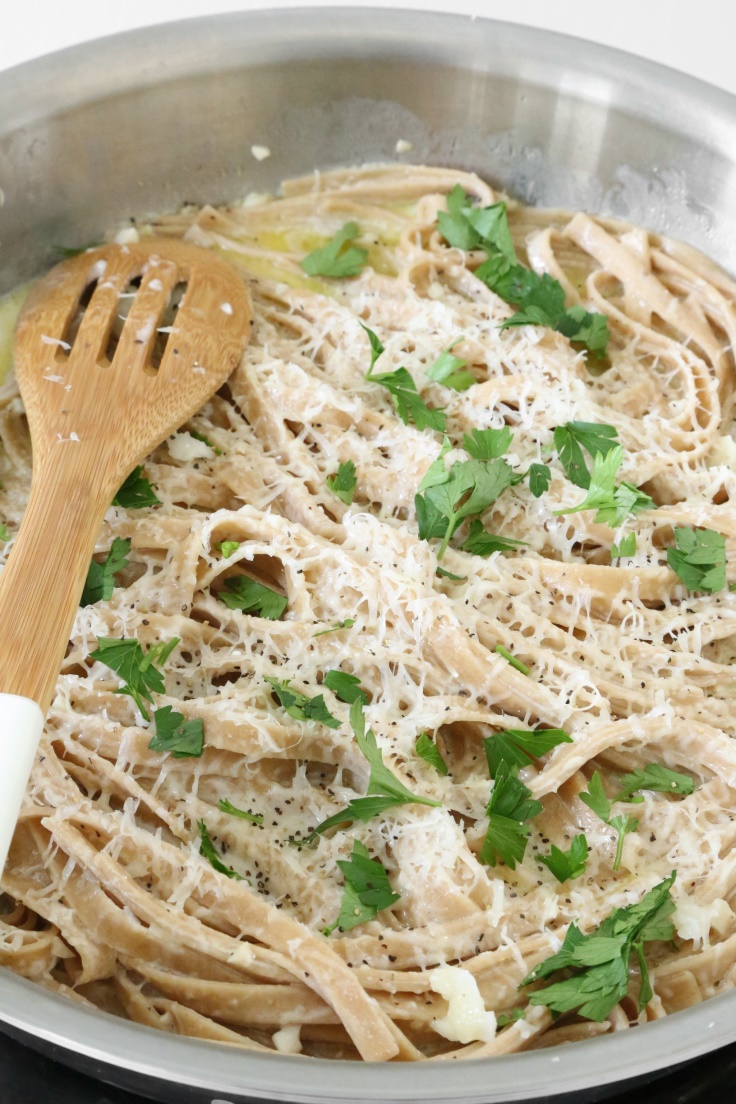 1-POT FETTUCINE ALFREDO
1 tablespoon olive oil
4 cloves garlic, minced
2 cups reduced-sodium chicken broth
1 cup whole milk, or more as needed
2 tablespoons unsalted butter
8 ounces dried fettuccine
Kosher salt to taste
Freshly ground black pepper, to taste
1/2 cup freshly grated parmesan cheese
2 tablespoons chopped fresh parsley leaves, for garnish, optional
Heat the olive oil in a large stockpot or Dutch oven over medium-high heat. Add the garlic, and cook, stirring frequently, until fragrant, about 1 minute.
Stir in the chicken broth, milk, butter, and uncooked fettuccine; season with salt and pepper to taste.
Bring to a boil; reduce the heat and simmer, stirring occasionally, until the pasta is cooked through, 15 to 17 minutes. Stir in the cheese. If the mixture is too thick, add more milk as needed until desired consistency is reached.
Serve immediately, garnished with parsley, if desired.
Add Recipe to Cook'n
Sources:
www.bedbathandbeyond.com
www.seriouseats.com
www.videoblocks.com
www.finecooking.com

Alice Osborne
Weekly Newsletter Contributor since 2006
Email the author! alice@dvo.com