Grilled Ginger-Sesame Chicken Chopped Salad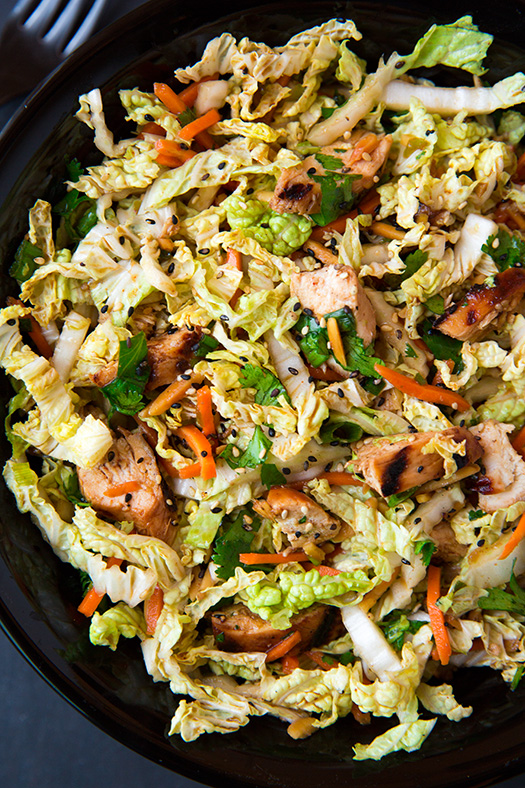 Serves:
4
This grilled ginger-sesame chicken chopped salad is a great one to add to your rotation. It's easy, it is incredibly flavorful and all the textures in this salad are amazing – the crunch, the chew, the tenderness and the unique bite from the sesame seeds.

Dovetailing Tip: Use leftover chicken from Meal 1, cut into strips or cubes. No marinade time here - just toss the salad together, add the dressing and it is ready to eat.
Prep Time:
Cook Time:
Total Time:
Ingredients:
1/4

cup

low-sodium

soy sauce

2

tablespoons

finely minced

ginger

3

tablespoons

olive oil

2

tablespoons

hoisin sauce

1

tablespoon

toasted

sesame oil

1/2

teaspoon

salt

, add more to taste as desired

1/4

cup

red wine

vinegar

1/4

cup

chopped green

onion

, green and white parts

2

(9 oz) boneless skinless

chicken breasts

1

pound

napa

cabbage

, halved lengthwise and thinly sliced crosswise

1 1/2

- 2 cups matchstick

carrots

, or 2 medium carrots cut into matchsticks

2/3

cup

slivered or sliced

almonds

, toasted

1/2

cup

cilantro

leaves, chopped

3

chopped green

onions

, green and white parts

1

teaspoon

white

sesame seeds

, toasted

1

teaspoon

black

sesame seeds

(or an additional 1 tsp white, toasted)
Directions:
For the marinade:

In a mixing bowl (or 2-cup liquid measuring cup), whisk together soy sauce, ginger, olive oil, hoisin sauce, sesame oil, and 1/2 tsp salt (adding more salt to taste as desired). Add chicken breasts to a large resealable bag and add 3 Tbsp of the marinade mixture, reserving remaining. Seal bag and rub marinade over chicken, then transfer chicken to refrigerator and let rest at least 30 minutes, or up to 1 day.

For the dressing:

Add red wine vinegar and 1/4 cup chopped green onions to marinade mixture and whisk to blend. Set aside (chill in refrigerator if marinating chicken longer than 1 hour).

For the salad:

Heat a grill or grill pan over stove top over medium-high heat. Brush grill lightly with vegetable oil, then place marinated chicken on grill and cook, about 4 minutes per side, or until chicken has cooked through (it should register to 165 degrees in center of chicken when tested with a meat thermometer). Transfer to a cutting board and let rest 10 minutes. Then, cut chicken crosswise into strips about 1/4-inch thick.

To assemble salad:

In a large bowl toss together cabbage, chicken, carrots, almonds, 3 chopped green onions, and cilantro with enough dressing to coat salad. Sprinkle top with sesame seeds and serve.

Source: cookingclassy.com
Add Recipe to Cook'n
---