A Kitchen's BEST Friend in Hot Weather (or ANYtime, Really)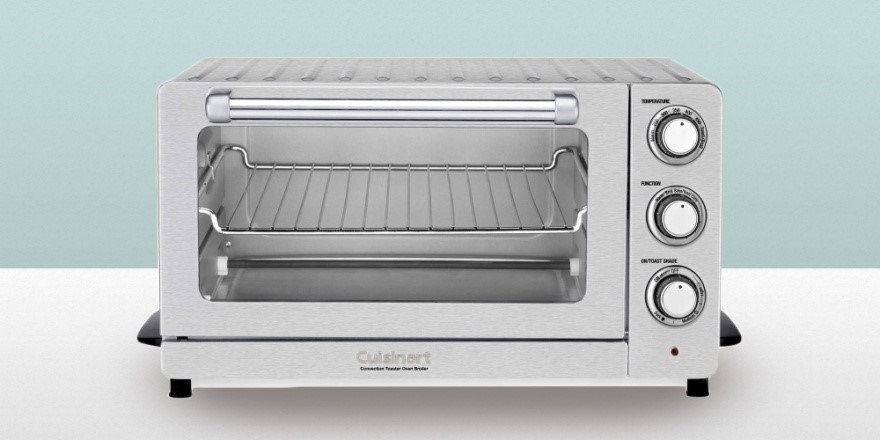 I'm talkin' about the toaster oven. After all, there
are
times when you either need, or just want to cook or bake. The toaster oven can do both (plus toast, of course) really well without heating up the kitchen. A toaster oven is also more energy efficient than a regular oven and has the ability to brown and crispify foods in a way that a microwave can't. If you don't have this appliance, read on for not only why you ought to consider getting one, but also for a delicious recipe designed for the toaster oven.
Modern technology provides a wide variety of available features, heating technology, and sizes without sacrificing any quality in the food you're making. Today the "toaster" oven not only toasts, it can roast, bake, broil or reheat.
But because there's such a wide variety, you want to be sure to choose the right oven for your kitchen. With this in mind I went searching for reviews and reliable comparisons. Gouverneur Times (www.gouverneurtimes.com) has super information. These folks tested over 10 models. They looked for products with lots of owner feedback and satisfaction ratings. Here are the top 5 customer-rated models currently on the market: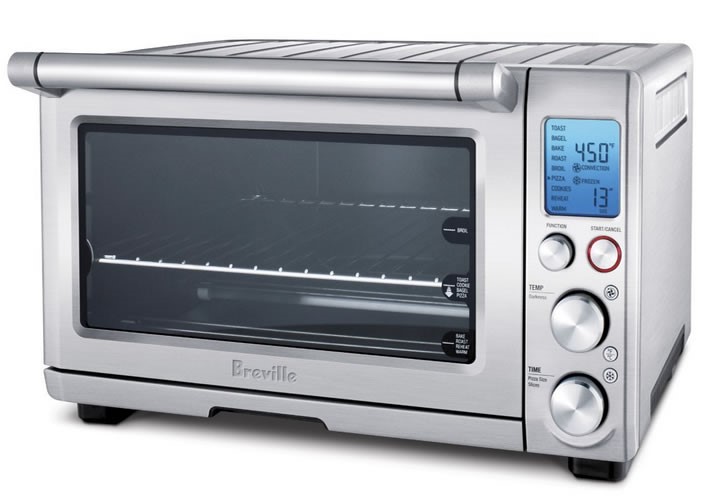 #1 – Breville BOV800XL Smart Oven.
This is Breville's largest toaster oven from their top of the line models and the only one that is also a countertop convection oven. It is able to fit 6 slices of bread or a 13 inch pizza. It is a great choice for those looking for something that does more than just toast.
Owners consistently rave about this appliance and give it high marks for its toasting, baking and cooking performance as well as its ultra modern design. It uses Breville's state-of-the-art Element IQ cooking technology which automatically adjusts the heat and delivers it where it is needed to produce evenly cooked food.
Modern style, function and design have this as one of the most popular smart ovens on the market today. The Breville has extremely impressive scores from thousands of customer reviews. The only drawback might be its price: it retails for around $380. But it's available on the Governeur Times for $199.78.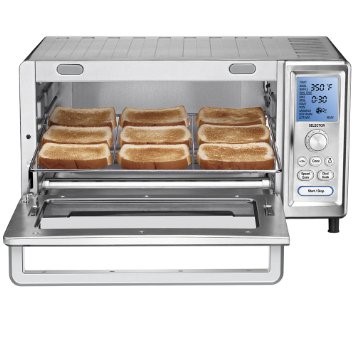 #2 – Cuisinart TOB-260N Convection Oven.
This is one of the top convection toaster ovens recently introduced. It's a full-featured countertop oven that boasts not 1 but 2 separate convection cook settings. It comes equipped with 11 preset cook functions to handle just about any type of dish. Very simple controls and a modern LCD display screen give it an intuitive and sleek design worthy of any chef's kitchen.
You can do a lot more than just make toast with it and its versatility is something owners continue to rave about. If you are in the market for a countertop convection oven, then this is should be a serious contender. Again, though, price could be a concern. It retails at $450, but amazon.com has it for $219.99.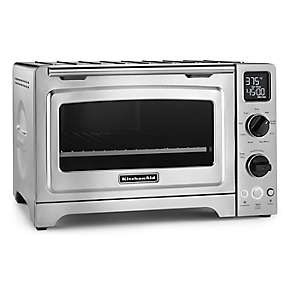 #3 – KitchenAid KCO273SS Toaster Oven.
This unit was designed to compete with best Breville and Cuisinart models. It holds a 12″ pizza and toasts 6 slices of bread. It comes with 9 preset cooking modes that provides extreme versatility.
Not only does it toast well, it also shines as an oven. Owners continue to rate this model quite high for how easy it handles various cooking chores. Its "Easy Heat" technology as well as its convection feature produce evenly cooked food every time. With stainless steel design and digital display, the reviews say it's a worthy contender. Price could be an issue here, too, however. It retails for $399.99, but it's available on amazon.com for $176.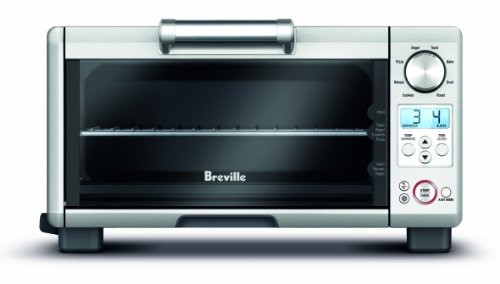 #4 – Breville BOV450XL Mini Smart Oven
. Breville makes some of the best quality small kitchen appliances and this Breville toaster oven is no exception. The BOV450XL is perhaps the best toaster oven in its class. The smallest Breville smart oven on our list, this appliance is perfect for small apartments, dorm rooms or any kitchen with limited countertop space. Owners absolutely rave about this oven and are very pleased with how well it performs.
This model features modern design, 8 cooking presets and smart oven technology. It comes with everything to take the guess work out of preparing the perfect dish. It toasts great too. "One of the best customer rated toaster ovens we have come across," say the folks at Gouverneur Times. It retails for $219.99 but amazon.com has it for $149.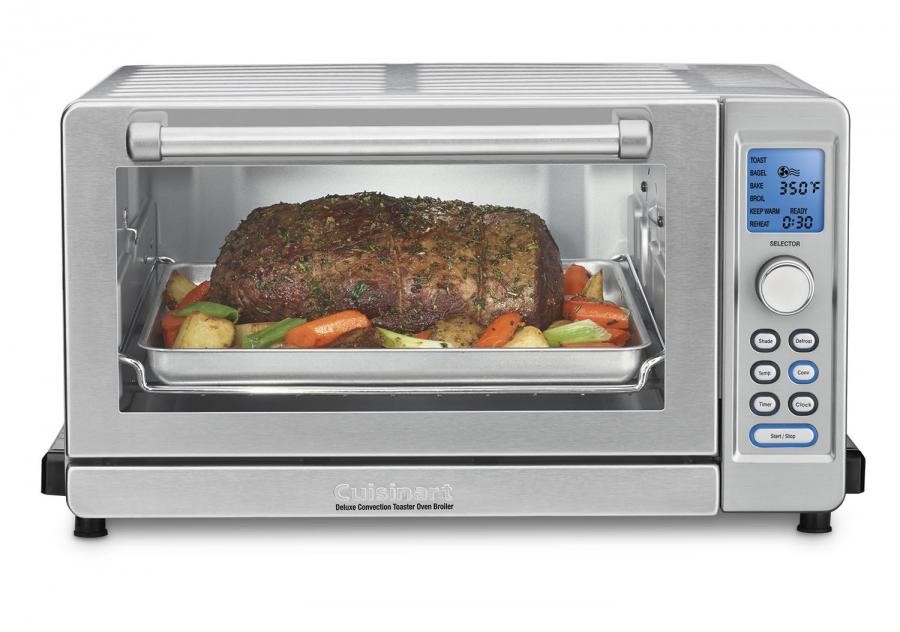 #5 – Cuisinart TOB-135 Deluxe.
The ultra modern TOB-135 features a brushed stainless steel design with a LCD display and LED backlit buttons. This handles basic toasting needs well and the oven aspect is also extremely capable. It is large enough to fit 6 slices of bread or a 12 inch pizza. It comes with 9 preset cooking modes that can be accessed on the screen with the use of a selector dial. It shines in all areas (cooking, baking, roasting and broiling). This is one of the highest owner-rated Cuisinart ovens—owners consistently gave it excellent marks. It retails for $127. This is the same price amazon.com is asking.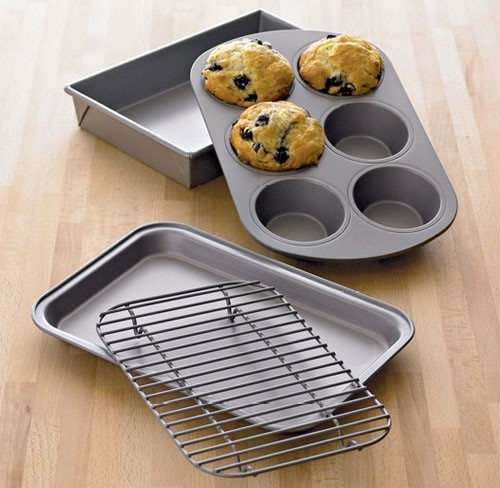 There is one requirement, though, to successfully using a toaster oven. Since they're
mini
ovens, you need toaster-oven friendly tools—smaller bake- and cookware. For instance:
Small Cookie Sheet. An 8x11 inch cookie sheet fits most standard toaster ovens, but check your model's instruction manual for size guidelines. But if you don't want to purchase another cookie sheet, tin foil always works in a pinch.
Six-Cup Muffin Tin. It's no surprise that a 12-cup muffin tin isn't toaster oven friendly, but some 6-cup tins aren't either. You want one with less metal around the edges so it'll fit.
Ramekins. They're great for baked oatmeal, baked eggs, or individual fruit crisps (or individual anything!).
Bread Pan. A standard size loaf pan is a bit too large. Look for one that's no more than10x5 inches. Or just use mini loaf pans.
Finally, look at all you can make in a toaster oven! Our thanks go to Nicole McDermott, writer for a cool website, Greatist (www.greatist.com) for these super ideas.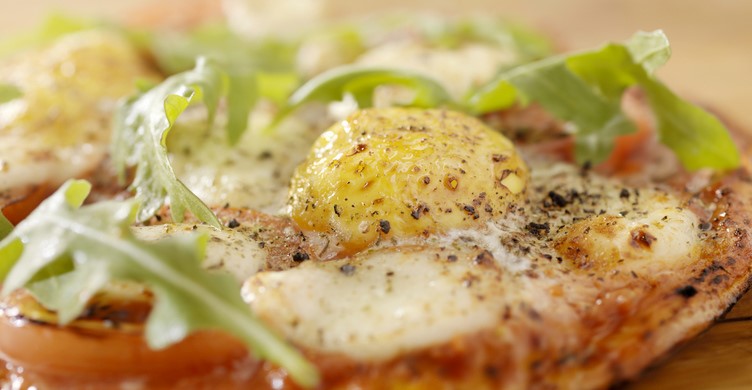 1.
MINI
BREAKFAST PIZZA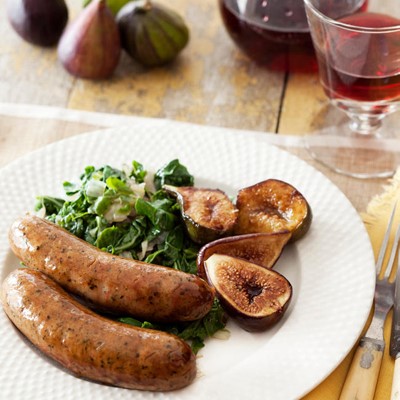 2.
MAPLE
GLAZED SAUSAGE AND FIGS
Fresh figs, which are in season from late summer through fall, are a nutritional powerhouse packed with omega 3- and -6 fatty acids, potassium, and calcium. They also taste great and sweeten up the already sweet and savory sausage.
2 ½ tablespoons pure maple syrup
2 tablespoons balsamic vinegar
2 packages roasted garlic sausages, fully cooked
8 ripe fresh figs
½ large sweet onion
1½ pounds Swiss chard
2 teaspoons extra virgin olive oil
salt to taste
pepper to taste
Preheat toaster oven to 450 degrees F. In small bowl, stir syrup and 1 tablespoon vinegar until blended. Place sausages and figs in single layer on foil-lined toaster oven tray, and lightly brush with half of syrup mixture. (If your toaster oven is small, you may need to cook the sausages and figs in two batches.)
Roast 8 to 10 minutes or until heated through and golden, turning over and brushing with remaining syrup mixture halfway through roasting.
Meanwhile, place onion in microwave-safe large bowl. Cover with vented plastic wrap and microwave on High 3 minutes. Add chard to onion; cover and microwave 9 minutes or until vegetables are tender, stirring once. Stir in oil, 1/4 teaspoon salt, 1/4 teaspoon freshly ground black pepper, and remaining 1 tablespoon vinegar.
Serve chard with figs and sausages.
3. FRITTATAS
4. BAKED EGGS (use your ramekins for this)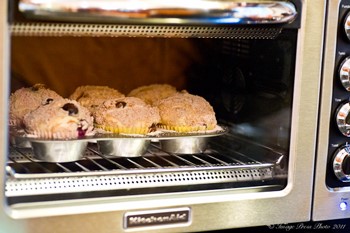 5. BAKED MUFFINS
6. BAKED APPLE OATS
Toasting up cinnamon-dusted apple chunks is a simple, quick way to jazz up your morning oats. Add peanut butter and Greek yogurt for extra protein and creaminess.
Cut up an apple into 1/2 inch chunks (use an apple slicer/corer and cut those pieces in half…works like a charm). Sprinkle generously with cinnamon and bake in the toaster oven on the "warm" setting for 12 minutes at 400 degrees. While apples are baking, mix together vanilla Greek yogurt (at least 1/3 of a cup), 1/3 cup oats, and peanut butter (at least 1 tablespoon). As soon as apples finish baking, combine them with the yogurt mixture. Delicious!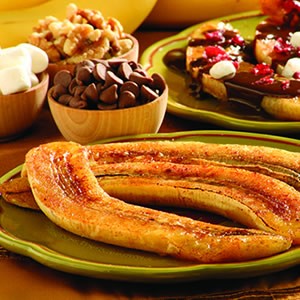 7. CINNAMON BANANAS
This recipe calls for only four ingredients: A banana, lemon juice, honey, and cinnamon. And for a lazy Sunday brunch (or dessert) top with a dollop of plain Greek yogurt and some dark chocolate chips. Line toaster oven tray with nonstick aluminum foil. Preheat oven to 350°F. Lightly brush banana halves with lemon juice. Place cut sides up on toaster tray. Spoon about 2 tablespoons of honey over banana halves and sprinkle lightly with cinnamon. Bake for 10 minutes. Remove from oven; cut into 1-inch pieces. To keep it healthy still, adding some dark chocolate morsels would be great. Add them in on the last five minutes to get them to melt on the banana.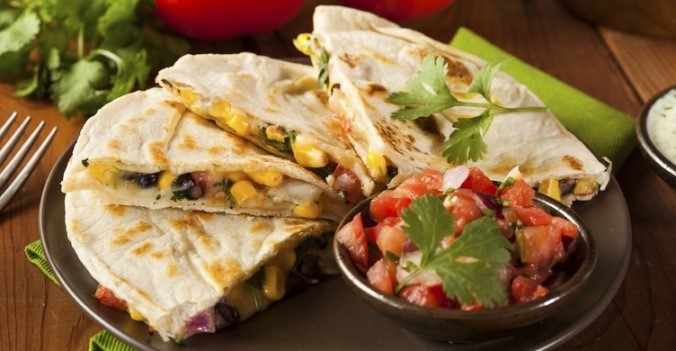 8. FILLED QUESEDILLAS
9. BAKED SPAGHETTI CASSEROLE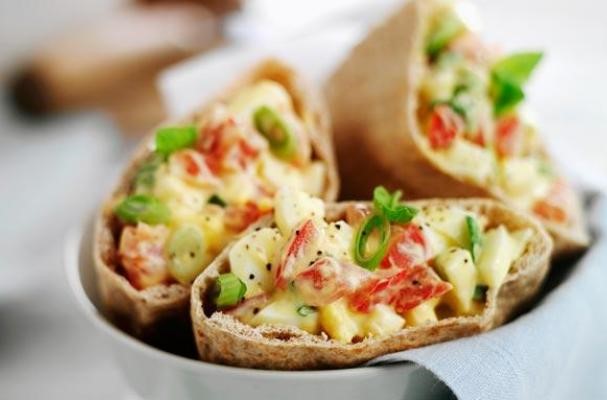 10. TOASTED STUFFED PITA MELTS
Add Recipe to Cook'n
Sources:
www.bestproducts.com
www.gouverneurtimes.com
www.amazon.com
www.cuisinart.com
www.thekitchn.com
www.montessoriprintshop.com
www.greatist.com
www.delish.com
www.foodista.com

Alice Osborne
Weekly Newsletter Contributor since 2006
Email the author! alice@dvo.com