Farewell to Thee, Butter and Sugar
Well here we are with a new year looking at us right in the face. If January had a face it would be a very judgy, mad face, I think. "Where did your self control go, Mare Bear? What ever happened to finishing something strong??!" Yeah, I think my end of the year body is not very happy with itself. No wonder we all want to start fresh and we stock up on spinach and sign up for gym memberships.
Not only have I had my share of holiday baked goods and candies and the like—we also traveled to Utah for Christmas to see family so we have been making sure to go to our favorite places to eat while in town here. So unfortunately yesterday I literally ate a breakfast burrito in the morning and then for dinner had a burger, fries and a shake!!!! Yikes! That's an awful lot of calories, folks! But, ya know? I can't say I'd take it back. Sometimes you gotta live a little and create some memories with family and friends and the trusty treadmill will always be there waiting for me.
I did have a wonderful baking year, especially here at the end. It is absolutely one of my very favorite activities to do with my daughter so I'm not going to stop there cold turkey at all. But perhaps we'll focus on making healthier baked goods with applesauce instead of sugar and wheat flour instead of regular flour.
So farewell to you, buttery, flaky desserts. I shan't be partaking of your goodness any time in the near future. Farewell to you, gluten-ridden pancakes, waffles, French toast, and short breads—breakfast from now on will probably consist of protein shakes and a grain my body wouldn't recognize right now—I'm looking at you, oatmeal! And not you, peaches and cream flavored packets—I'm talking straight up oats and water. Yuuummm!! :)
I say this now but once I actually rid my body of all the sugar and salt for a couple days my body feels so much better and I won't be complaining for long :) There are so many amazing recipes for clean, wholesome food. Alice is really great at educating us and sharing her yummy healthy recipes all the time.
Did any of you finish out the year strong with eating healthy and you won't have huge sugar and butter withdrawals like some of the rest of us? I'm really going to work on moderation this year. Healthy eating for me sometimes seems to be all or nothing. I want to try really hard in 2017 to have more moderation and live the 80-20 rule with 80% clean eating and 20% cinnamon rolls. That sounds like something I could live with!
I hope you have all had a wonderful holiday season!! I sure love this job and getting to connect with our amazing readers! Happy 2017 to you all!!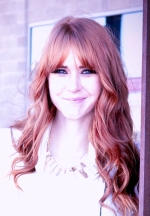 Mary Richardson
Weekly Newsletter Contributor since 2014
Email the author! mary@dvo.com